Turkiye? You may not have noticed but the country we have always called Turkey quietly changed the spelling of its name to reflect the proper pronunciation of
Tur-key-yay
and to distance itself from all things and google searches associated with turkeys. However you spell or pronounce it, Turkiye is a wonderful destination. What do you imagine when someone tells you they are traveling to Turkey?
If you have never visited I would suggest that you take all of those images and impressions, put them in a folder and hit delete. Then buy a ticket to Turkiye. It is nothing like what most Americans imagine. Turkiye is a vibrant modern country, more modern and updated than much of the US. Wide tree lined streets, high rise condos, with less crime than the US. By any metric you wish to measure you are safer walking the streets of Turkiye than you would be in any major US city. Like most of Europe guns are strictly controlled, you must register your guns, prove proficiency, and purchase your ammo at the police station. Somehow this crazy gun control results in only a fraction of the gun violence we experience in the US.
Alcohol is readily available almost everywhere. As our Turkish guide, Mert joked "what is the difference between a Turkish wedding and a Turkish funeral?" One less drunk.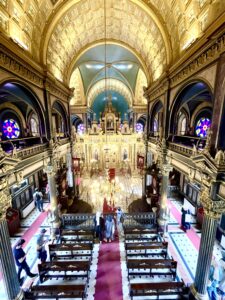 Education is mandatory through 12th grade, public universities are free of charge as is public preschool. Like most western countries Turkiye has universal healthcare. While Turkiye is predominantly muslim it has populations of jewish, catholic and orthodox christians and a rapidly growing number of deists, agnostics and atheists. Historically the Turks have been a bit more tolerant to their religious minorities than most of their christian neighbors. As an example, when the jews were expelled from Spain in 1492 they were welcomed by the Turks. This is not to suggest that the Turks have not had their share of persecutions and genocide throughout history.
Walking the streets of Istanbul was more of a shock to the system than I expected, though in truth I didn't really know what to expect. Regular calls to prayer with huge mosques dotting the skyline is certainly different than anywhere else we have visited. Turkiye has a secular democratic government…..well, as secular as you can be when 90% of the population belongs to the same religion. With the US overturning Roe v. Wade just days before our arrival and seeing a significant percentage of Turkish women in various coverings I found myself constantly questioning the plight of women in this world. I began to feel somewhat comforted by Mert who explained that in Turkiye women make up more than 50% of the university population and more than 20% of parliament as well as corporate management. Mert explained that while 90% of the population identifies as muslim only about 30% are actually practicing muslims. About 35% of Turkish women cover their hair, but the primary pressure for a woman to cover up comes from her family not the state.
Mert's mother is jewish and his father is muslim, he belongs to neither faith and considers himself a deist, a believer in god but not a believer in any organized religion. Mert was quick to point out that if a Turkish woman wanted an abortion she is free to do so, and her government healthcare will pay for it.
Our tour started in Istanbul, a metropolis of 15 million people, the largest city in Europe. This was our first multi-day group tour, 13 days of the best of
Turkiye with Rick Steves travel.
For the two of us the total cost came in around $450 a day compared to the $200-$250 a day we spend traveling on our own. Our guide, Mert, is a licensed professional guide with two decades of experience, he is comfortable lecturing on almost any subject of interest, from the History of Istanbul, to the politics and religious issues of modern Turkiye.
We quickly learned that a Rick Steves tour is a busy, fast paced, deep dive into the history and culture of a country, and at times exhausting. We also learned that all of the best guides want to work for Rick as he pays 3 times what other companies pay.
Our group of 21 travelers quickly bonded as we made new friends and travel companions for life. Would I take another tour again? YES. Would I do it all the time? NO. It was great to be shepherded everywhere by an expert in history, religion, culture, politics, restaurants, shopping, and Raki (the local liquor). Another Mertism, " I don't know the question but the answer is Raki". So why wouldn't I always take a guided tour? Because we like our down time relaxing in a culture, people watching in a cafe and we don't like packing and moving every other day, I guess we are just too lazy.
The markets of Istanbul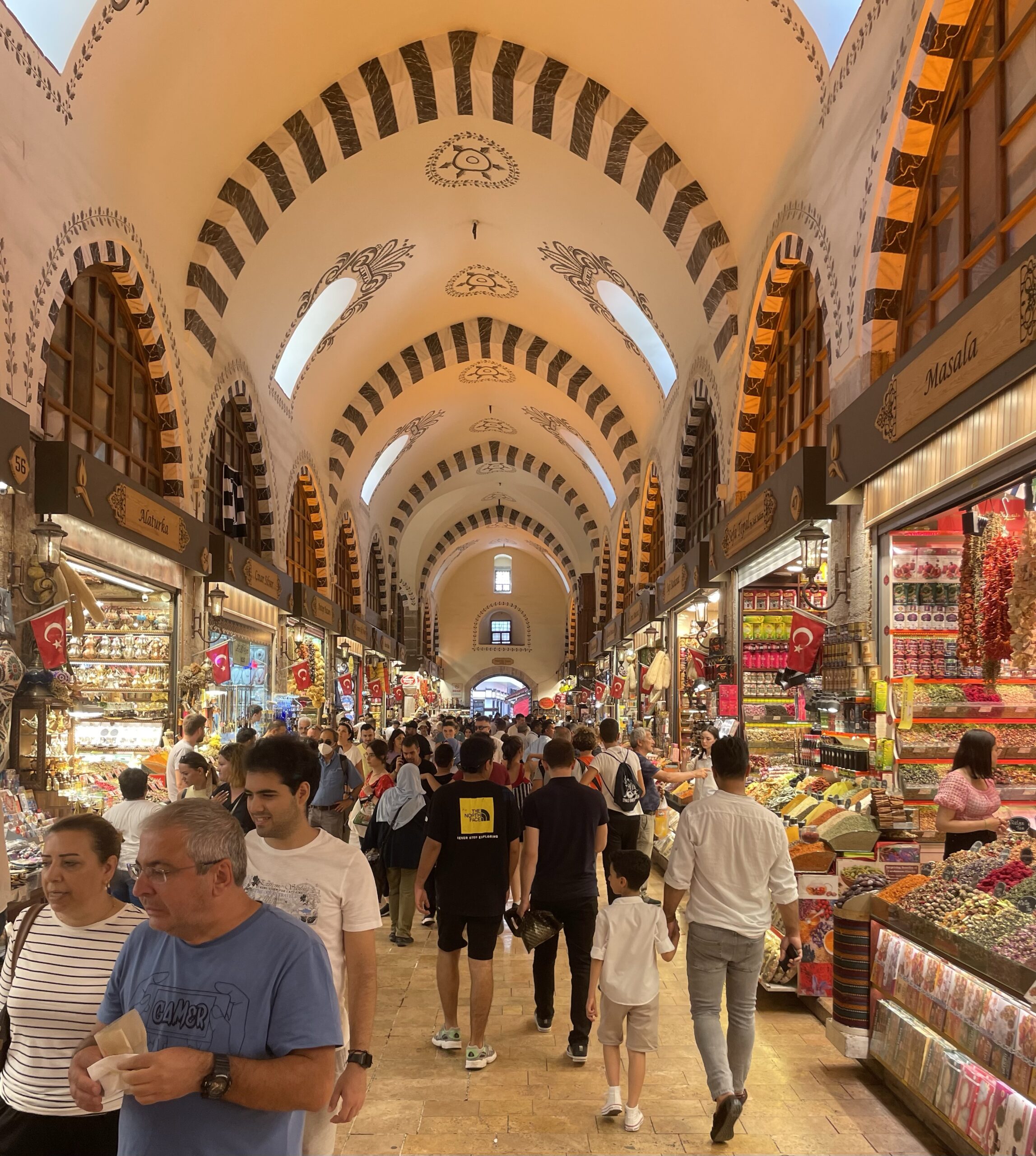 Istanbul is ancient, like 3000 BC ancient. Emporer Constantine moved the capital of the Roman Empire here around 300 AD (yes I know we no longer use AD, but if I use CE it just confuses those of us who went to school in the 20th century AD totally oblivious to the fact that we were living in the CE). Roman ruins can be seen throughout the city and the entirety of Turkiye.
Our tour focused primarily on the old town, just scratching the surface of this huge city which touches both Europe and Asia. To get a sense of the history here consider the Hagia Sophia, one of the greatest domed structures of the ancient world. Constructed in 532 AD it functioned as a christian cathedral for 1000 years before its conversion to a Mosque and is still used for services today. It is hard to fathom a structure still standing and in continuous use for almost 1500 years. Istanbul's grand Bazaar has been in operation selling everything imaginable since before Columbus set sail. The city's spice market opened before the Pilgrims settled in North America. I could go on……but I won't.
A couple of days in the old town followed by a leisurely boat tour on the Bosphorus then we boarded our bus on the Asian side of the city and headed to the Turkish capital of Ankara, another ancient city which looks totally modern today. Next day it was on to Cappadocia, a region famous for its amazing geology formed by the erosion of volcanic ash and basalt that was laid down during 750,000 years of volcanic eruptions.
The combination of ash and rock made for easily carved cave structures many of which are still used today. Locals fled here and established entire cave cities to hide out from invaders.
Early Christians settled in Cappadocia setting up some of the first christian churches in caves. We explored Cappadocia on the ground under the ground and from the air in our first ever balloon ride.
Cave dwellings of Cappadocia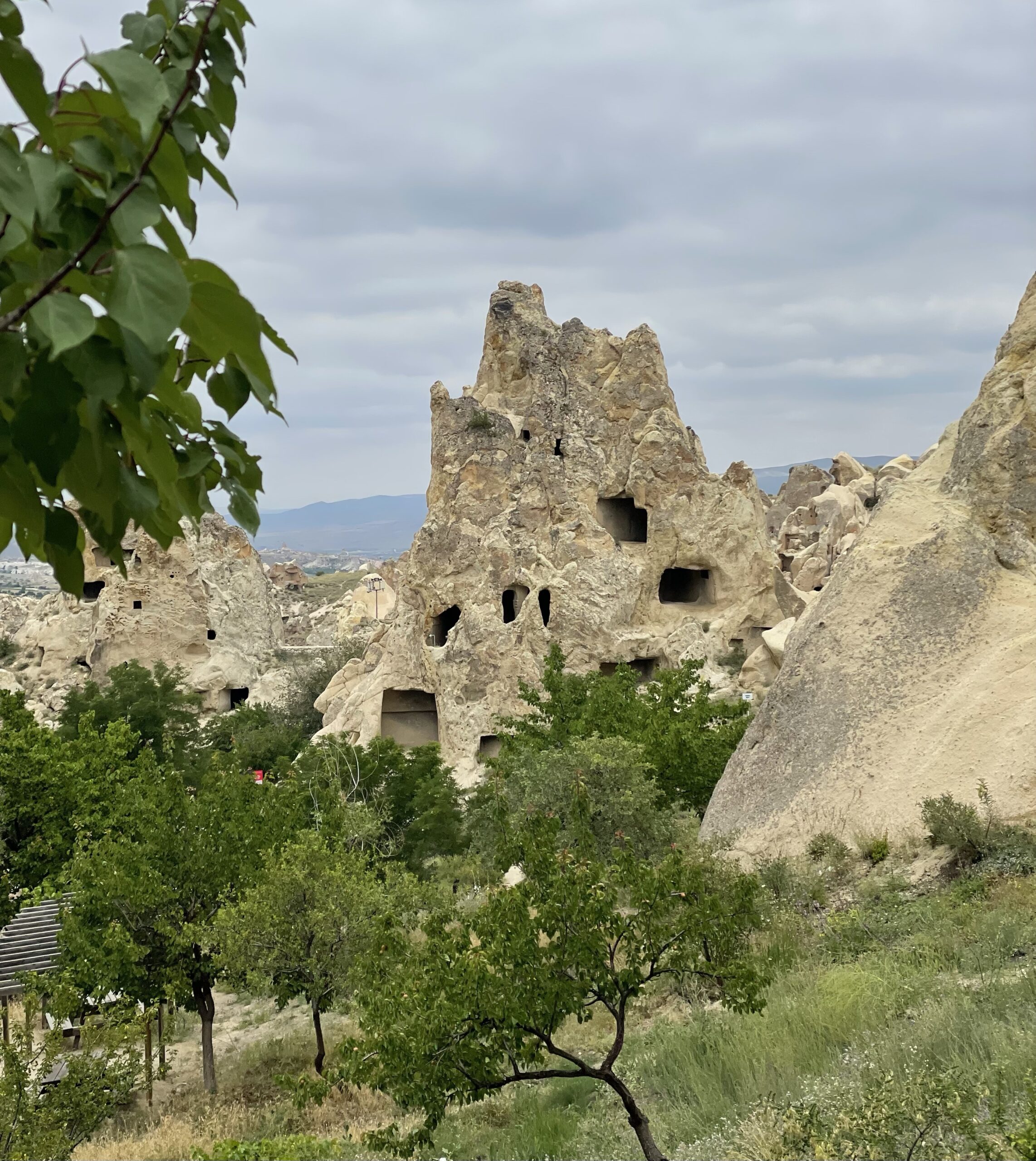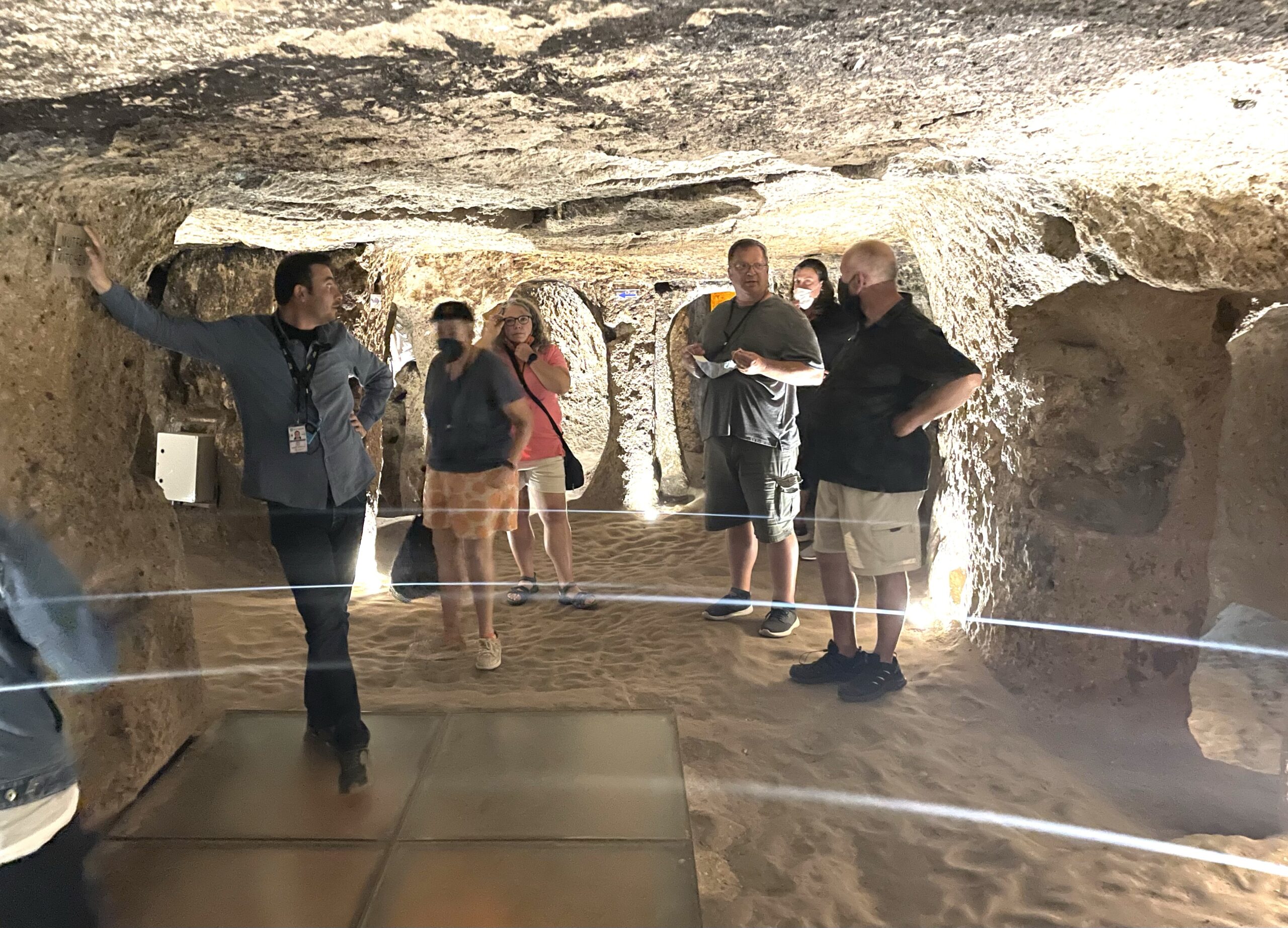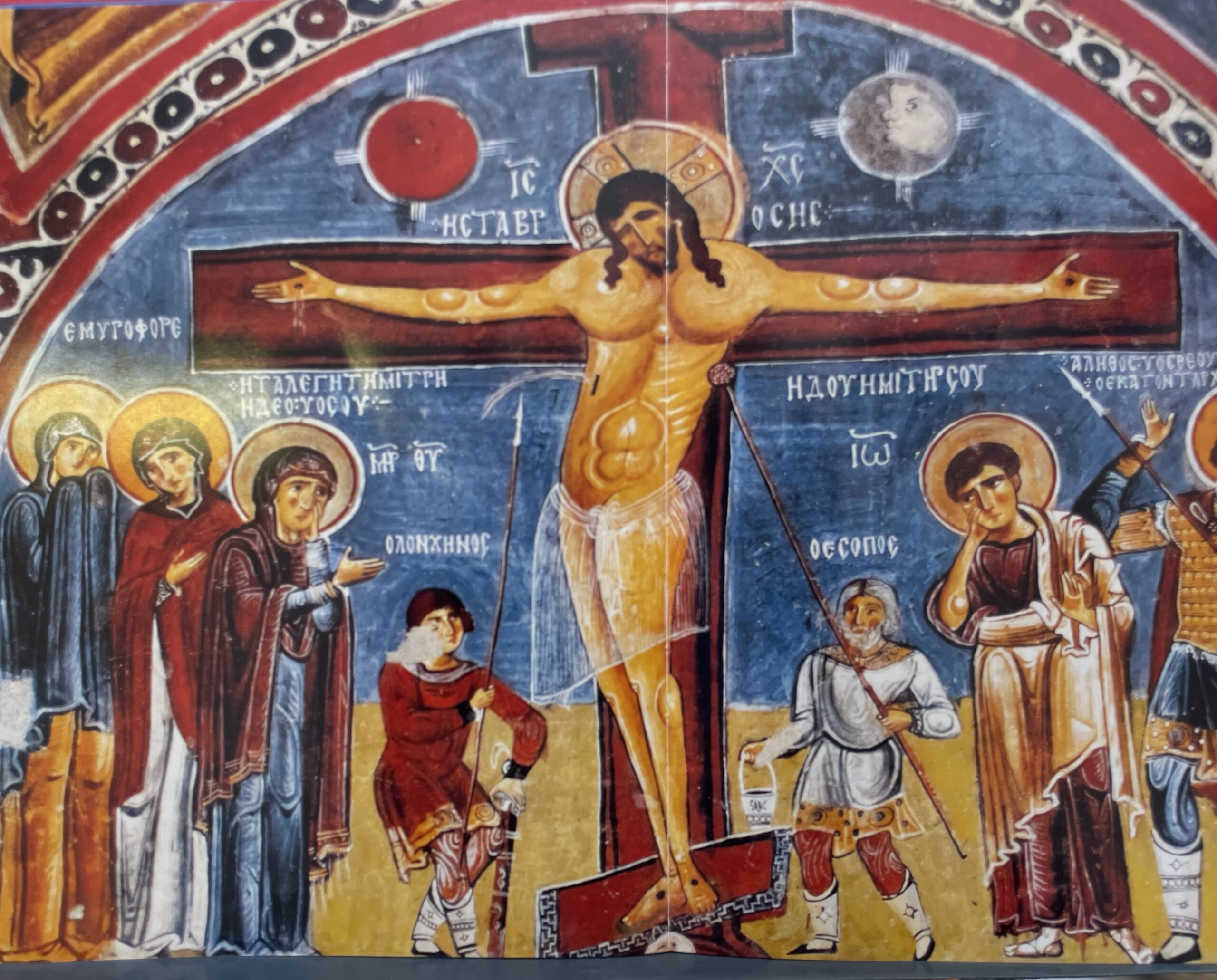 Cappadocia is world renown as the best place to take a balloon ride and over 100 balloons take to the air almost every day making for a spectacular display. If you travel to Cappadocia I highly recommend spending the $200 for a balloon ride with Kapadokya Balloons. Our pilot expertly maneuvered the balloon up, down and through the valley.
Early morning balloon ride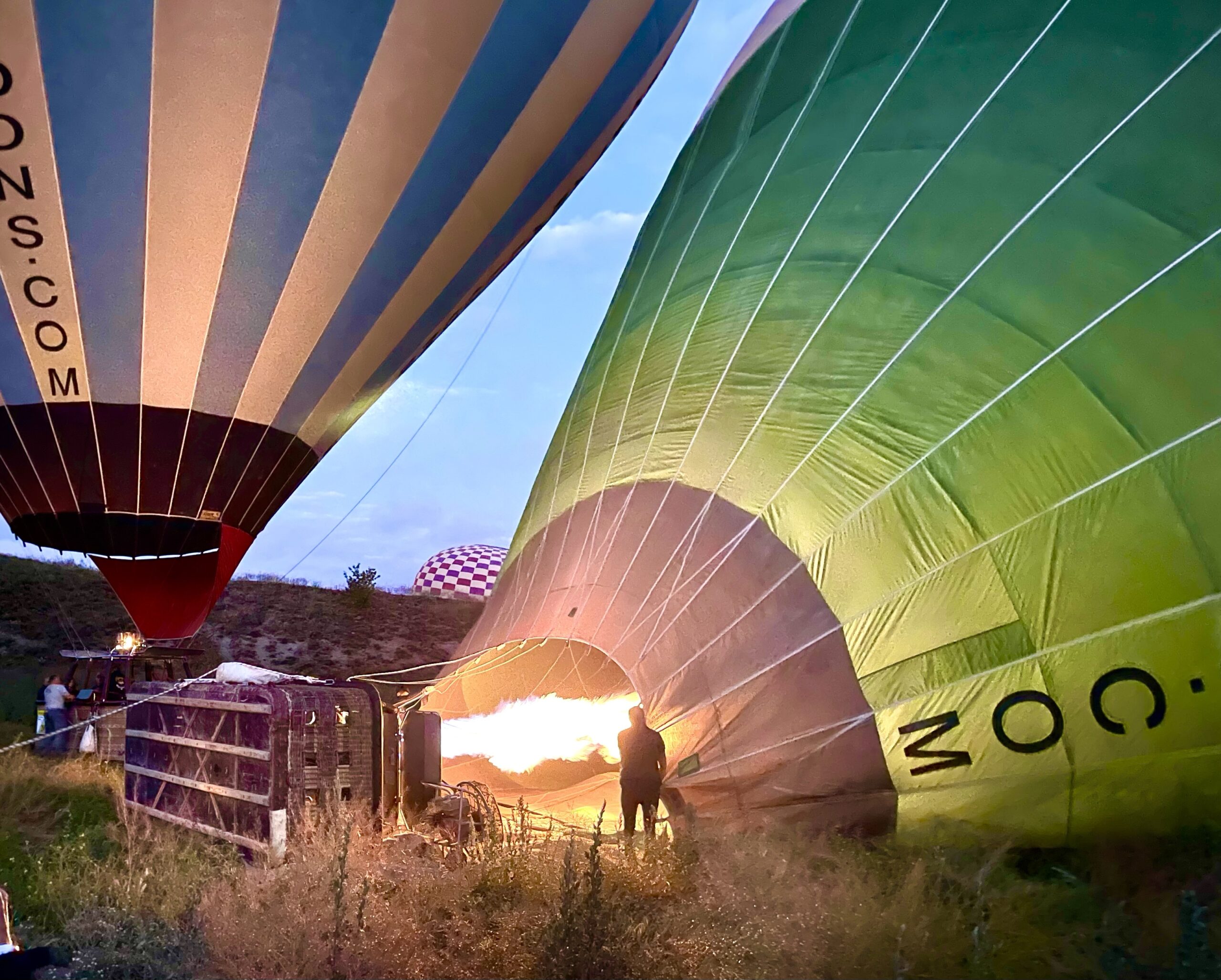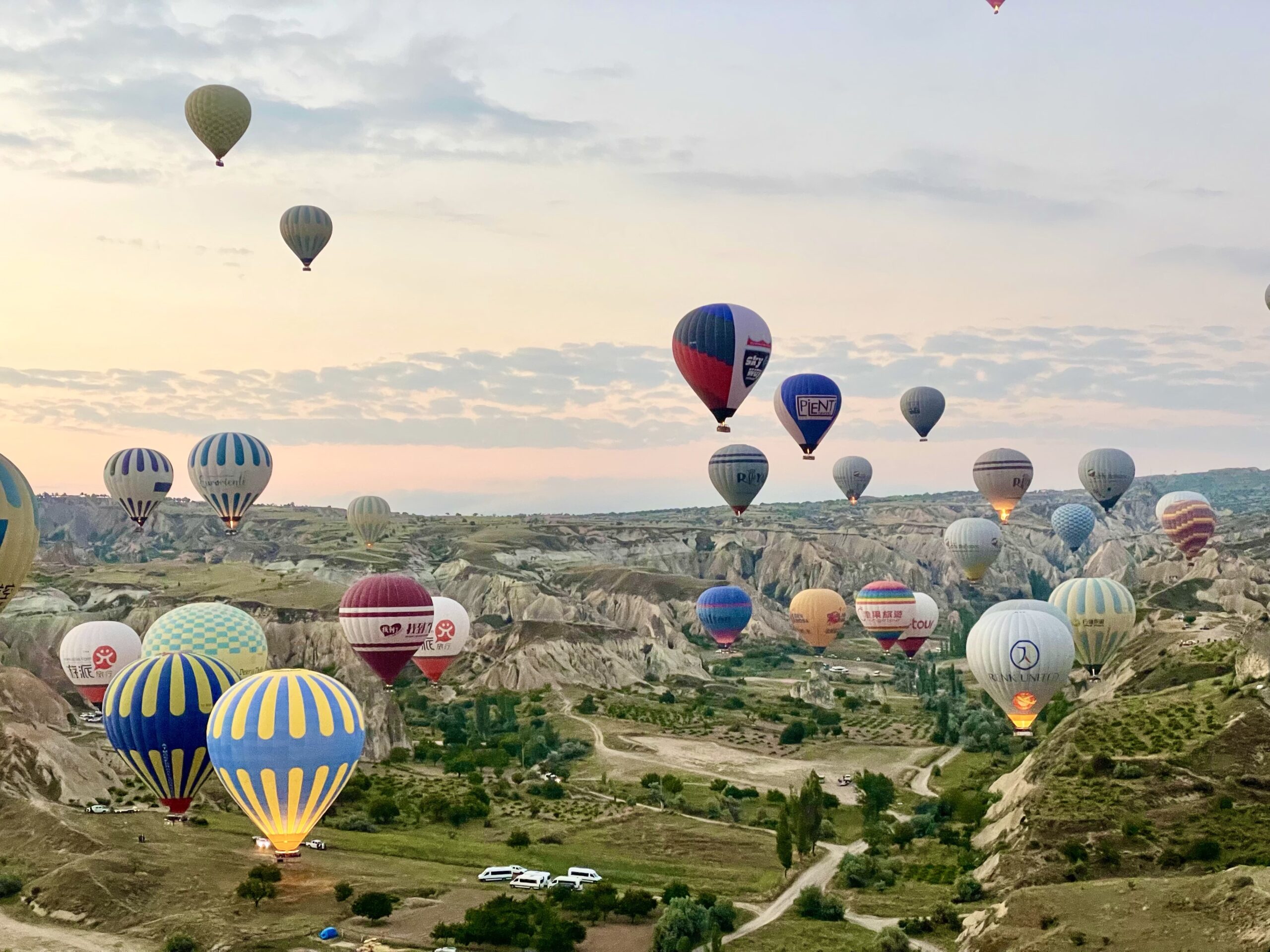 See you next week for another lesson in Turkiye-ish