I have come to the conclusion that the highlight of Portugal is its people. We encounter wonderful friendly people most everywhere but Portugal is just a bit above them all. From Helena, Pete and Shannon in Lagos, to Ana, Maria and Duarte in Lisbon. They are friendly, helpful, and genuinely appreciate that a couple of old American travelers have come to visit.
Our last day in Lagos we booked an afternoon of sailing with Bom Dia. We boarded a 70 year old gaff rigged sailboat with about 20 other travelers of all ages. Greeted by Shannon who made a point of talking with each group, explaining the schedule, learning a bit about us and ensuring we were all comfortable and happy. It turned into a perfect day of sailing and exploring the coast. We enjoyed lunch and drinks under anchor and took a small boat to explore the caves and spires along the shore. A wonderful way to close out our stay in Lagos.
Transitioning to a new location is always a bit stressful. Check out by 10 or 11 never seems to fit the train schedule so you usually have an hour or more to waste with luggage in tow before getting to the train station, finding the right train, the right car, and the right seat. Add in a transfer between trains mid-way through the day and a four hour train trip ends up taking a lot of time and energy.
We find ourselves using uber and taxis more often when we arrive in a city. Here in Portugal an uber or taxi is often less than $10 to get us to the door of our Airbnb, well worth the price when compared to moving luggage on public transportation and long walks rolling suitcases over cobblestones in the hot afternoon sun. And about that luggage! We both feel like we have too much stuff, our one bag each is too packed, too heavy and too hard to close. A difficulty with long term travel is that you need to be prepared for any weather. But the sweaters and jackets we needed in New York are just extra weight and bulk when we have daily temps in the 80s. And those covid tests I have been hauling around are now useless as the US just dropped the testing requirement for our return. Needless to say, we are looking at options to reduce our bags before we get to Turkey where our travel will speed up as we will be changing hotels every other day.
After a day of travel we were happy to step into an absolutely gorgeous Airbnb in Lisbon, on the first floor! No hauling those bags up 6 flights of stairs! Our host, Ana, was a former school teacher and gave us the most detailed lesson upon check in. The house manual had everything and Ana explained it all, including how to use the metro and where to find an ATM. She even provided local pastries and a small bottle of port. Ana really went above and beyond, providing a soft landing to a long day of travel. After unpacking we took a five minute walk to Oficina do Duque one of Ana's suggested restaurants.
Our waitress Maria explained the menu and suggested a very nice red for only $18 a bottle. We enjoyed the food and staff so much we returned for dinner on our last night in Lisbon and also stopped in for a cool drink after a day of walking around the city.
Lisbon is a beautiful city and relatively new as it was almost completely rebuilt after the devastating earthquake of 1755. I know that sounds odd to my American friends where almost no buildings pre-date 1755. A charming feature of the city is its intricately patterned stone sidewalks and tiled buildings. Wide boulevards and plazas would make for a very walkable city if it weren't for the hills. The rather flat central Chiado district is surrounded by hills, traversing the city requires a mix of stairs, elevators, escalators, funiculars and trolleys.
With only 5 nights in Lisbon we decided not to do a food tour but instead signed up for a guided day trip to nearby Sintra, a small town near the Atlantic and home to the National Palace as well as six other palaces and castles. It was another Airbnb experience and it was nice to let our local guide Duarte handle our travel for the day.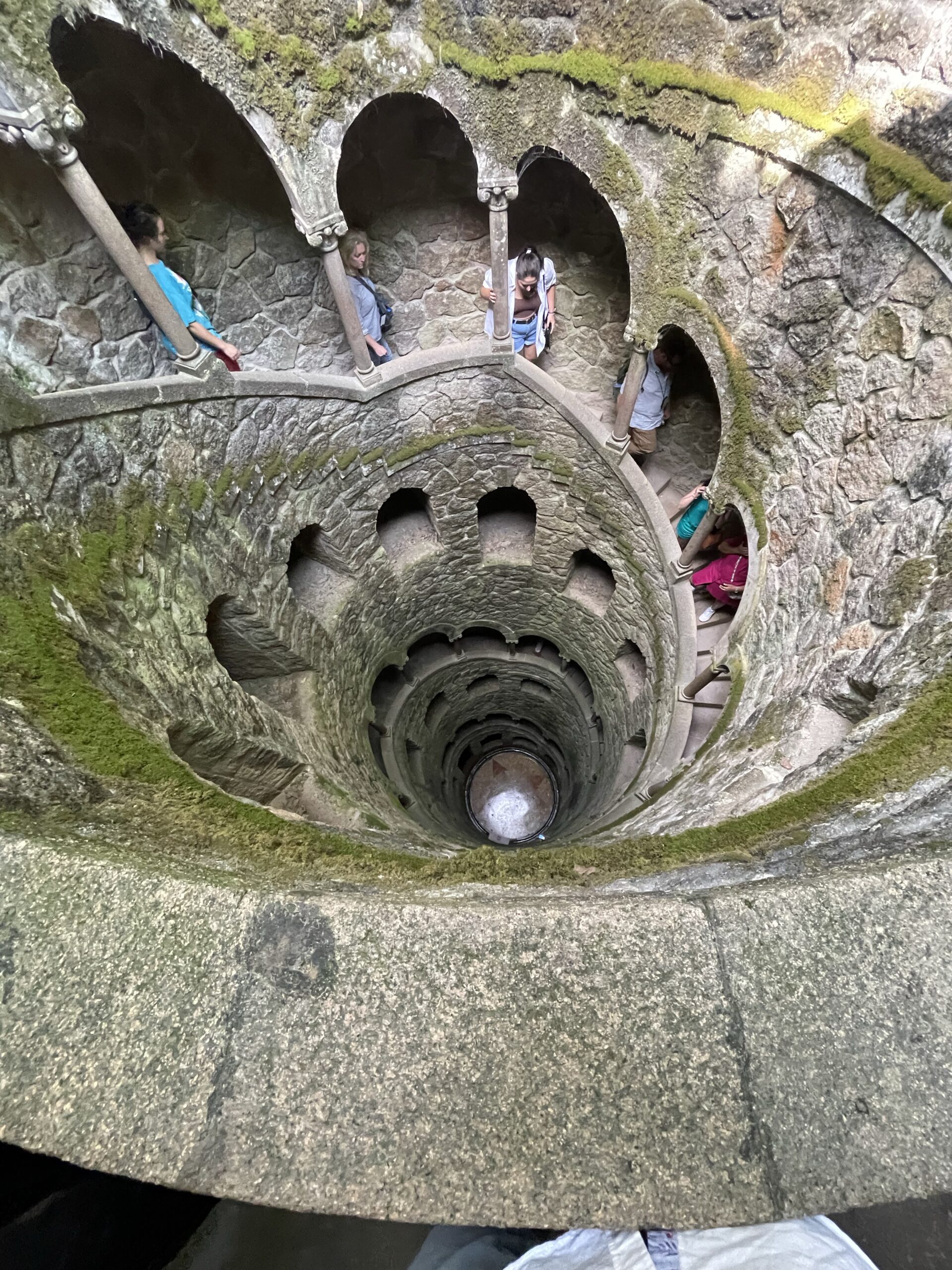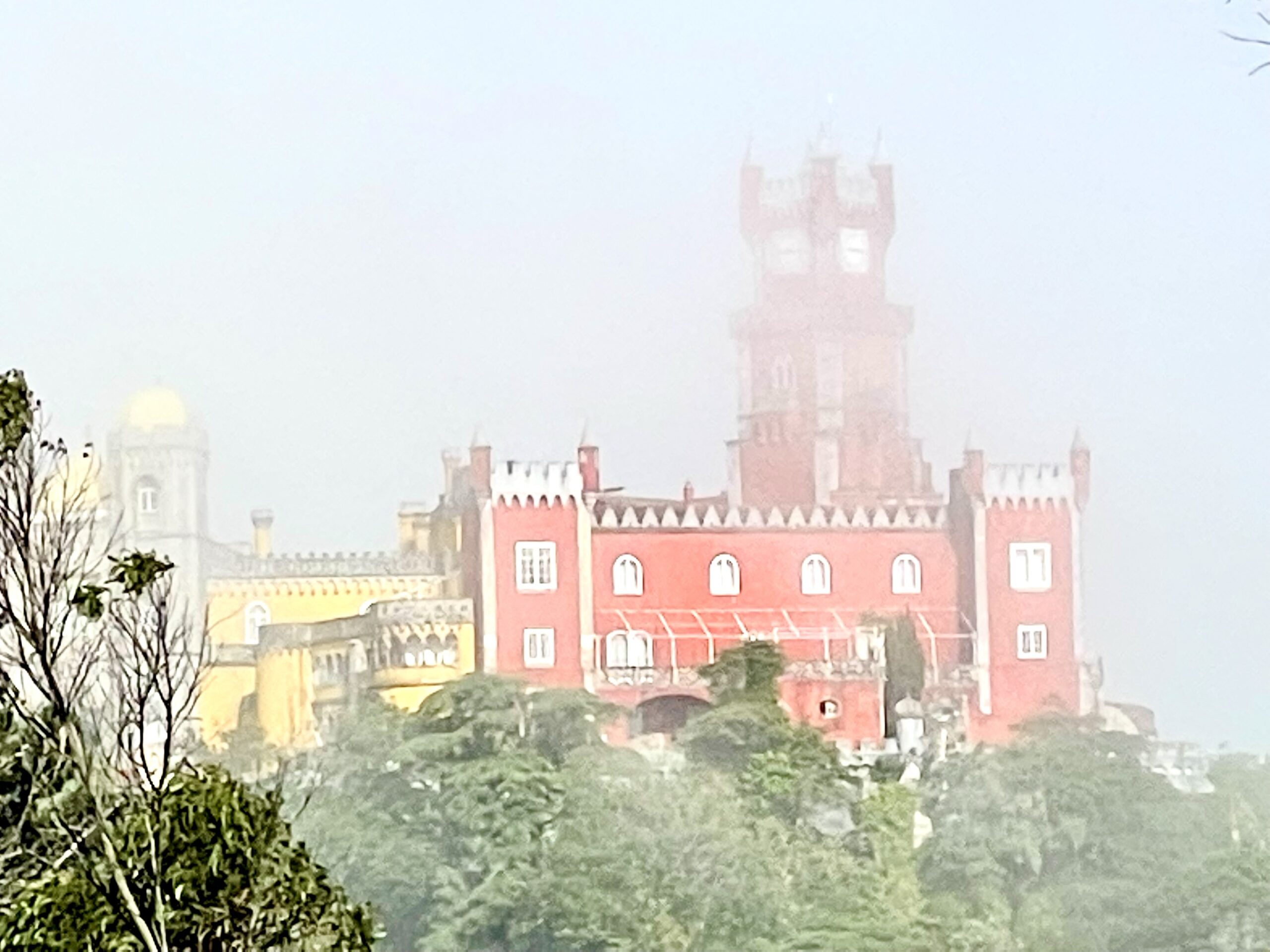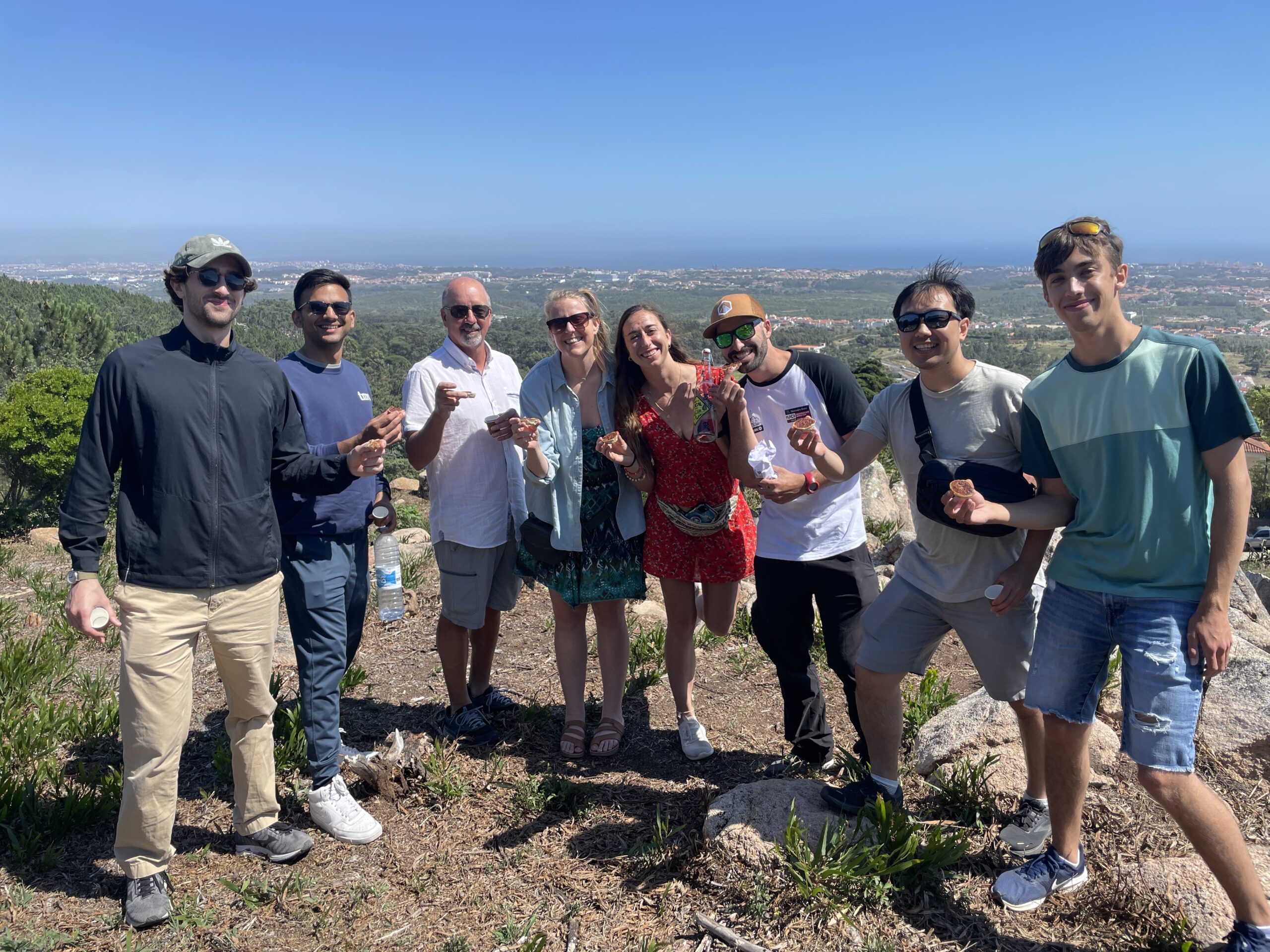 We met Duarte and our 6 travel companions in the Praca dos Restauradores and loaded into his van. By the end of the day we had hiked through the forest to a foggy lookout of Pina Palace, toured a different palace and enjoyed a great three course meal with wine, port, and coffee at a small family run restaurant. We put our feet in the Atlantic and stopped at the westernmost tip of mainland Europe. We finished the day with a stop for local pastry and a sip of local moonshine. Duarte made every effort to ensure we had a memorable day and we experienced so much more than if we had simply made our way to Sintra on our own. He even emailed Kelly the recipe for the dessert from lunch.
On a hot and sunny Saturday we decided to visit the Lisbon suburb of Belem. Too far to walk, we decided to try out Lisbon's famous tram system. We walked to a tram stop and squeezed on board the modern number 15 tram to Belem. By stop 2 of our 12 stop 30 minute ride we were questioning our choice.
The modern tram did not have windows that open and no AC that we could feel. Crowds, sun and masks made for a pretty miserable ride with sweat trickling down our backs. On the return we caught one of the old style trams with all windows opened for a much more comfortable journey. Belem is known for its Monastery and the birthplace of Lisbon's signature sweet the Pasteis, a small custard tart invented out of necessity by a Belem bakery trying to use the hundred's of egg yolks left over after the nuns used egg whites to starch their habits. We chose not to stand in line at the Pasteis de Belem for much the same reason we have never stood in line to visit the original Starbucks in Seattle. You can get good Pasteis everywhere in Lisbon and our host Ana had already treated us to some of the best.
We visited the monastery, the cathedral with the tomb of Vasco da Gama, the monument of discovery and enjoyed a nice lunch at a riverside restaurant. I tried the local grilled sardines and Kelly had the Salmon Posto, which to our surprise had nothing to do with Pasta. Dining in a foreign language always comes with a bit of mystery. Sardines are a local delicacy and quite tasty, but I have to agree with Duarte, finding a bite among the head, tail, skin and bones requires a lot of work. I must admit I was a bit jealous of Kelly's nice Salmon steak, even without Pasta.
Our stay coincided with the Lisbon Sardine Festival. Every park in the city becomes party central, and the entire Alfama district turns into a bit of a frat party. Beer, grilled sardines, silly sardine hats and music, everywhere. We walked through the Alfama on the morning after and we were happy not to be on clean up duty.
After dinner we took a walk through the nearby park just to check out the crowd, hats, and music. Only at Sardine Festival do you have a rockin accordion player backed up by dancers.
See you in Porto