If you could visit only one place in Vietnam I would suggest Hoi An. Travel is always personal, some people love a destination while others hate it. My personal bias for old buildings and pedestrian friendly streets fits well with Hoi An. The old town is closed to most traffic in the afternoons which allows you to stroll about a square mile along the riverfront with shops restaurants and bars. Some of my favorite things. Southeast Asia is walkable but not necessarily pedestrian friendly.
Few locals walk, most ride motor bikes. Sidewalks, if they exist, are used for parking scooters and cars, or vendors use sidewalks for display space or seating. So, what could be an easy walk down a sidewalk becomes a serpentine maze around parked scooters often forcing you to just walk in the street with the traffic. In Vietnam it is common for scooter drivers to beep their horns to let you and others know they are approaching. When they drive through an intersection without slowing, just a couple of beeps on the horn is adequate warning for all.
It is not as dangerous as it sounds as everyone is watching for crossing, turning, u-turning traffic at all times but we did see a couple accidents. The other downside of all the horn warnings is It does not make for a relaxing or quiet walk through town. You can understand my joy when we walked through the pedestrian only old town of Hoi An.
The occasional vendor's scooter might slip by, and they have long trains of pedicabs in the pedestrian zone because you wouldn't want to actually walk. But overall, strolling through the old town is a very enjoyable and relaxing wander.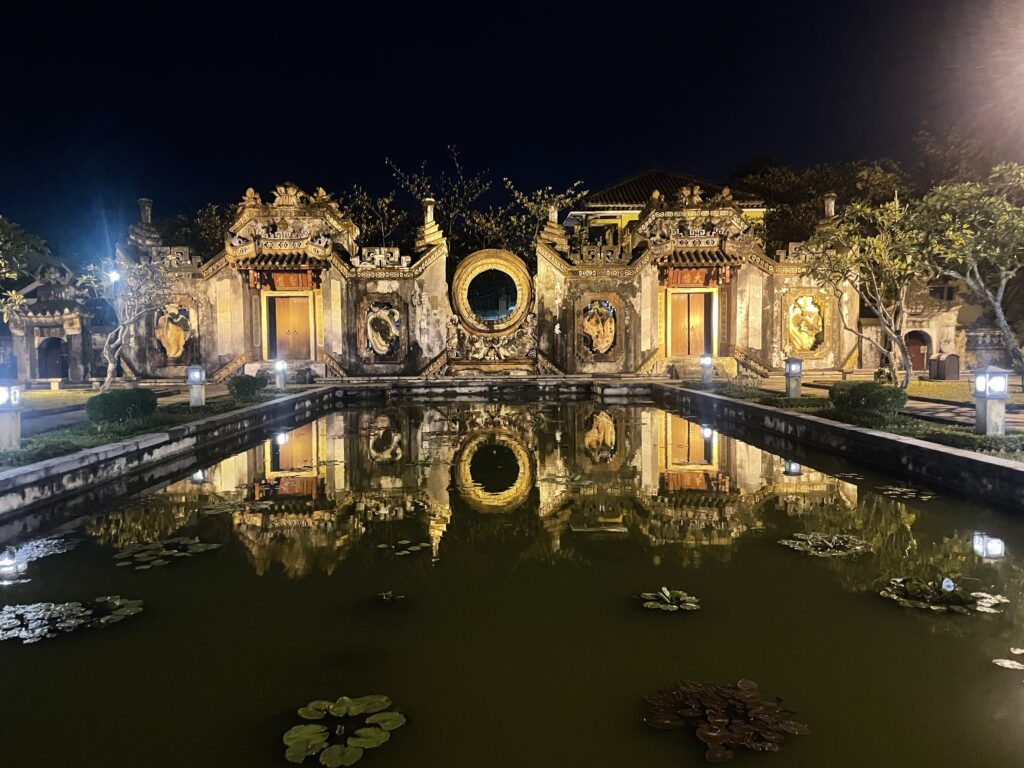 Hoi An has a little bit of everything for the visitor. It has a great food scene driven in large part by Ms. Vy, who owns 9 restaurants and employs 500 people around Hoi An. The food is excellent and affordable. A very nice meal in a beautiful restaurant including several dishes and cocktails will set you back $35 per couple. There are also great options for $2 pho, or a $2 Banh Mi sandwich. Cocktail bars with local infused gin, local distilled rum, and nice wines from France and Australia serve $3 drinks at happy hour and $5 full price drinks the rest of the day.
The Thu Bon river runs through Hoi An and each night it is illuminated with lanterns and floating candle offerings. Just a 15 minute $4 taxi ride through the rice paddies out of town you will find An Bang beach on the South China Sea. We visited twice.
And last but not least is the shopping. Generally I am not much of a shopper, but I do like a good bargain. Hoi An is world renowned for its tailors and leather goods. Custom made wool suits with silk lining will cost around $150, custom made leather shoes $30-$70. Dresses, shirts, blouses will set you back $30-$40, all custom made to your measurements in 24 hours.
Most of my clothing comes from Costco or REI, so you know I am not a slave to fashion, but a custom made linen shirt for $30 sounds good to me. You do need to shop around as there are dozens of tailors to choose from. We first stopped at a tailor recommended by a friend and they quoted me $60 for a long sleeve linen shirt and $160 for a tweed sport coat. That didn't sound like much of a bargain to me. Then we met our friends Anya, Rick and Nicki at the Pink Lotus Tailors and the price quotes dropped to $30 for a shirt and $80 for a jacket. We may have gone a little crazy on the clothes and shoes. In fact, we picked up a couple of genuine North Face bags for $15 each to help us get everything home. Okay, they were probably about as genuine as Laurie's elephant painting but they did the trick.
A 2023 trip to Southeast Asia was not in our plans until our friends Anya and Nicki Jepson (who Kelly has known for 58 years) planned a bike trip around Vietnam. We had always wanted to join them on a trip and this was our opportunity.
The bike trip didn't work out but we decided to join them for two weeks in Hoi An. We stayed the first week at a nice three bedroom three bath house about a 30 minute walk from the old town. The house was nice enough but the walk into town was less than optimal. Our hosts were a lovely Vietnamese family that treated Kelly and I to dinner at their small restaurant upon arrival. The restaurant only serves pork skewers and rice pancakes called Banh Xeo. Crispy rice pancakes with bean sprouts and shrimp that you fill with meat, lettuce, fresh herbs, then roll with rice paper and dip into peanut sauce. Delicious! When Nicki, Anya and Anya's husband Rick later joined us we returned to our host's restaurant and spent $500,000 on dinner for 5 with drinks.. That was $500,000 Vietnamese, or about $25 US.
During our stay we sampled three of Ms. Vy's restaurants and also signed up for a cooking class. While all of our cooking classes on this trip have been good, this may have been the best. A professional classroom with individual cooking stations on the third floor of Vy's Marketplace Restaurant. Our teacher was Tan, whose name loosely translates to sweetheart, so we spent the morning calling our teacher sweetheart. Four dishes including Pomelo salad, clams in broth, crispy fish with noodles, and banana flambe. All excellent and a delicious way to spend a few hours learning about a country and its food.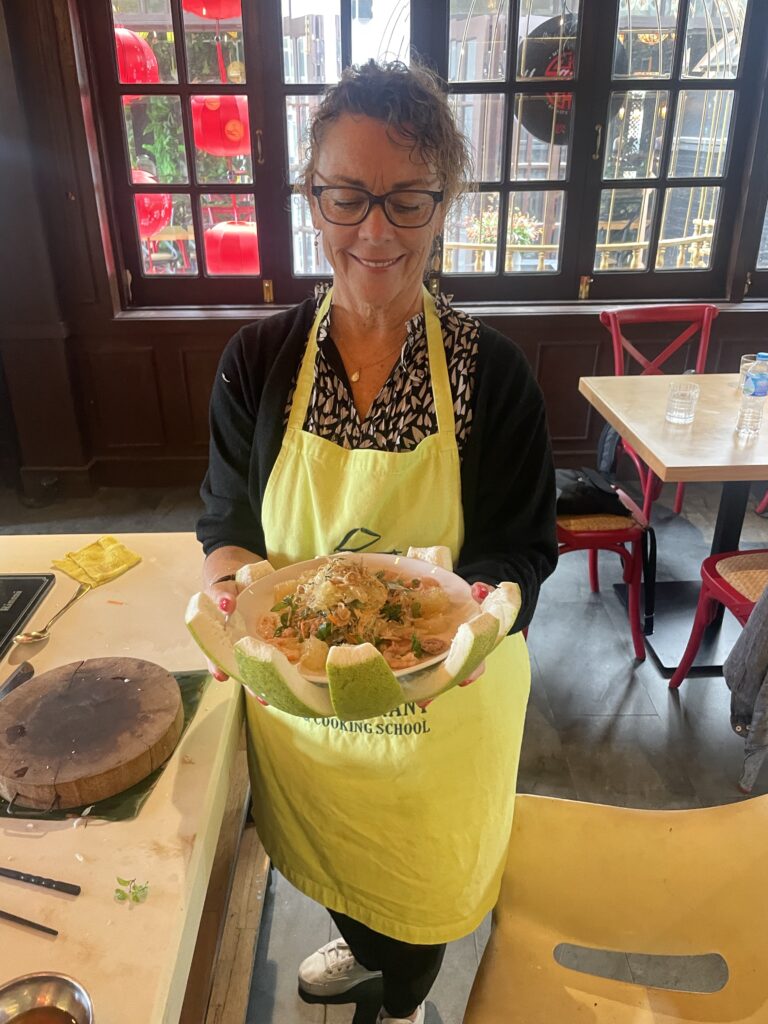 Joined by Anya, Nicki, and Rick we took a food tour booked through Airbnb. Our guide was Billy, and he was a wonderful ambassador for Vietnam and its food.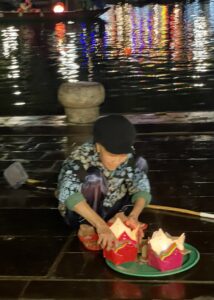 With stops for white lotus dumplings, Ban Mi at the sandwich shop made famous by Anthony Bourdain, A Banh Xeo stop, (our host's were better), and a stop for Cau Lau noodles, we were stuffed and had to decline the last stop Billy suggested. A great tour which I highly recommend.
We changed accommodations for week two, a fantastic three bedroom homestay closer to town with free bicycles allowing us to bike to the beach. Kelly, not being much of a biker, caught a grab scooter. Grab is equivalent to Uber, for a little over a dollar Kelly hopped on the back of a scooter and met us at the beach for lunch. The rest of our stay included more food, more clothes, more of everything so I will just stop here. Next we have a short two day stop in Bangkok then off to home. We both agree, we are ready to head home for a while.