I can understand that a country like Cambodia charges a $30 entry fee just to collect a little money from tourists and maybe provide a few more government jobs. But visa applications, customs forms, and stern passport control officers seem so unnecessary. I would assume a westerner arriving at the airport is not trying to sneak into Cambodia and that the country wants all the tourist dollars they can get. Why not make it easy, even pleasant? But most countries don't see it that way. Authority is power, and what good is power if you can't abuse it? Though slow and a waste of time, our entry into Cambodia was uneventful.
Upon exit though, Kelly and Tim had the passport officer who liked to yell at departing tourists demanding a copy of their visa (the one they took from us upon arrival and clearly marked by document number in our passport) I mean honestly, we are leaving the country does he really need to see a copy of our entry visa which is in their electronic system? After a few minutes of yelling and frustration they produced copies of whatever he wanted and we all made it to our plane. The exit experience did not make us want to return anytime soon.
Cambodia is poor and has suffered through decades of horrible government but is trying to work for a better future. The people are friendly, except the occasional passport officer. Visiting places like Cambodia gives us perspective. Our country has its problems like divisive partisanship but Cambodia is a cautionary tale for authoritarian single party rule. In the late 70's their government rounded up 25% of the population and executed them, simply wearing glasses could be reason to execute someone as an intellectual. Stalemate in a divided congress is far better than a single party that can deal with their perceived opponents by execution.
Our problems seem far less when viewed through the lens of a poor nation and its struggles to provide water, sewer, garbage and electricity. We really do have it easy compared to much of the world and we should appreciate what we have. Ok, enough civics, how about the travel.
Our Siem Reap hotel was lovely as were the entire staff. The room including breakfast cost about $75 a night and included a free airport shuttle. The other hotel amenities were a bit over priced so we chose to do our own laundry rather than pay $1.50-$5 for each piece of clothing, yes, a pair of underwear $1.50, a pair of socks $2 or was that $2 per sock? A tee shirt $5. Everywhere else we were able to get laundry washed, dried and folded for around fifty cents a pound.
The country is safe and the touristy areas are well maintained, but poverty is just around the corner. It is said that Cambodia is at a turning point comparable to the US in the 1960s. The younger generation is pushing for change, fueled by their access to the world through television and smartphones they want a different future than the life of their parents. 75% of the population still lives outside the cities, that is expected to change as the next generation moves into the cities for better jobs and more opportunity. It will be interesting to see what they accomplish in the decades ahead.
We came to Siem Reap to tour the temples in and around Angkor Wat. Which means that three days in Siem Reap does not make me an expert on Cambodia. I understand the country is a big draw for the backpacker adventure crowd looking for hiking, biking and kayaking opportunities in the unspoiled jungles of Cambodia. Not being part of that crowd I found Cambodia a bit of a one trick pony, not much to see or do beyond exploring the ancient Angkorian Empire. Over 300 ancient temples can be found around Siem Reap. The temples date back over a 1000 years and are amazing to behold. It may be a one trick pony but it's one trick is beyond impressive and worth a visit. Some Temples have been restored and others are beautifully decayed with trees and vines growing through the stone.
We joined a sunrise bike tour through Airbnb at a cost of $75 per person. If you know us you will know Kelly is not a big biker, but she is a trooper and willing to put fear aside and ride 30 Kilometers on a mountain bike at times through soft sand, roots and ruts. A challenging ride interspersed with walking tours of four temples, a full breakfast and a full lunch.
If you don't mind a little biking this is a great tour. You wander the main temple complex of Angkor Wat at sunrise then ride on paths and roads past ancient walls and huge statues of Buddha as if you were on a movie set or a theme park. These ruins are what the movies and theme parks are based on.
I turned over my tour guide hat to Tim on day 2 and he led us out to explore Siem Reap. Stop one was a Made in Cambodia market where local artisans sell all types of handcrafted goods. A very nice market with high quality goods and oftentimes helping a good cause, some of the shops sold scarves made by women injured by landmines. Yes, landmines remain a significant problem as well as unexploded ordnance dropped by the US during the Vietnam War. Our guidebook cautioned those adventurous types to never venture off established trails especially down along the southern border with Thailand.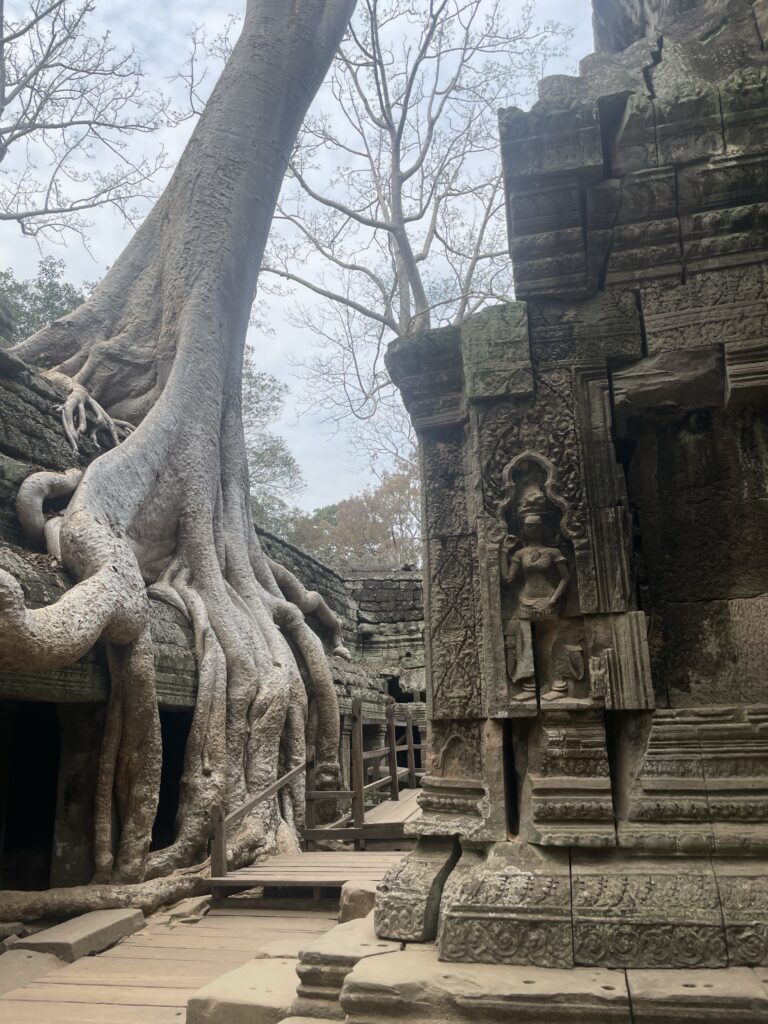 Laurie's big purchase at the market was a beautiful one of a kind oil painting of an elephant. Later we all commented that her artist must be very prolific as we saw the same painting in dozens of other shops. Taking it well, she said she didn't care if it was an original, she liked the picture, it will look nice on her wall and she contributed $30 to the local economy. All good.
Next up was our surprise lunch spot chosen by Tim to address Laurie's often repeated comment that she missed her chips and salsa.
The Maybe Later Bar and Grill was a very nice Mexican restaurant in Siem Reap Cambodia! Chips, salsa, tacos, burritos and margaritas that all tasted like a Mexican restaurant in the US.
Our past attempts to find Mexican food outside the US or Mexico has often proved wanting, like the nachos made with a random choice of chips covered with a can of hormel chili. But this place was the real deal. We even found an IPA, another of Laurie's favorite things. Laurie definitely thought Tim should plan our days more often.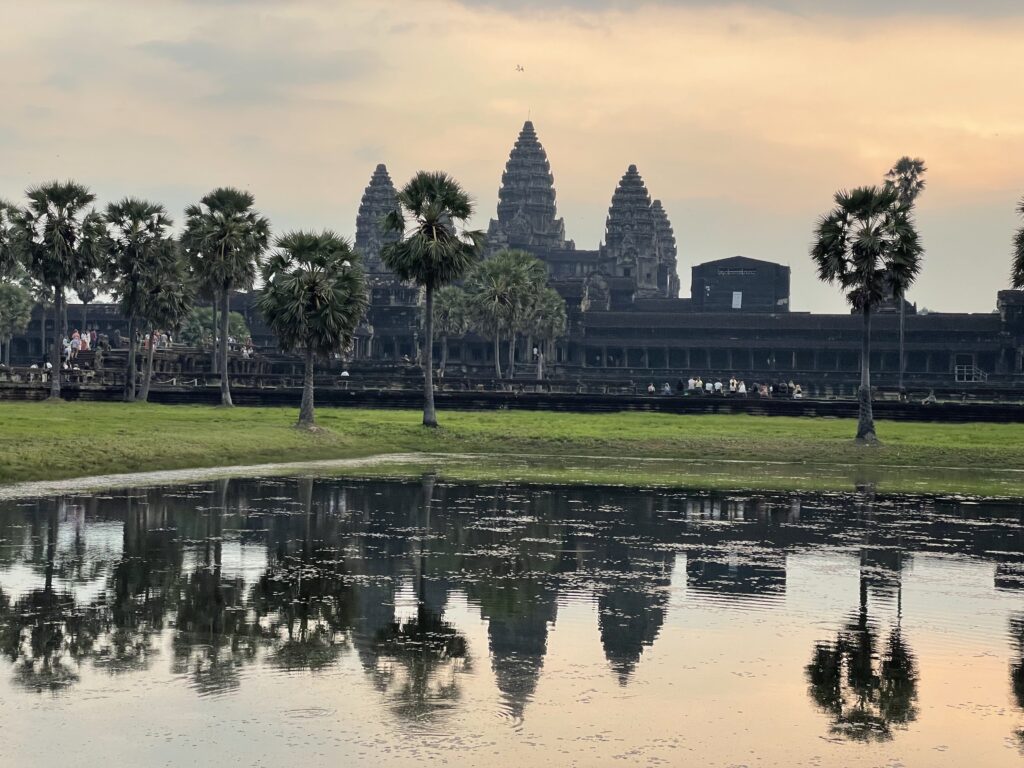 See you in Vietnam