We have traveled often with my two sisters in recent years, usually hiking around US National Parks. However, my first international trip was backpacking around Europe with my sister Laurie in 1979. In an age without cell phones, internet, or even a good guide book the trip was a bit of a disaster for two novice travelers from Puyallup, Washington. Let's just say it was a steep learning curve.
Forty four years later Laurie decided it was now safe to travel internationally with her brother again and she has joined us on our first trip into Asia. Kelly is here to keep the siblings in line and completing our travel foursome is Tim Vore, my sister Kim's husband. Laurie is hoping there will be less sleeping in train stations and public parks in contrast to 1979.
A seventeen hour non-stop flight sounds a bit daunting, and it is. But when you realize you can travel 9000 miles to almost the other side of the globe you realize just how amazing modern air travel is. Our destination, or really just a 48 hour stopover in our travels, was the island nation of Singapore, a former British colony which gained its independence in 1959. The gleaming modern city of Singapore with its impressive skyline and obvious wealth gave us an easy transition into South East Asia. Singapore is a country of five million with 70% immigrants. The primary language is English, making signs, menus and conversations much easier to navigate. We arrived on a Monday expecting a bustling crowded metropolis but found an almost empty ghost town. The lunar new year celebrations of the previous weekend left the streets, parks and even the airport eerily vacant. The downside was that many businesses and restaurants were closed.
We had two days to explore the city and adjust to jet lag. Unfortunately, the weather didn't cooperate. It rained both days…..a lot. The city is very walkable but very large so we decided to try the hop on hop off bus which is not something we usually do. We chose the $50 two day pass and planned to use the bus as our primary form of transit around the city. It proved to be a good way to see the city, but a poor way to get around as there were too few buses and limited hours. It would have been better to rely on the subway or just use taxis which were reasonable as the four of us taxied into the city from the airport for $20 US, and most trips around the City cost us $10-$15.
Singapore is the most expensive stop on our trip, so we tried to stay on budget by choosing to stay at an Ibis budget hotel which is a budget brand found all over the world. It was clean and safe but the rooms were barely larger than the bed, the bathroom and shower were a single 4 by 4 room, yes, your shower flooded the entire bathroom floor and sprayed water on the toilet and sink. Which kind of made it self cleaning if you think about it. We decided our stay was closer to camping than a hotel even though it was the most expensive of our trip at around $130 a night. I know it sounds pretty cheap but wait until you see the other accommodations we have booked around Thailand and Vietnam.
Singapore is not just expensive for travelers. A ten year license to own a car in the city will cost you $87,000 and that doesn't include the car, just the right to have one for 10 years. A very organized and law abiding city where chewing gum is treated like contraband, possession of gum is subject to a $500 fine. They like their clean city and want to keep it that way. From what I had heard of Singapore I expected a heavy police presence but found none. We saw almost no police anywhere and the residents all assured us that we were safe anywhere in the city at any time of day. We were a bit concerned when our hotel manager told us to just leave our bags on the lobby floor for several hours where we were assured they would be completely safe. They were.
The city has interesting districts like little india and chinatown but the pouring rain made exploration a bit difficult. The real highlights of Singapore are its tropical gardens and the man made structures designed to take full advantage of the tropical environment. Sky scrapers draped in green plants, palm trees with lush forests on rooftops, balconies, and interiors.
Gardens by the Bay is the huge tropical park along the City waterfront. Acres of beautifully designed gardens culminating in the two huge greenhouse attractions called Flower Dome and Cloud Forest. The first is a downward spiraling garden starting with cactus gardens at the top descending down through tropical forests with plants and trees from around the world and ending at its lowest level in flower beds.
You then make your way into the lower level of the cloud forest structure where you are greeted by a huge indoor waterfall. You walk up a spiraling path as if you were climbing a mountain into a cloud forest with tropical plants and trees. Both structures were stunning and well worth the $40 entrance fee.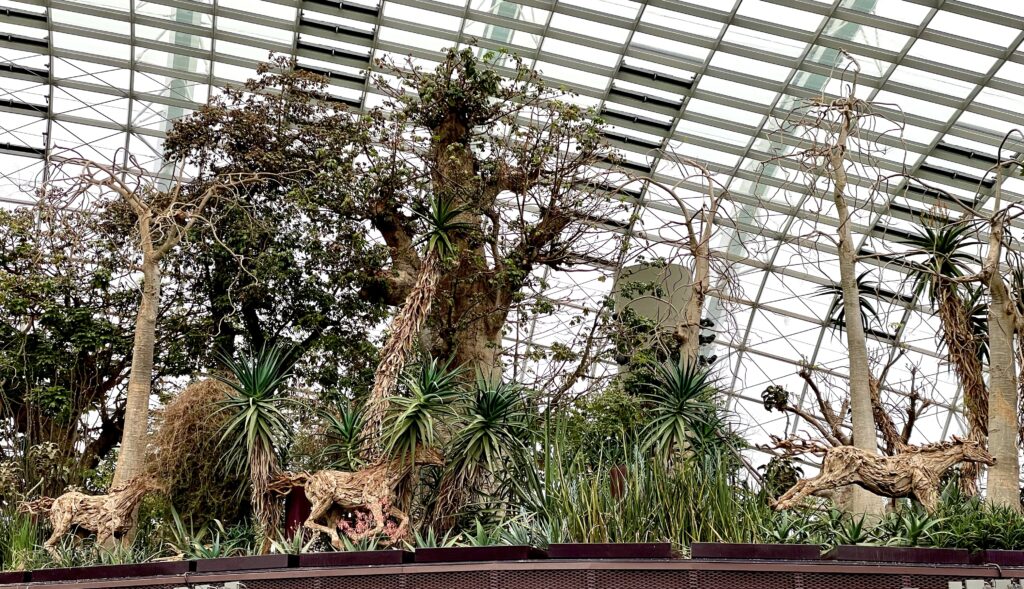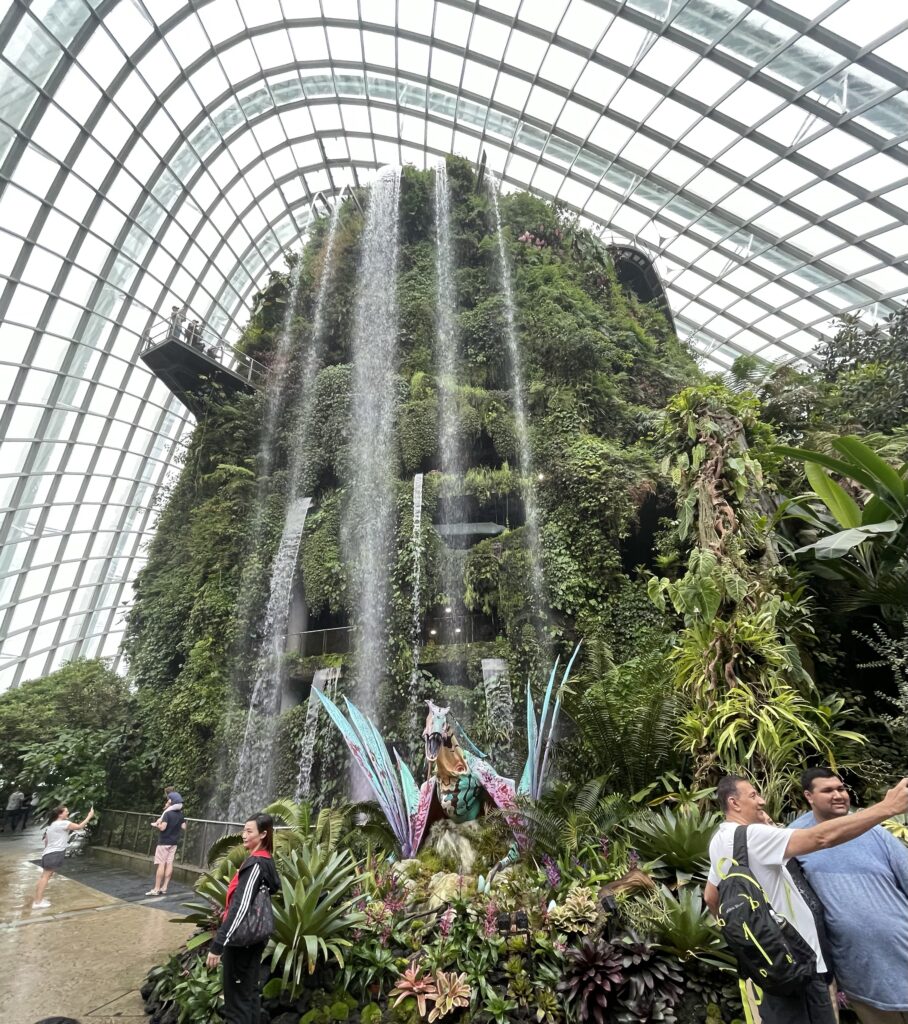 A trip to Singapore for a westerner is not complete without a stop at the Long Bar in the historic Raffles Hotel to sip on a Singapore Sling in the bar where the drink was invented in the 1920s. While the recipe has remained the same for a hundred years the price has not. A single Singapore Sling will set you back $28 USD, but don't worry it comes with free all you can eat peanuts in the shell, and just throw the shells on the floor. So basically, $28 gets you a drink, dinner and maid service. The building and bar are beautiful, and the overall experience fun, but you can decide if it is worth the $28. I am not a gin drinker so I chose the Duke as my drink of choice, a bargain at $22. The Duke is a tasty rye whiskey cocktail supposedly named after John Wayne, though upon its delivery in a dainty crystal glass I doubted the Duke ever drank one at the Raffles.
On the other end of the drinking spectrum is a stop at Ce La Vi, the rooftop bar at the Marina Bay Sands Hotel which is prominent in any Hollywood movie shot in Singapore. Take in the view of the city while sipping on your $20 cocktail in the pouring rain….not quite what we planned.
After two days wandering the city in the rain Kelly and I are dragging and drenched. Laurie on the other hand is ready for another 5 miles on her 10 mile daily goal. She is quick to point out that it is a warm rain, nothing like her 10 mile hike through pouring rain on the Pacific Crest Trail, or her multi day trek around Scotland. While her words remind us that it could be worse, her cheery disposition and unfailing energy lead me to comment that one day soon she may find herself duct taped to her bed with a note saying we are spending the day at the pool and will be keeping our steps to less than 500. Siblings.