I know! I told you I would write in Paris, well I lied. Now back in Arizona I have returned to writing because my public demands a blog update, well maybe it was just my cousin and my mother in law, but that is a significant percentage of my followers.
Haven't you been to Paris? What will you do for a month? These are the questions most asked about our return to Paris. Let me explain, after two months on the road we were ready for a little relaxation in familiar surroundings. Paris is that to us. We stayed in the same apartment as our stay in 2019. We know the shops and restaurants. We like the walkable neighborhood with a bakery on the corner, a cheese shop and butcher on the block. An open-air farmers market as well as our favorite wine bar Le Baron Rouge just a short walk away.
Our Paris neighborhood is comfortable yet completely different from our actual home in Arizona with its driving culture. We also foolishly believed Paris would provide an escape from the Arizona summer heat. Then the temp hit 104 and averaged in the 90s for most of our stay and we were dreaming fondly of our lovely Arizona air conditioning. As sweat slowly trickled down my back while trying to enjoy dinner at Willi's Wine bar I concluded that Paris is not equipped for climate change.
Our daily walks which are pretty repetitive back home became a daily walk of discovery as we tried to meet Kelly's goal of walking all 20 Paris neighborhoods or Arrondissements. One day we may walk around the 11th and into Pere Lachaise Cemetery to visit with Jim Morrison or Oscar Wilde, tomorrow we may walk across the Seine to wander the latin quarter and stroll by the Sorbonne. Shopping, cooking, wandering interspersed with wine, coffee or lunch at a cafe. This is how we spent most of our time.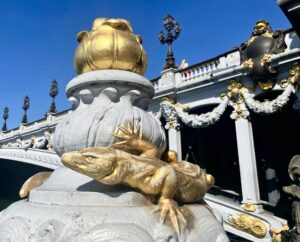 We have been to all the big tourist spots so we did not need to fight the crowds to see the Mono Lisa or tour Versailles. We spent a couple of hours in the Musee d'Orsay for the first time in years and loved the art and the building but not the July crowds lined up to take a selfie with a Van Gogh painting. We visited the Pompidou Museum of Modern Art for the first and last time to confirm I am not a modern art fan. There were some nice interesting pieces but honestly, is a blank white canvas or a crayon drawing museum quality art? My measure is fairly low, if I can do it then it is probably not art and certainly does not belong in a museum.
In 2019 we visited Giverny, the home and gardens that inspired many of Monet's paintings. This time we were planning to lunch at Maison Fournaise, the restaurant depicted in Renoir's classic painting "the luncheon of the boating party". We learned about the painting and the restaurant in a class back home and thought it would be a fun way to spend an afternoon. Unfortunately we learned too late that the restaurant is closed all of August. Many Parisians take the month of August off, it is common to find restaurants, bars, bakeries and shops closed for weeks at a time so the owners and workers can enjoy a long summer vacation. We had a memorable night at Café Leopard, our local haunt which was closing for a month.. We enjoyed a burger and a glass of wine….or two, while our favorite servers Julien and Ariane shared shots with coworkers and friends celebrating the start of their summer break. Europeans take vacation seriously, we talked with a young man from Zurich who was in Paris for a long vacation because his corporate employer requires everyone to use their 5 weeks of paid vacation or face fines. An employer that will dock your pay for not taking vacation! Hmmm.
We were joined again this year by my cousins Brenda and Shannon as well as Shannon's daughter Emily on her first visit to Paris. It is always great to catch up with family and meeting up on the road in a place like Paris makes for a wonderful reunion.
The dates of our stay in Paris were determined by our tour of Turkey so it was a nice surprise to find that our Paris stay coincided with Bastille day as well as the finish of the Tour de France. Kelly and I decided to splurge on a Seine dinner cruise to watch the Bastille day fireworks. The food was good, not great, but cruising the Seine and watching the Eiffel tower lit up with fireworks was a memory we will never forget. Spectacular is an understatement.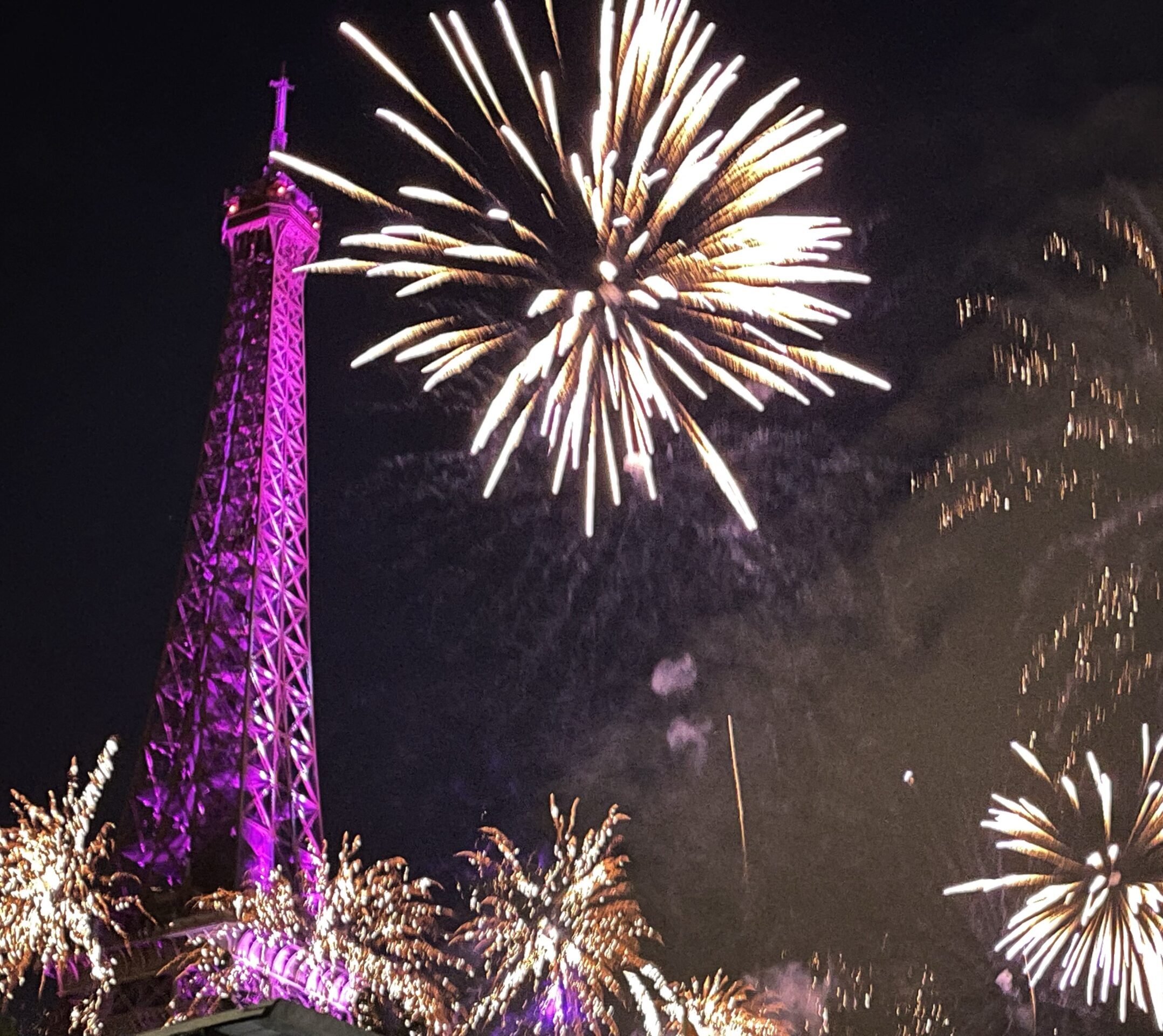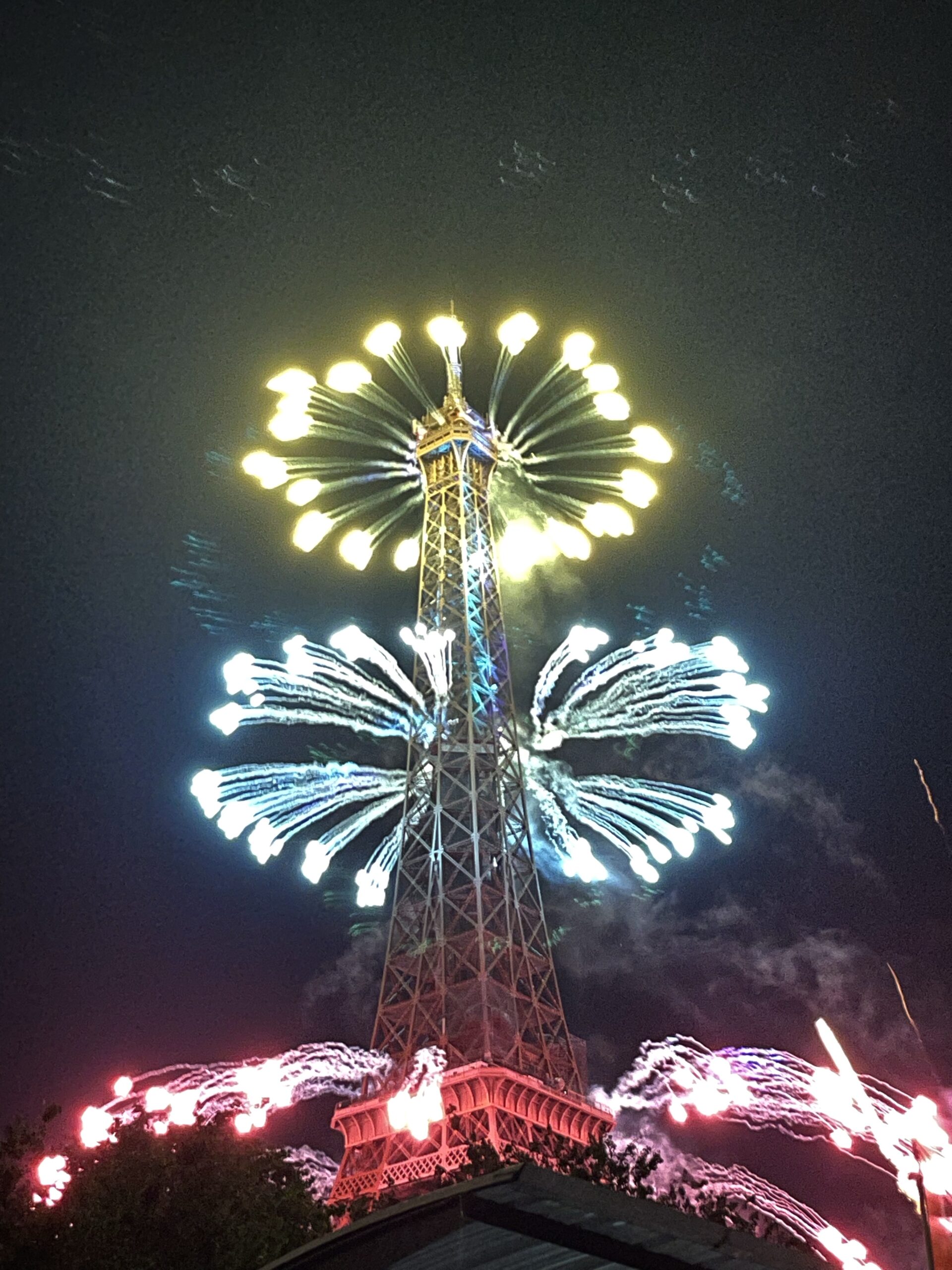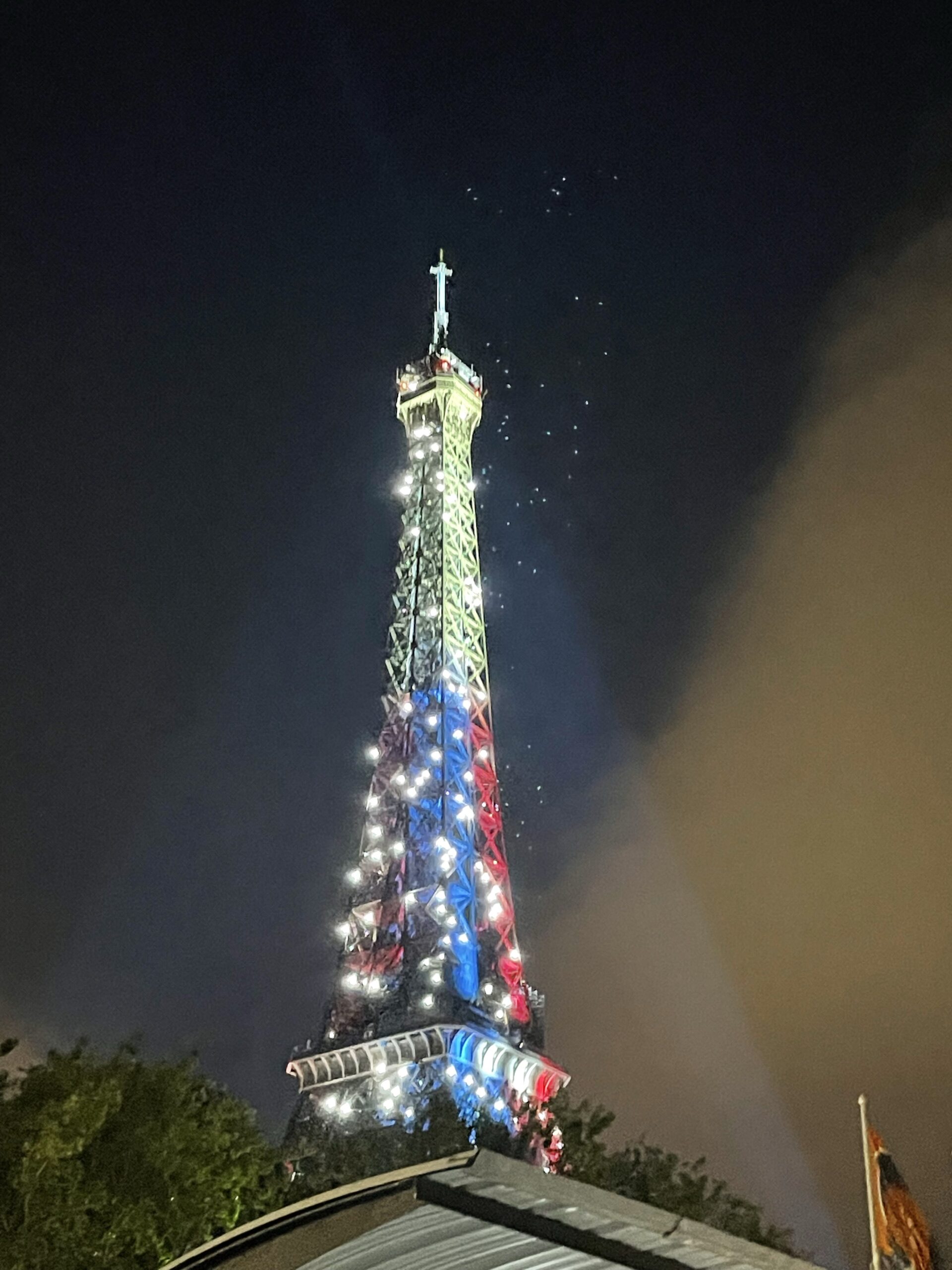 A week or two later the 21st and final stage of the Tour de France bike race finished on the Champs Elysée. The bikers were scheduled to arrive around 6:30 in the evening so we boarded the metro outside our apartment around 4. Fighting crowds we made our way to the Rue du Rivoli and lined up behind a British woman who had been camped out with her dog since noon. She was able to watch the finish of the first stage of the Women's Tour around one but had been holding her spot since then. One nice thing about watching the final stage is that the riders make a loop around Paris eight times so you can watch and cheer them on eight times from the same spot. A memorable experience and a race I have always wanted to see in person.
On our walks we tried to take in sights and parts of Paris that are a bit more obscure, like the Passages which are covered alleys and walkways found around Paris. Many date from the 1800s and are filled with shops and restaurants. Interesting architecture and history can be discovered everywhere in Paris. It can make for a bit of a scavenger hunt but is usually worth the effort. Similarly, Paris has a specialty shop for everything, olive oil, mustard, macaroons there is a shop dedicated to each.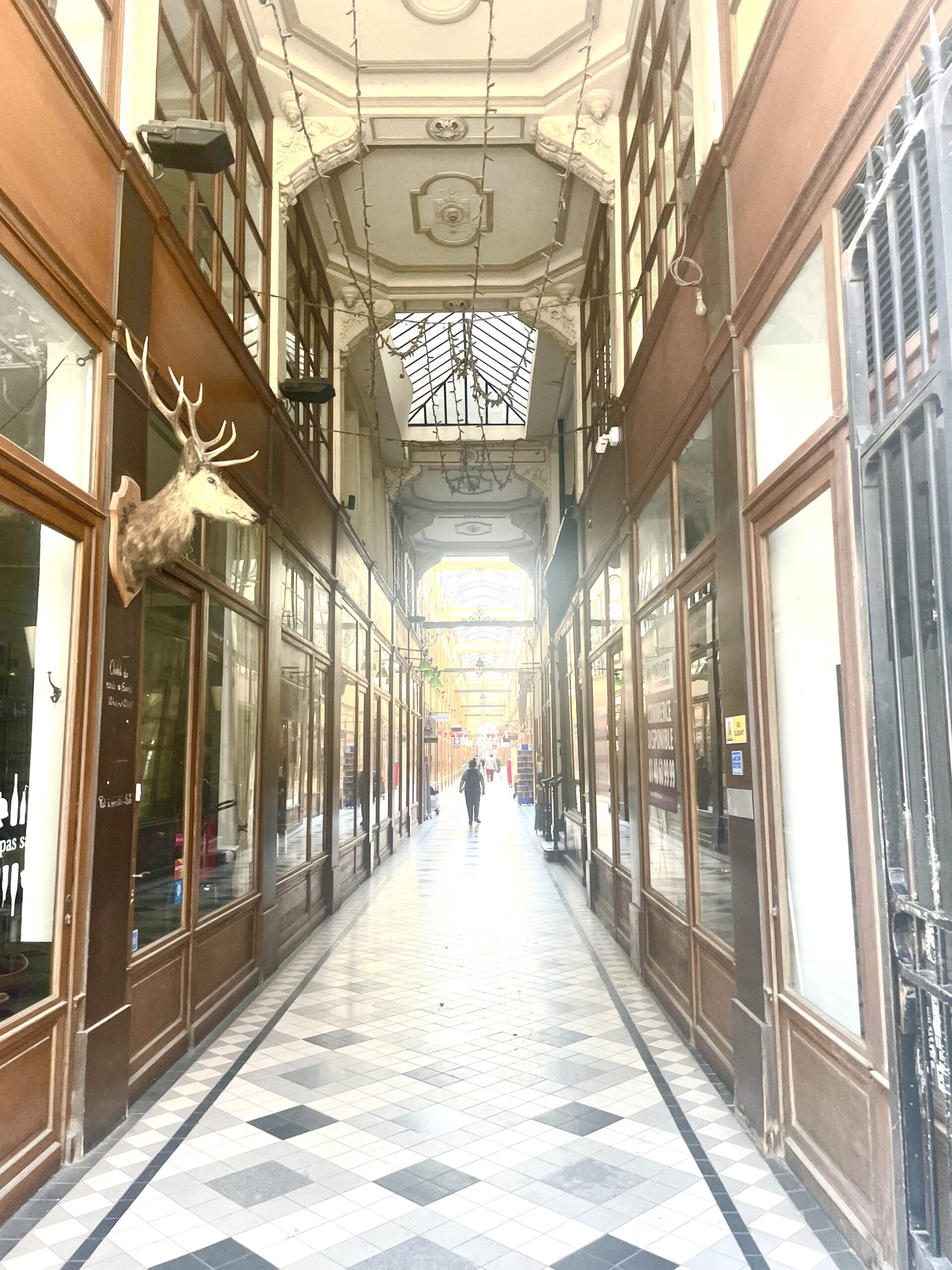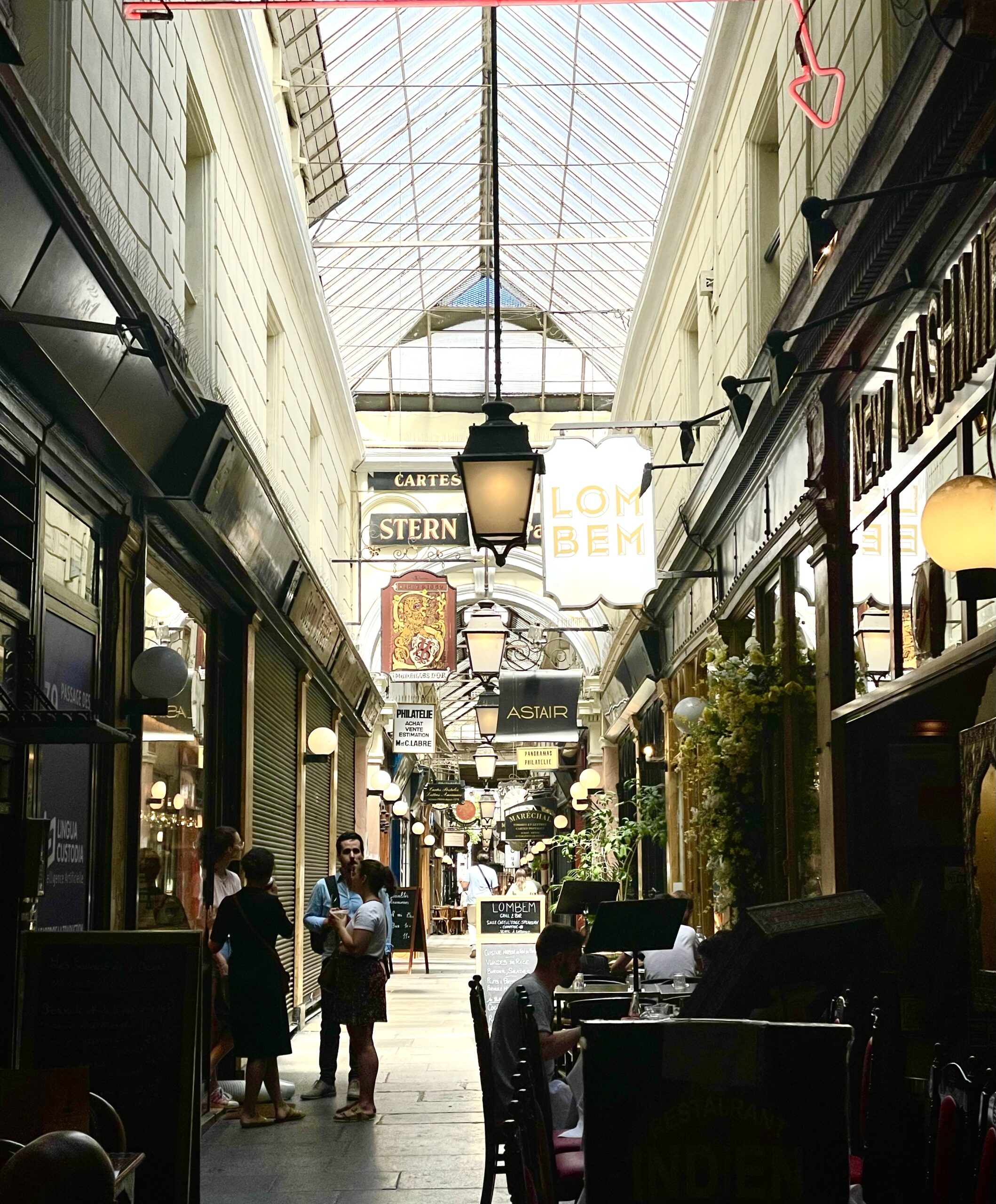 And every neighborhood has a bakery, cheese shop, butcher, wine shop and charcuterie. Parisians never want to walk far for good food. On one of our final mornings I told Kelly "I will walk down to the corner and pick up breakfast". Returning a few minutes later with two pain au chocolate and some quiche I said " I am going to miss that when we get home" And I do.
G