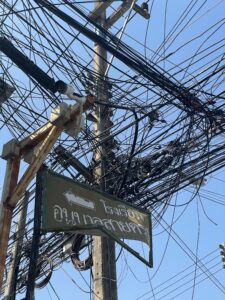 We escaped the rain of Singapore and headed to the warm sunshine in Chiang Mai, the largest city in northern Thailand with a population of around a million people. We stayed in the old town which was established in the 1200's and surrounded by crumbling walls and a moat. It is not a classic European walled city and has a more tumbled down appearance similar to parts of Mexico. It is an interesting city but I would not call it beautiful, at least not the parts I was in. A somewhat crazy mix of scooters, people, vendors, temples and shrines. We chose Chiang Mai because of its access to elephants, which were number one on Laurie's must see list.
We loved our Chiang Mai hotel after our spartan furnishings in Singapore, a beautiful king sized bed and walk in shower, a nice pool and buffet breakfast for a cost of $66 a night. The hotel suggested dinner at Dash restaurant about a 10 minute walk away. Dash was one of the more high priced options as street vendors are everywhere with food offerings of every type for a dollar or two. The menu even had a drink called "where's my elephant" a perfect start for Laurie's time in Chiang Mai. Unfortunately the name proved better than the actual beverage with bits of peppers, lemon grass and who knows what floating around leaving you to wonder if an elephant may have been in your glass. My $4 Johnny Walker black label proved the better though safer choice. The food was delicious and we even returned a second time during our stay. We have learned that when you find good local food it is often a better choice to return to the same restaurant than roll the dice on another. A great meal for four with two cocktails each cost a total of $80. There are plenty of cheaper options but our goal is to find good, safe food at a reasonable price.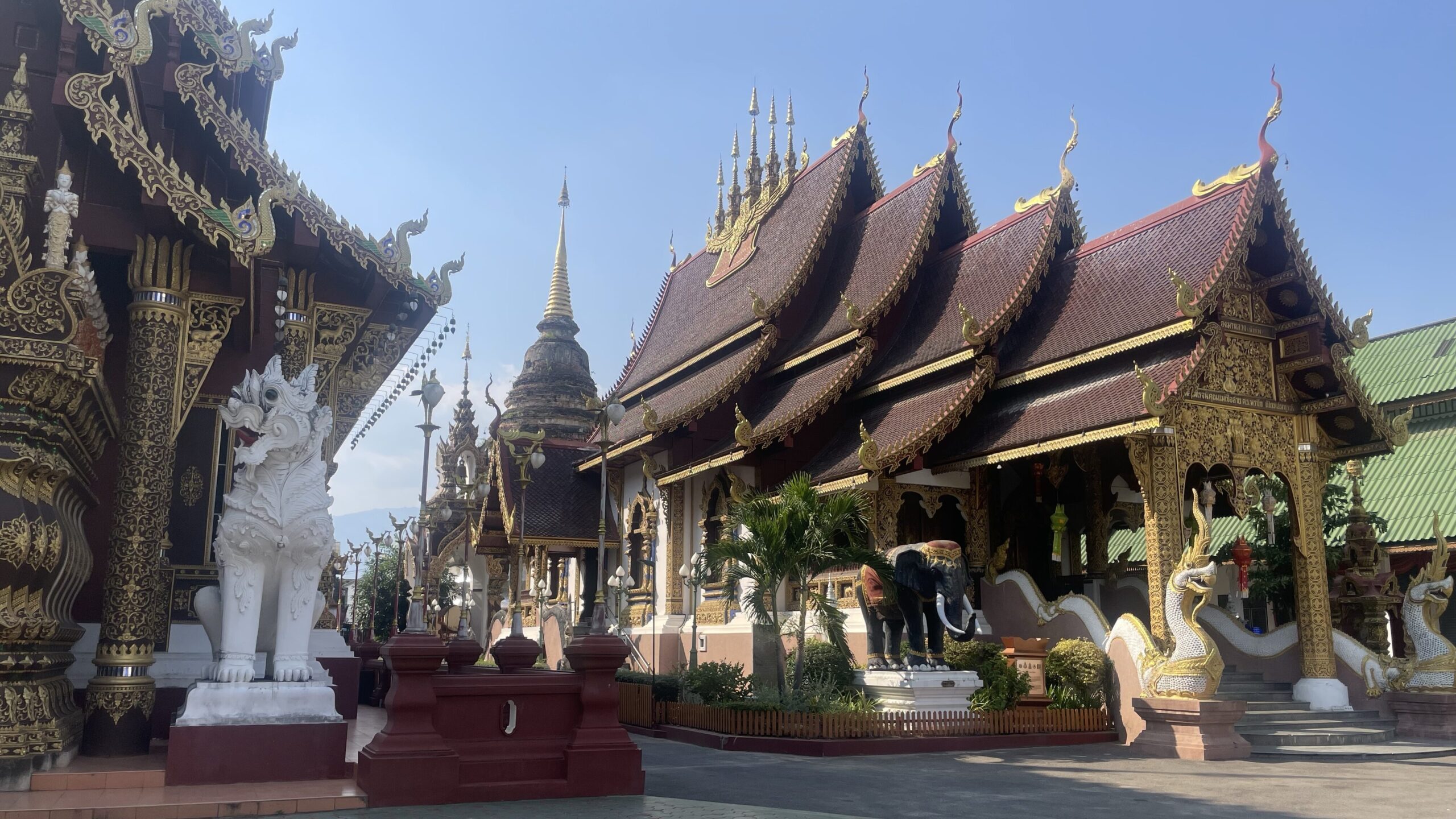 Our first full day in Chiang Mai we had a private Tuk Tuk tour through the countryside around the city. At $120 a person it was an expensive adventure for Thailand but gave us a full day with a wonderful Thai guide, Nam, who shared and explained her country and culture. We were picked up at our hotel in a nice Mercedes van and taken out of the city to our two tuk tuks. We wandered the back roads up to a monastery and a huge shrine which we had all to ourselves. Nam, explained the various symbols and answered our questions about the buddhist monks. She explained most Thai men serve as monks at some time in their lives but it can vary widely. City monks have cell phones and ample food options while in the countryside a monk may rely on only the food offerings of locals. Your length of stay as a monk varies as well, it may last a lifetime or a week. As Laurie said, kind of like summer bible camp for Buddists.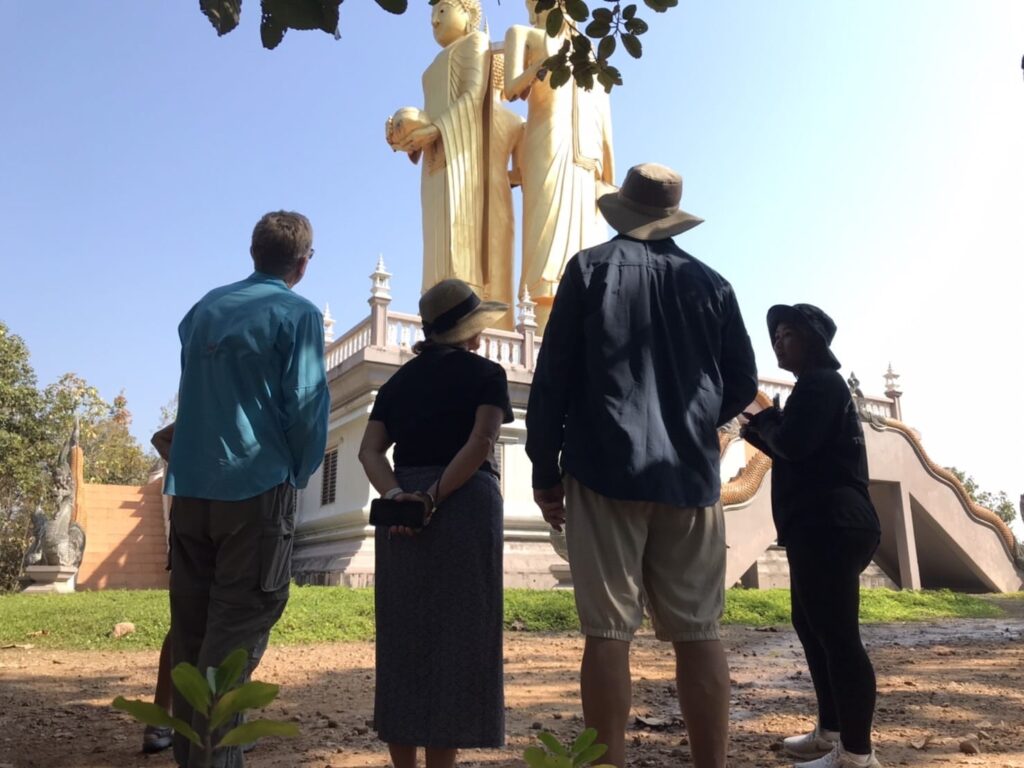 We continued on through rice fields and farms grabbing an iced Americano at a family cafe on the river. A little odd finding a barista by a river in rural Thailand. Then a nice picnic lunch by a waterfall, and on to a stop at an elephant preserve where we fed the elephants and then walked with them to the river where they played.
It can be a struggle to insure you are only spending tourist dollars where elephants are treated humanely, you have no idea if the same family offering you an "ethical experience" has an elephant riding camp, elephant circus, or an elephant logging operation, but you do the best you can. After a few hours with elephants we rafted down a river. A little like a romantic gondola ride in Venice, with your gondolier poling your raft down the river through the rapids. Except, you are not in a lovely handcrafted boat with seats and cushions, just a few bamboo poles lashed together with old car tires. The raft keeps you afloat but you were sitting in several inches of water most of the time. More like inner tubing down the river than boating. A fun and novel experience which I would recommend, just wear a bathing suit.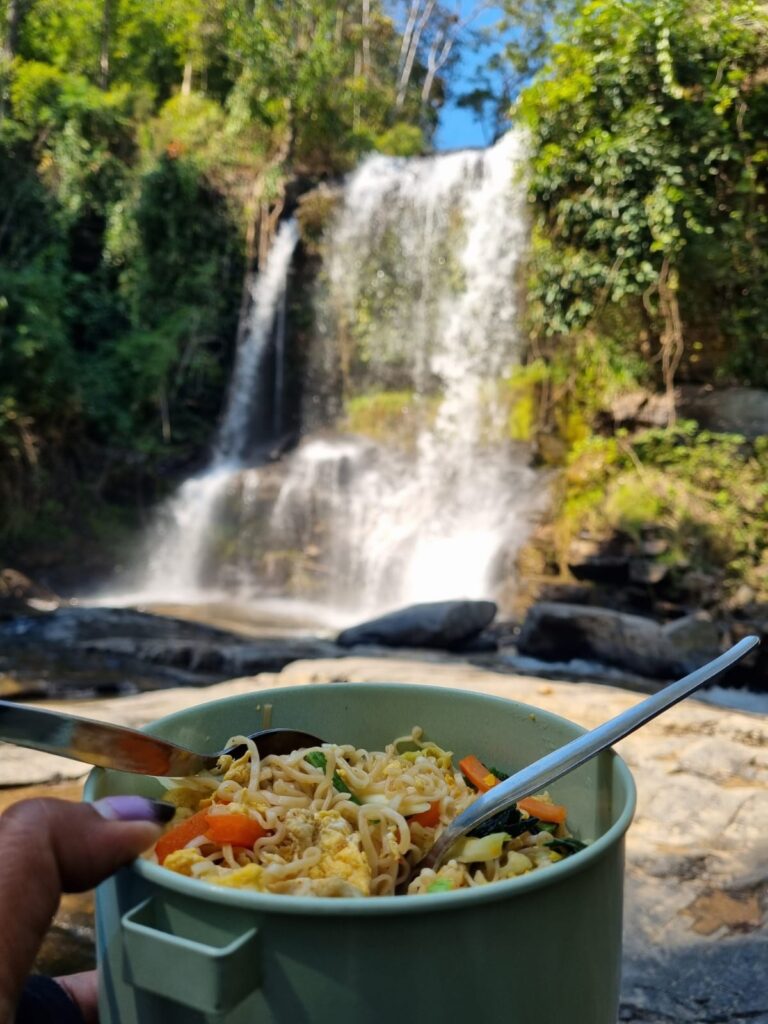 Day two, our first thai cooking class. I highly recommend this bargain experience. Picked up at our hotel again and taken to the cooking school on an organic farm. It is a huge complex with at least 6 separate cooking classes held in individual structures around a central lawn.
We had a class of ten and each person has their own station and prepares their own meal. First, soup with a choice between coconut and hot/sour. Next, a pad thai noodle dish and finally a curry with your own hand ground curry paste. We sat and ate after each dish so you were eating almost all day. If you signed up for the full day class you would make a sticky rice dessert and an appetizer after a much needed nap on the lawn. We only signed up for the half day so we were served the dessert before catching our van back. We learned about cooking techniques and toured the farm to learn about traditional Thai fruits,vegetables, herbs and spices. A great day for only $24 a person!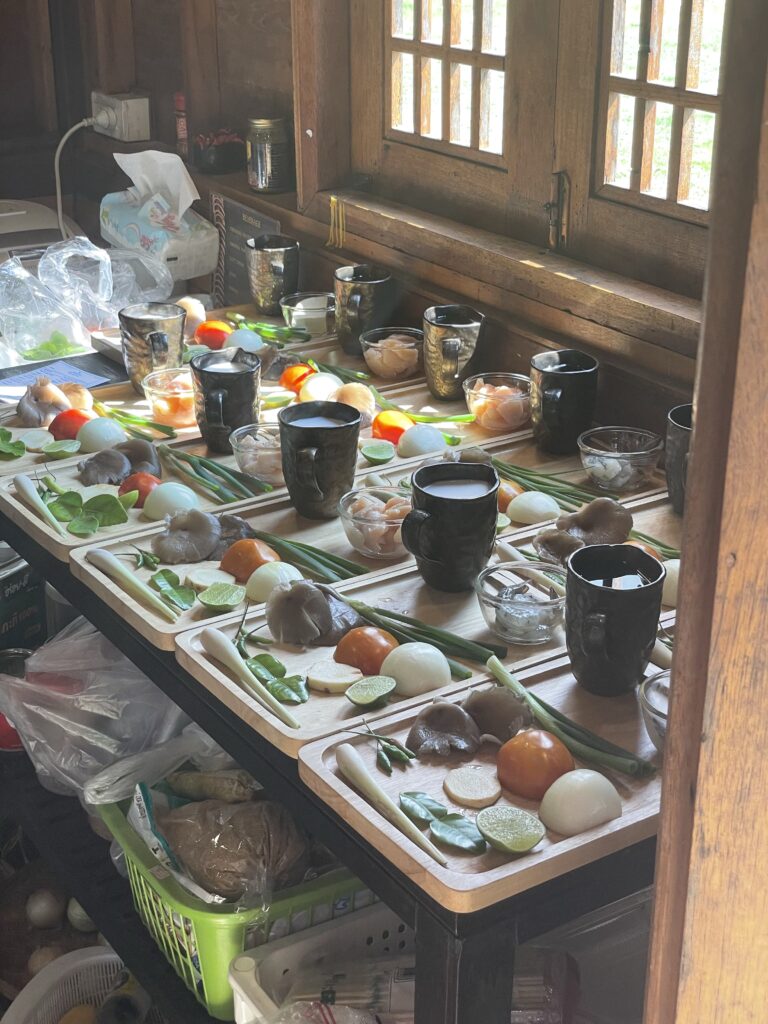 Then we were off for an overnight stay to volunteer at the Elephant Nature Park. This is largest and most famous preserve in Thailand, its founder Lek Chailert is world renowned for her work in animal rights. She has taken in over a hundred elephants, most broken or injured from logging, riding, and circus acts. She also has taken in hundreds of dogs, cats, cattle and bunnies. She saves every animal she can. The operation is huge and 80% of funding comes from visitors like us. While there wasn't much volunteer work during our overnight they do have week long options but most of those are filled a year in advance. All meals for the stay are vegan, and quite tasty with a lot of variety. (I am sure my dear friend Jan would be happy I was vegan, even for a day). What I found interesting was after Lek's evening talk about her work with animals she didn't ask for money, her message was "get the word out, use your social media" tell the world "don't ride elephants, don't pay for elephant performances" if there is no money to be made those practices will stop. The only way to train an elephant to entertain humans is with chains, spikes, and electrical shock, it is torture and leaves the animals broken. We saw plenty of broken elephants at the preserve.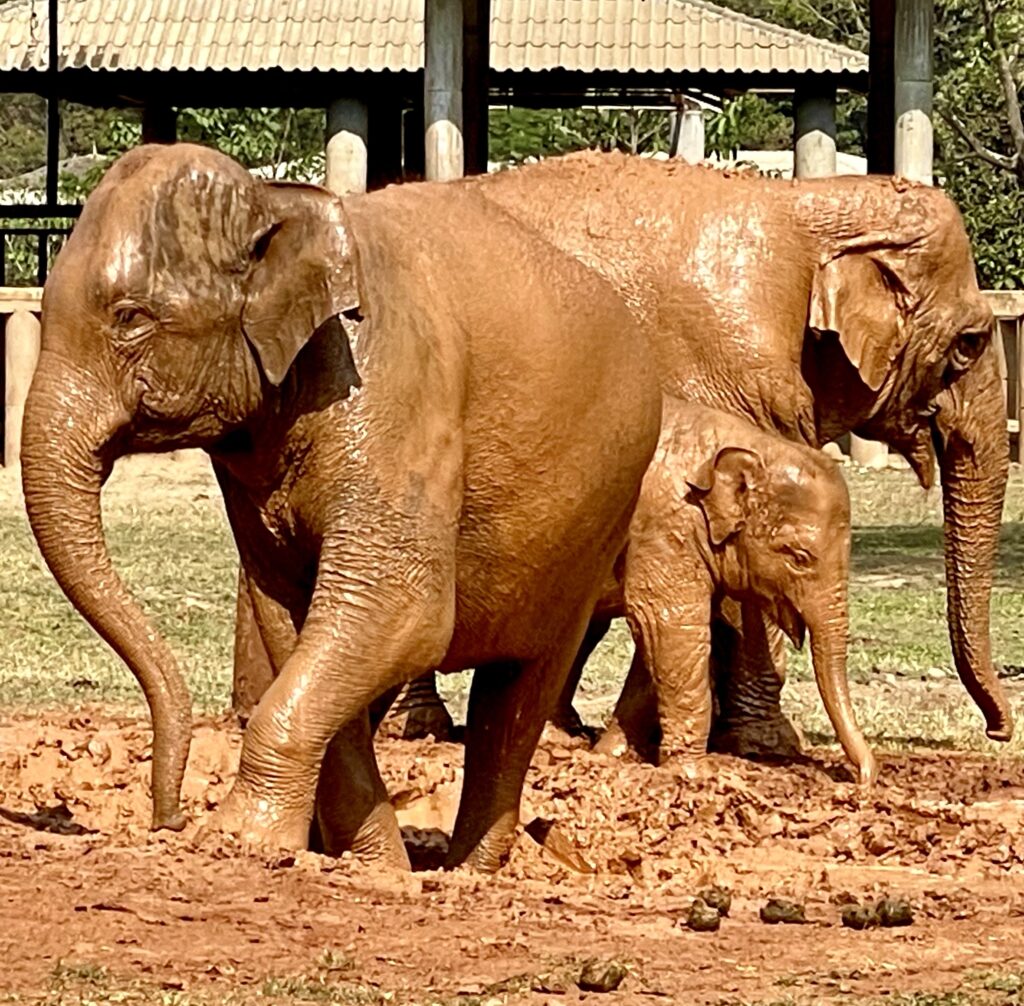 After a final night back in Chiang Mai we jetted off to Koh Somui, the second largest island off the southern coast of Thailand. See you there.