Having never been to Southeast Asia my expectations were unrealistic, is there really any tropical paradise? A place where the locals live in modern comfort, the beaches are pristine and the food, drinks and accommodations are cheap? Uh….no. Koh Samui tempered my expectations for Phuket. Phuket is the largest Island in Southern Thailand and far more affluent and modern than its smaller neighbors. I anticipated a smallish local airport but found a large modern international airport, yes it even has a Starbucks. I have been very impressed with all of our air travel on this trip, modern airports, easy check in, on time flights and new equipment. In total, a much better flying experience than most of our flights in the US. Of course, now I have jinxed it and our next flight will be delayed a day and they will lose our bags.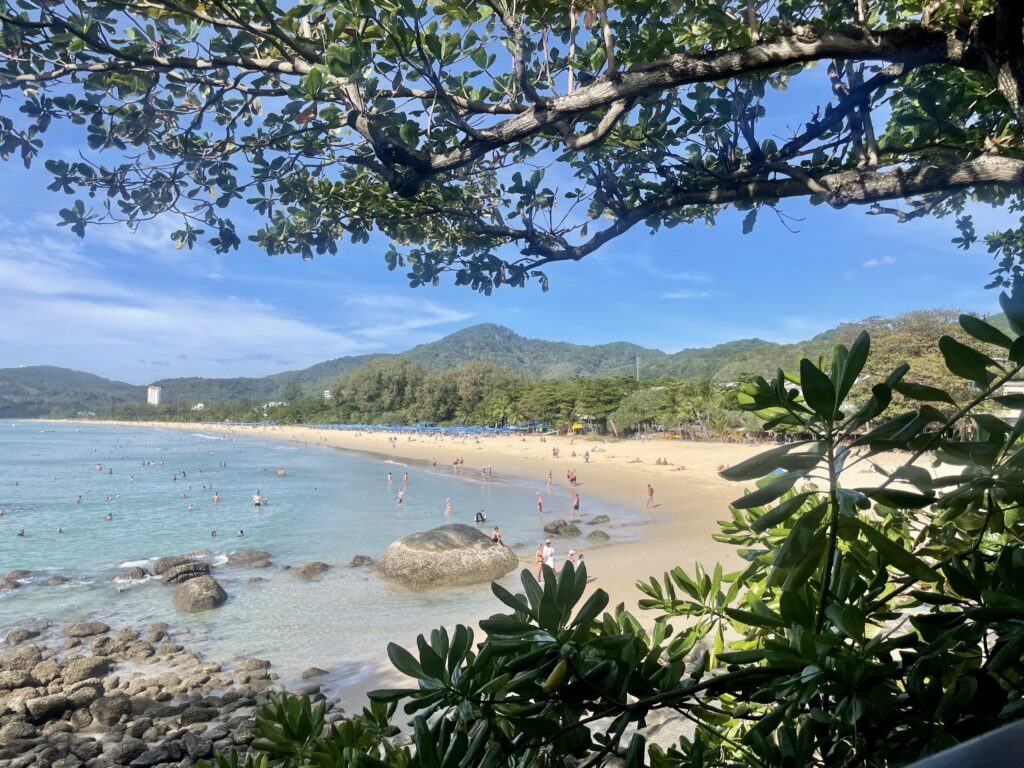 I expected to leave the airport and drive through jungle or fields on our drive to the condo at Karon beach. Instead we started on a modern divided highway out of the airport past new car dealerships and all of the trappings of a modern capitalist society and never left the city for the country. Our hour drive was a steady stream of traffic and town after town all running together. Phuket is densely populated with almost 500,000 permanent residents who host over 2 million tourists each year. We encountered surprisingly few Americans. Regardless, English is the second language of everyone and Thailand as a whole has proven very easy to navigate without any knowledge of the Thai language. Yes, I do feel a little guilty knowing zero Thai. But you can get a long way simply smiling, putting your hands together as if praying, bowing your head and saying "thank you" after every interaction with a local.
We booked five days at a beautiful 3 bedroom Condo overlooking Karon Beach. Another view property but a much easier walk down to the beach, stores, restaurants and bars. After settling in we wandered down to the beach, Karon is a great beach with white sand stretching for almost 2 miles. The water is clear and warm. Sunbeds and umbrellas are available to rent for the day costing $3. We stepped into a beach front club thinking of grabbing a drink until we noticed the $100 minimum if you wanted a view table, they offered us a no minimum table in the back next to the pounding dance speaker and we decided to move on. We landed at The Rock, a quiet hotel bar overlooking the beach and decided to have dinner and drinks, we still spent $100 but in a better atmosphere and with an entire meal, not just a few drinks.
The next day was our down day and Kelly and I spent almost the entire day at the beach, trading time between the warm water and our $3 beach chairs. A very nice day. Both Laurie and Tim took long walks in the hot sun and met us for lunch. Whatever makes you happy.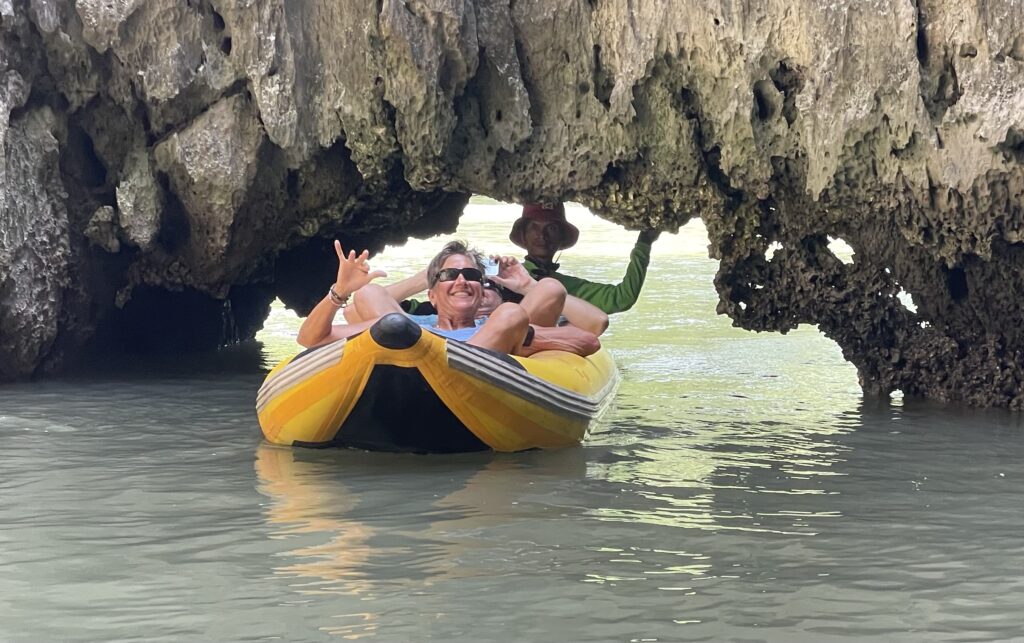 Next was an early morning pick up and a 2 hour drive north off of Phuket Island. We were surprised to find this was a private tour with just the 4 of us, our delightful guide and a driver for $75 a person. The first stop was the cave temple of
Wat Suwan Khuha
where the locals had built a temple within a cave, including a 50 foot reclining gold Buddha.
Several Macaque monkeys added to the experience. Then we were off to meet our longtail boat and headed out through the mangrove lined waterways to Talu Island where we boarded canoes and paddled around the island, through the mangroves and caves, a wonderful experience. We were not allowed to actually paddle the canoe, instead we had a professional paddler who doubled as a romance photographer complete with heart cutout banana leaf. Back on the long tail boat we made our way to Panyee island, with its floating village, home to about 1000 people complete with shops, restaurants and a Mosque as the island is Muslim. All buildings are floating as they use the limited dry land of the island for their cemetery.
A nice lunch and a bit of wandering around the village and then off to our final stop at James Bond Island, a beautiful, if a bit touristy, limestone karst island featured in the "Man with the Golden Gun". Five star island two star movie. After wandering the island and joining everyone else taking Instagram selfies we boarded our boat and made our way back to the dock and our 2 hour van ride back to the condo. A very full day.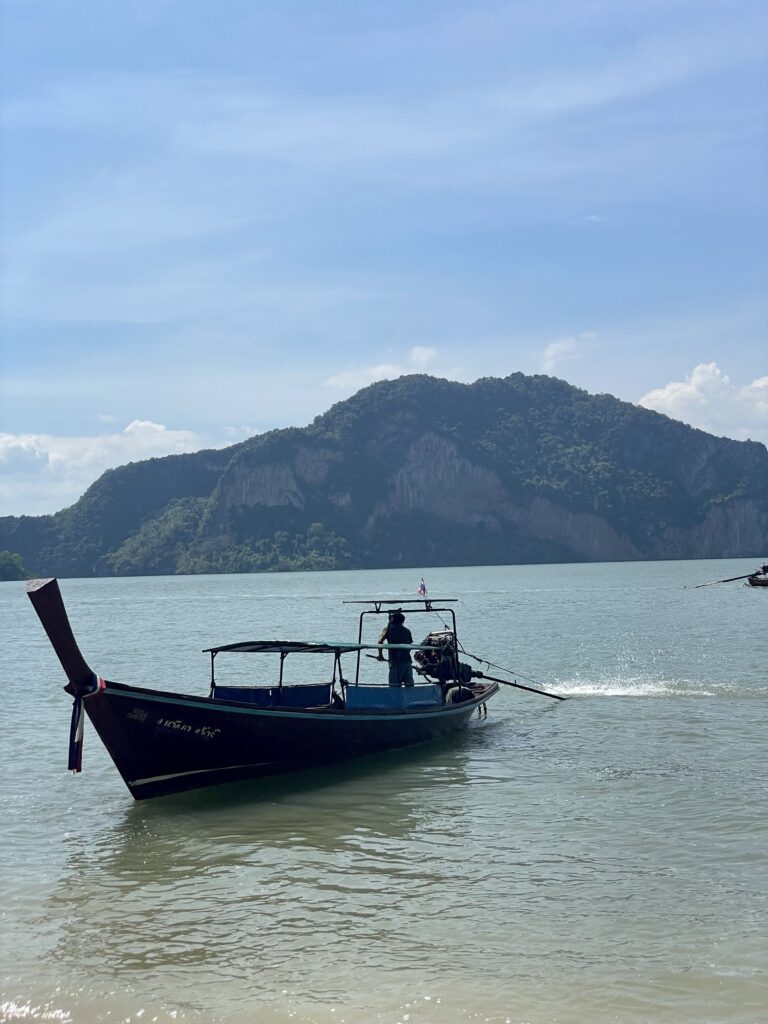 The next day we took it a bit slower, an afternoon taxi to old town Phuket where we wandered the streets admiring the architecture and then somehow ended up in a brewpub where we enjoyed a couple air conditioned hours with craft beers and burgers. It's nice to squeeze a bit of home into your travels
Having enjoyed our prior boating day trips we decided to make another day trip to explore the Phi Phi Islands an hour off the Phuket coast.
I had not planned this adventure having heard a lot of negative comments about how Phi Phi had been destroyed by tourism caused by it famously being the backdrop of a Leonardo Dicaprio movie.
But I changed my mind after a recent report from a friend and the fact that they closed the area to tourists for 2 years to allow for clean up and restoration. I am glad we went and can see why the area was chosen for a movie set. Maya bay is gorgeous and the fact that it is closed to swimming keeps it pristine.
It was a long day with 5 stops at different islands but we agreed we could not think of what we would cut out in order to shorten the day from 10 hours. A very fun and full day at $60 per person. I would recommend staying on Phi Phi like my friend Mary Ann rather than our long day trip from Phuket. Being on Phi Phi for a few nights allows you to book a small private boat to tour around the islands and avoid the crowds of the larger boats that all leave Puhket at 9 AM and descend upon Phi Phi between 10 and 2.
Finishing up our stay on Phuket we boarded another van for a two hour drive up to Khao Sok National Park staying one night in the backpacker town of Phanom then traveling by van and boat out to a floating hotel on Cheow Lan Lake.
In truth, I would not call it a hotel, we had a couple of choices on where to stay and chose the budget/glamping option. A small floating bungalow with a mattress and a bathroom. Dining consisted of a buffet meal that reminded us of dorm food, luckily it was only one day as Laurie and Kelly limited themselves to white rice and fruit for the last couple meals. Swimming, trekking and a very fun/adventurous caving experience proved well worth the trip and the park is beautiful even if the food and accommodations left a bit to be desired.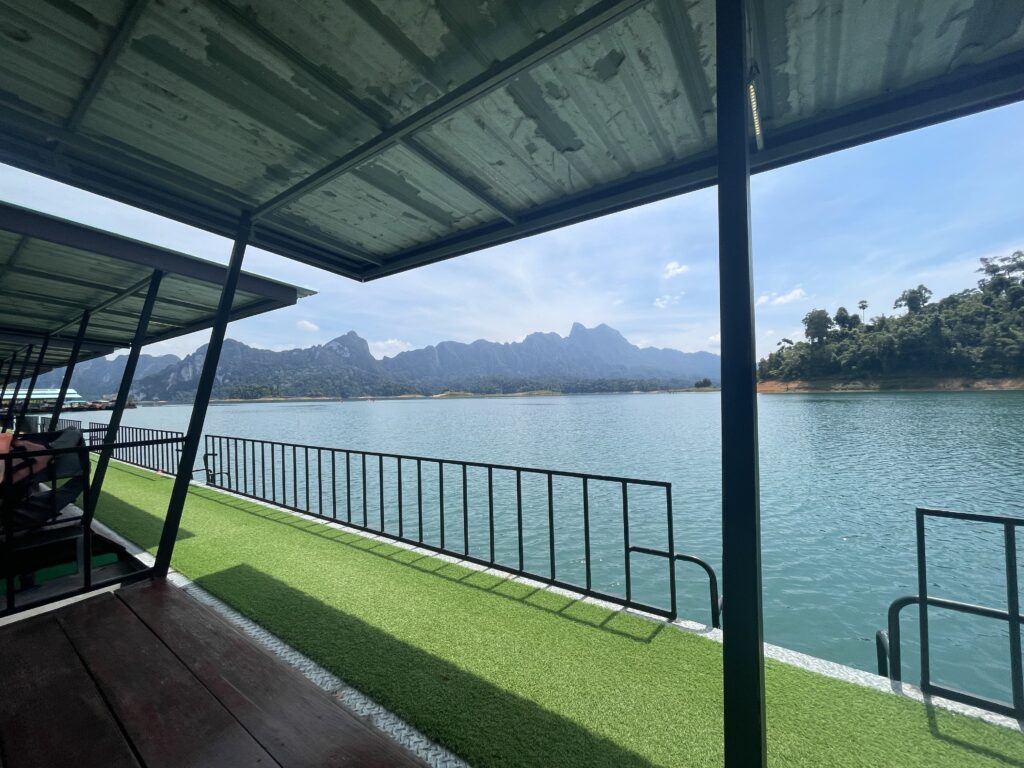 $140 per person included two nights accommodations, transfers to and from Phuket and four delicious asian buffet meals…well not very delicious but no one got sick which I know is a pretty low bar. But honestly the bar isn't much higher for our food experiences in the U.S. National Parks.
See you in Cambodia