As we ride in our "taxi" from the Hanoi airport I am closely watching our route on my phone. We had walked up to the taxi stand outside the airport and were ushered into a car, I ask the man "is this a meter taxi" "Oh yes" he says, "metered taxi". Our bags are in and we are in the car heading out of the airport and I still don't see a meter. We have used taxis in many countries and meters are not always a big box sitting next to the driver, some are displayed on the rear view mirror, others on the sun visor and still others are mixed in with a navigation screen so it can be easy to miss As we head down the freeway our driver mentions that he can't take us all the way to our hotel because the road is closed. This is starting to feel uncomfortable. But he continues on the correct route and two blocks from our hotel he notices the street is not closed and takes us right to our door. Phew, but of course without a meter the bill was probably double what we should have paid, but $33 for a 40 minute ride at 10 o'clock at night is a small price to pay for the lesson of paying closer attention when getting a taxi, ours was clearly a private car but at least he didn't drop us in the middle of nowhere and take our luggage.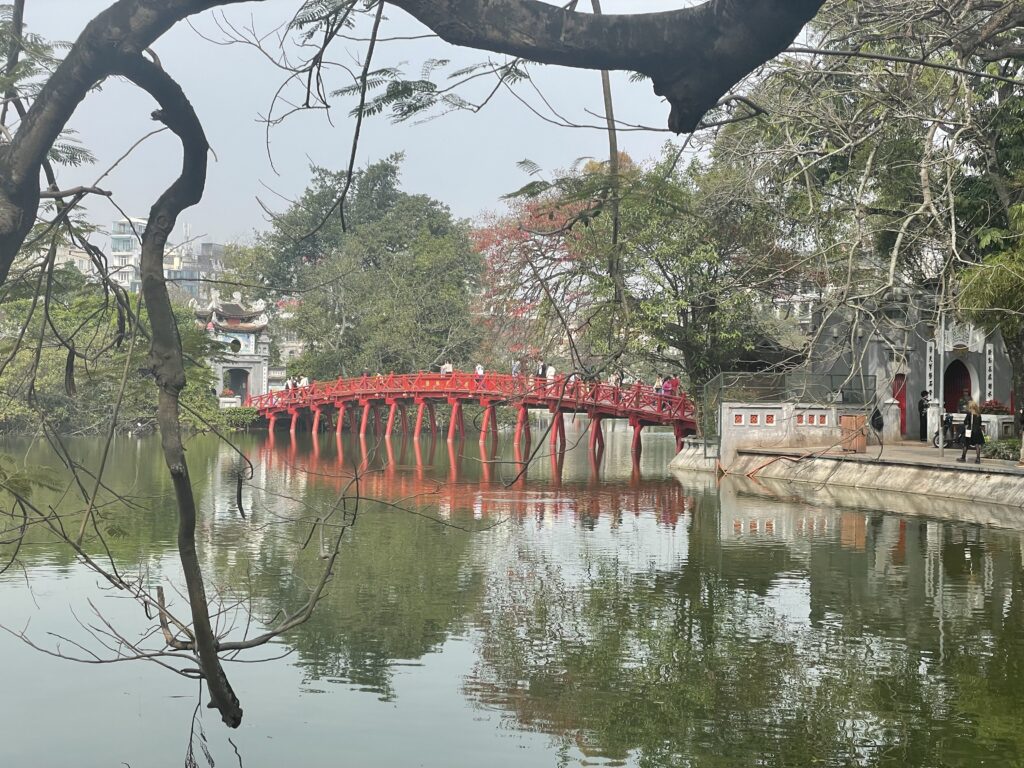 We stayed in another nice hotel in the center of Hanoi with breakfast included for $75 a night. We were delighted to find a lovely lake about two blocks from our hotel with a wonderful walking path. The streets around the lake were closed to traffic for the weekend (probably the street closure our "taxi" driver was talking about). All of the locals were out, many dressed up and taking advantage of the quiet park like setting around the lake. At intersections dozens of electric toy cars are parked for the children to drive in the empty streets. It is quite a contrast from other places we have traveled in Asia. Hanoi is a city of contrasts. As you come into the city you cross over beautiful new bridges with views out at the financial district and a gleaming skyline rivaling any major city in the world. Elsewhere you will find abject poverty and open markets that look like something you would find 150 years ago. Live chickens and ducks next to fruits and vegetables in clearly unsanitary conditions. Isn't this how COVID started? And yet, much of Vietnam is heavily masked and masks were required on our flight in. Contrasts.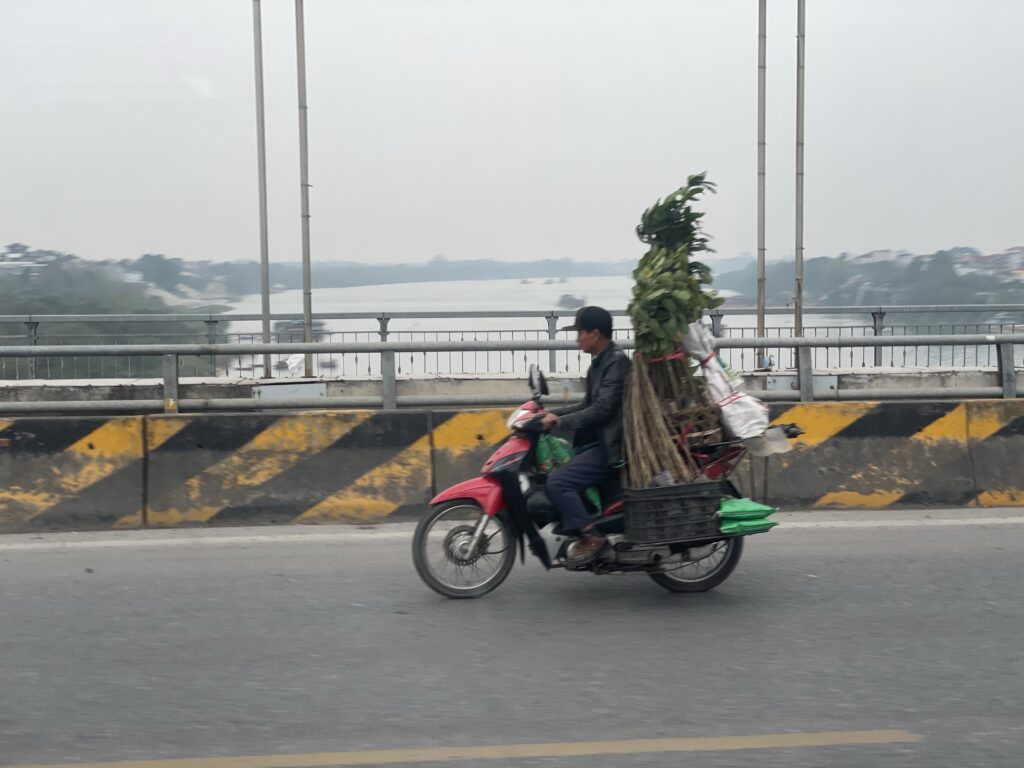 You see the French influence in Hanoi, the parks and most government buildings look like something you would find in Paris. I am not promoting colonial rule but some of the best parts of Hanoi are French. We spent our morning meandering around the lake stopping for coffee at a nice cafe. In the afternoon we joined Danny and climbed aboard our Soviet Minsk Motorcycles for a tour of the city. No, we did not drive in the crazy Hanoi traffic, we rode comfortably on the back as our drivers navigated the boulevards, alleys and back roads around Hanoi. We started with a great lunch at the Hidden Gem cafe. Then we hopped on our bikes to see the city.
A stop at the mausoleum of Ho Chi Min, a cruise down an old French Boulevard, Danny was eager to show both the good and bad of his city giving us a balanced view of the opulence and the poverty noting problems similar to our homeless problems
in the states with the state moving people into city apartments only to have them move back to their floating shack on the river where they feel most comfortable. This is a great tour and a great way to see the city. We ended with a beer on the famous train street where you need to pull in your feet to allow the train (which does not slow down) pass eight times a day.
I am no political scholar but none of the labels fit even a cliffs notes version of Karl Marx. This is a pet peeve of mine, when people tell me government provided health insurance is socialism I tell them to go back and retake high school civics and I will start worrying about socialism when the government bans private property, nationalizes all businesses and closes the stock exchange. Similarly "communism" in Vietnam would have Marx turning over in his grave. Private businesses make up almost half the economy. Private schools, private hospitals, in fact everyone must pay out of pocket for school or healthcare. School may be tuition free but books, uniforms and other fees put education out of reach for many. To me, Vietnam looks like Capitalism with single party rule, no checks, no balances, no opposition. Our tour guide questioned how all of the politicians afford a Rolls Royce on the $1000 a month government salary? And that my friends is our civics lesson for the day.
To finish out our month of travel with Tim and Laurie we scheduled a big splurge, a two night luxury cruise on Ha Long bay. You can travel cheaply everywhere in Southeast Asia, but you can also choose to travel affordably at a higher level of luxury than you might buy in the US or Europe. Which is why we chose nice hotels costing $75 a night, well within our budget, rather than a $20 a night budget hotel which is still safe, clean and comfortable.
What would you pay in the US for a cruise on a 200 foot ship with only 10 cabins? Our suite included a beautiful sitting room, a bedroom with a King Size bed, facing a wall of windows looking out on our private balcony and the bay beyond. The huge bathroom had a walk in shower and a claw foot tub with a view of the bay. The staff of 12 caters to your every need, gourmet meals are prepared individually for you at every meal. Our cost with transfers was $700 a night per couple. Definitely a splurge but we would do it again. As a bonus, our ship that takes up to 20 passengers had only 10. Relaxing on the ship, biking, hiking and kayaking interspersed with eating and drinking. Kelly and I even squeezed in a couple of massages. The first was included in the price, the second one cost $50 per person for an hour. A reasonable price for the US but about double what you pay for a nice spa on land in Vietnam. I did a quick search for small ship luxury cruises in the US, the first one I pulled up was an 8 day Alaska cruise with a nice suite costing $28,000 for two, $3500 per night. I rather like the $700 a night we paid for our Vietnam cruise. Ha long bay is gorgeous, a UNESCO world heritage site with over 1000 lush green islands. The one problem is water pollution, plastic and Styrofoam pollution is everywhere. If the tour industry or government doesn't address the problem tourism will drop off and UNESCO will pull its designation, and it should.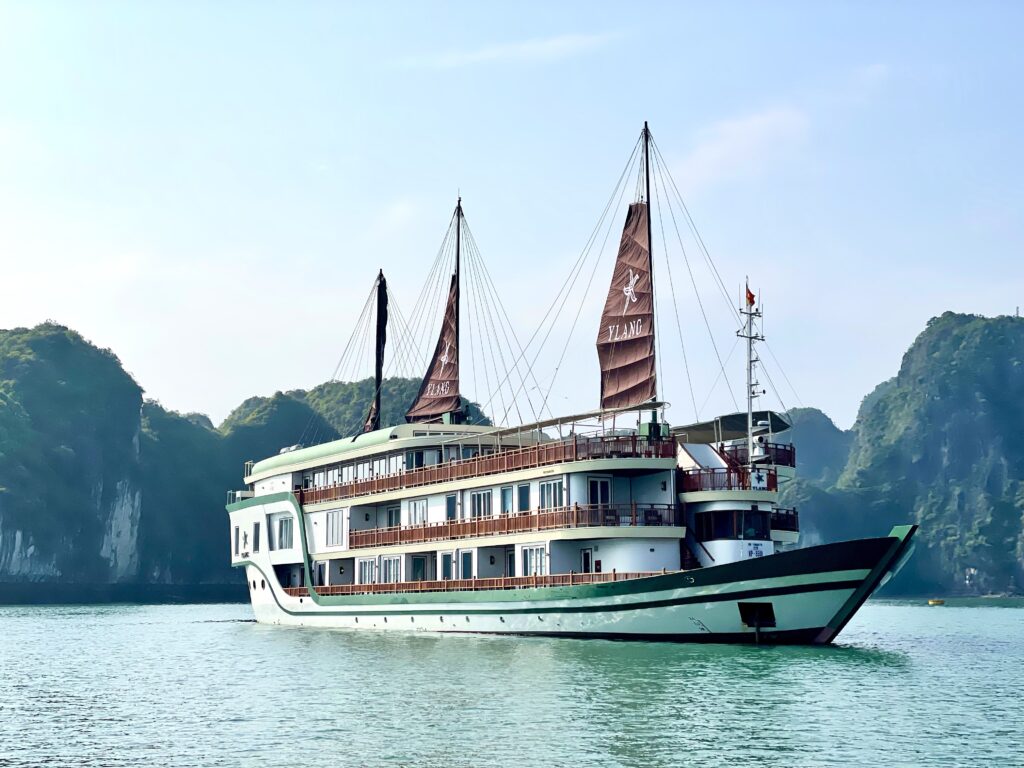 And now for the budget update and all of my excuses for going over our $200/day budget. Just a reminder, numbers in the budget are for a couple not per person. I did expect Southeast Asia to be cheaper than traveling in Europe and it clearly can be. But….. here come the excuses….this was fast travel spending a few days here and there around four countries and fast travel is always more expensive. The luxury level pushed the budget higher but other than the cruise nightly lodging was well within budget at about $80 a night. Flights within Asia were $1500 for the two of us.
When we first started planning this trip we were considering a fully guided trip with Intrepid travel. We weren't sure of our ability to navigate Asia but ultimately I thought we could cover more area for less and slow down for a week or two rather than the constant moving of an organized tour. Intrepid has various comfort levels on its tours and we were looking at the premium level because you flew between cities rather than overnight buses or trains (some of which sounded a bit scary and long). Intrepid's 24 day premium tour for two costs around $16,000 or $700 per day for a couple. Our 31 days of travel with 7 flights between cities and our luxury cruise came in at $8,682 or $280 a night for two people. This does not include our round trip flight to Southeast Asia because we used points.
See you in Hoi an G&K.