As with many good things it happened around a dinner table with friends. Last year we were gathered for dinner with longtime friends Heidi and Jerry, long time meaning Jerry was in our wedding in 1986. Also joining us were Pete and Linda and we rounded out the dinner party with Terri, all four women had worked together in the NICU in 1987. The dinner conversation turned to talk of travel and I mentioned how much we enjoyed Nashville and its live music scene. Terri said she wanted to visit Nashville one day and I suggested we should all go to Nashville together. Such a comment after a few bottles of wine could easily lead to disaster but we have known these people for 30 years, I was pretty confident we could travel together for a few days without killing each other. Everyone agreed it was a great idea, Heidi and Linda said they would look for a house to rent and we left it at that. Several months passed and having heard nothing I emailed the group asking if they were still interested and whether anyone had looked at housing. The response was yes and no. So being the planner that I am I took on the challenge. I am the guy who when someone casually says we should get together for dinner I immediately pull up the calendar and ask them for dates. I know that if it doesn't get on the calendar it never happens. Just pick a date and get it on the calendar. Several group emails later we had dates and a house for early October.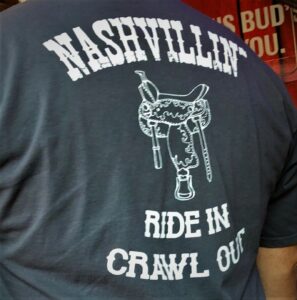 The dates were a bit of a challenge as some people still have to work for a living and I like mid-week travel when airfares are less and crowds are smaller. We also wanted early October when the weather is still nice. Having visited Nashville once prior I knew that music is just as good and easy to find on a Wednesday and the weekends tend to cater more toward the bachelorette party crowd. We also knew that most of the bars on Broadway have rooftop decks which are great when the weather is warm. We departed on Wednesday October 2nd returning Saturday the 6th. This gave us three nights out on the town which was perfect. As I suspected the weeknights were better than Friday night, unless you like being crammed into standing room only with dozens of drunken bridesmaids. We were not planning on site seeing, just hanging out and taking in the music scene so we did not rent cars. Uber and walking worked great for our party of 8. We were thrilled when Cindy joined our group, another NICU nurse who wanted to join us just because we are that much fun to travel with.
Our Airbnb was a four bedroom two bath rambler about a mile and a half from downtown and as our Uber driver said "about two blocks from sketchy" which we all agreed would be a great title for a country song. Two blocks north the streets did turn a bit sketchy but our neighborhood was quiet and very walkable, even late at night. We did however travel as a gang of 8, there is safety in numbers even when the average age of your gang is 58. I have mentioned before that as Airbnb shifts away for private ownership to more business owned rentals we have seen a decline in quality and customer service. This was not the case in Nashville, our house was corporate managed but impeccably clean and well appointed with everything you would need.
The one issue we did question was the use of a private noise monitoring service, something we had never seen before. This is a service apparently marketed to Airbnb owners where they put a decibel meter in the house and send a warning to the landlord if it gets too high after 10 PM. It seemed a little weird but they assured us there are no microphones or cameras just a decibel meter. The idea has merit from the perspective of a landlord in a town known for late night partying when the owner doesn't want problems with the neighbors or police being called to the house on a regular basis. Imagine my surprise when I got two texts and then a phone call about our excessive noise.
We did brag about how we can still get party complaints at our age, but honestly, we were 8 old people sitting around after returning home by 10 PM, listening to music on a 6 inch Bluetooth speaker. I could certainly understand if the neighbors were complaining about the quality of our singing, but certainly not the excessive volume. The phone call actually cleared everything up, the young lady for the management company was very nice and could easily tell there was no wild party, she apologized for disturbing us but she had received several notices from their noise monitoring service informing her we were exceeding the maximum decibel level after 10 PM. Apparently, the noise sensor was right next to our speaker in the living room. It would have made more sense to mount the sensor on the front porch where it could measure the sound the neighbors might hear. After the call we cranked up our huge 6 inch speaker then stepped out on the porch and closed the door, you could hear nothing, even with our hearing aids in.
I think Nashville is the best live music city in the world. I know Austin claims to be the best but I disagree. Within a few blocks around Broadway in downtown Nashville there are at least two dozen bars and restaurants with live music. Many have two or three levels with two or three stages. The genre tends to be more country with some rock, street level stages are usually full bands with loud music pouring into the street to bring in the crowds. Upstairs venues tend to be smaller with more acoustic offerings. One of our favorites was the rooftop at Blake Shelton's Old Red where we spent an afternoon listing to a 16 year-old girl with an amazing voice accompanied by a guitar. Nashville is where musicians come to be discovered so the quality/talent is amazing. And best of all for us old people, the music starts at noon so you can spend the day sipping bourbon listening to music and still be home by 10 where you can get noise complaints from the landlord. The bars don't charge a cover but you will pay dearly for that bourbon, a shot of Jack will set you back $12-$16, it is a heavy pour, more of a double than a single shot but they have no problem if you just order water. A bottle of Bud costs around $7.
We did pay a $12 cover for the evening show at the Listening Room, which is more of a concert venue like the famous Bluebird Café. Reservations are required and the focus is on singer songwriters, the up and coming singer songwriters on stage talk about the writing process and sing their original music. It proved to be a great evening with talented singers, some better than others but overall a wonderful experience I would highly recommend.
In our wanderings we also took in the farmers market and a visit to the Marathon Motor works, an old brick factory building formerly the home of the Marathon Motor Company. It is now filled with shops as well as a brewery and a distillery where I spent most of my time. In addition to the turn of the century brick architecture they have left in place many old machines used for making car parts, nicely preserved and fascinating to explore. On Saturday morning we dined in the Gulch district and stopped into a trendy clothing shop where they had a stage and live music. This really is Music City, great live music in a clothing store on a Saturday morning.
I highly recommend a visit to Nashville. I have never been a big country music fan but enjoy it none the less. I find music brings people together. It is common for me to pull out a speaker and pass my phone around a group of friends or strangers, letting everyone play DJ for a few songs. It is a great icebreaker and always results in a memorable evening whether it turns into an impromptu dance party, sing along, or just eight old friends listening to songs from our long ago youth. Music City USA is a great place to be.