Travel blogs can often be like Facebook and Instagram posts filled with smiles, sunshine, white sand beaches and tropical drinks. But all is not rainbows and butterflies, we all know the truth. Our lives are good, sometimes great and better than millions of others in the world but no one's life is honestly reflected in what we post on social media. There are down days, sad times, losses and failures. The Island of Koh Samui gave us a dose of reality.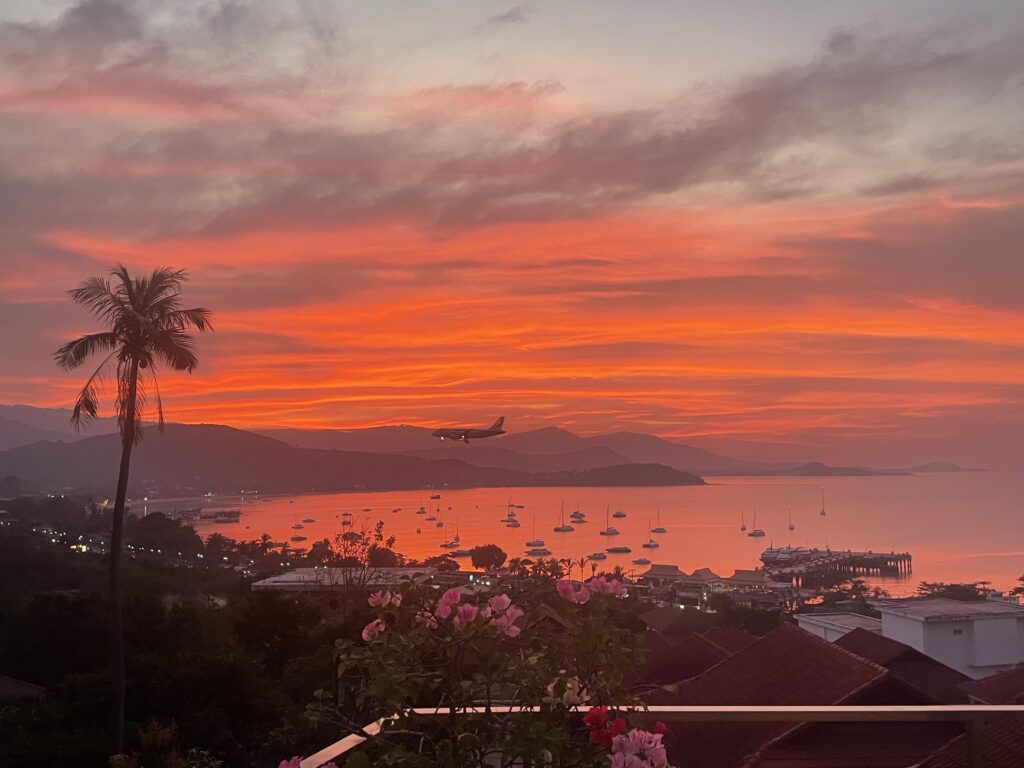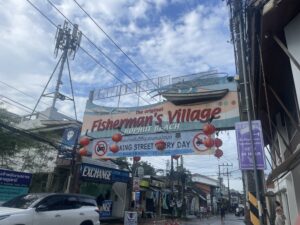 Since arriving in Thailand I have liked it but not fallen in love with it. As I mentioned, it reminds me of Mexico which we truly enjoy but the poverty and poor infrastructure are struggles for me. As my friend Neil says "I can't live in a place where you can't drink the tap water" I tend to agree, I give the government a failing grade if it can't provide clean drinking water, sewage and garbage disposal.
I thought that southern Thailand with its islands and sandy beaches would change my mind about Thailand. Never having been to Thailand it is always a gamble choosing where to visit and where to stay. Too many guidebooks and blogs avoid details like walk-ability or access to groceries. Most bloggers tend to be young and are happy if you can get a good plate of pad Thai and a beer for $4.
I like pad Thai and cheap beer but we like to eat some meals at home so finding breakfast food, coffee and getting it home up a hill along with a few gallons of drinking water are important issues.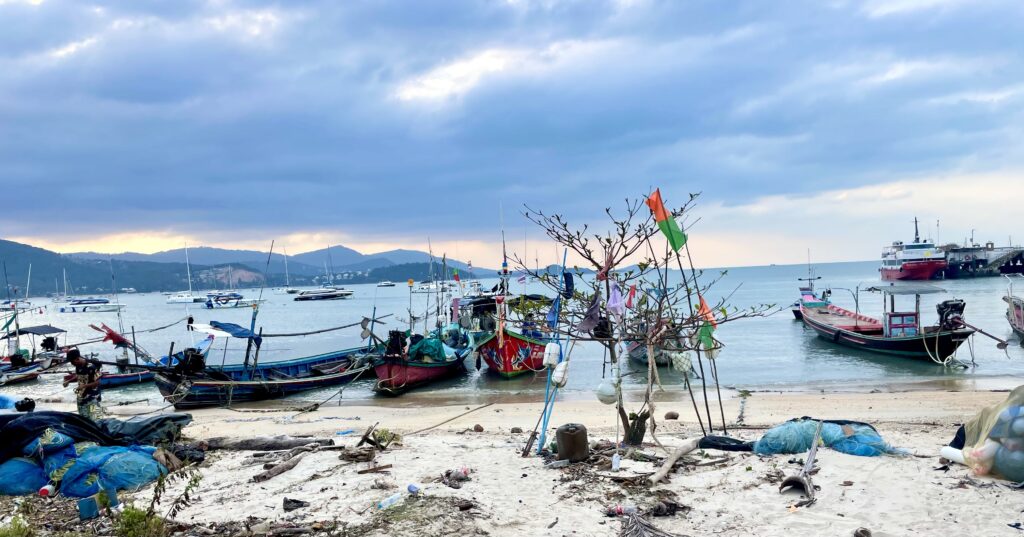 Our Airbnb in Koh Samui sat at the top of a hill overlooking Bangrak beach, beautiful views in a modern three bedroom condo that looked wonderful from the comfort of home in Arizona. (I am a sucker for a great view and it can be my downfall in planning) The place itself was as advertised if a little worn. Our host was wonderful and the space was comfortable.
But the walk up the steep hill got old quick, and the stretch of Bangrak beach below was less of a beach and more of a small boat harbor. It had its charm but there would be no walks on the beach or frolicking in the water. I do not know how much the Pandemic changed this part of Thailand but the 30% or so of boarded up and dilapidated buildings suggests that it was hit hard by a total loss of tourist dollars for over two years.
The weather did not improve the situation, it rained almost every day for five days in a row.
Then we got sick, not sure from what, possibly the tap water used for morning coffee but you never know. Getting sick can really have a negative impact on your opinion of a place. One day just laying around the apartment and two more days before you are really feeling normal can make you question your desire to travel.
We originally planned to rent scooters and tour the island but found no scooters available, apparently you have to book weeks in advance. I think most rental shops sold their inventory to cover living expenses during the pandemic. We tried to salvage the day by booking a taxi to take us around the island which was a bit of a bust. Our non-existent Thai and the driver's minimal English lead to a loop of the island with few stops and little worth seeing.
Next day we rallied and grabbed a taxi down to fisherman's village which I would consider the best part of the island, lots of restaurants and bars, some shopping and a nice beach. This is where we should have stayed, but who knew. As we sat at a nice beach front restaurant eating lunch the skies opened and it poured for an hour. No one ventured out and they buttoned up the restaurant as best they could. When things let up Kelly and I waded down the street through six inches of water to find a spa. Thai massage is big here and we wanted to try one. Pedicures with an ocean view, a manicure for Kelly while I had an hour massage which was amazing, total cost $70. Things were looking up even if the weather wasn't.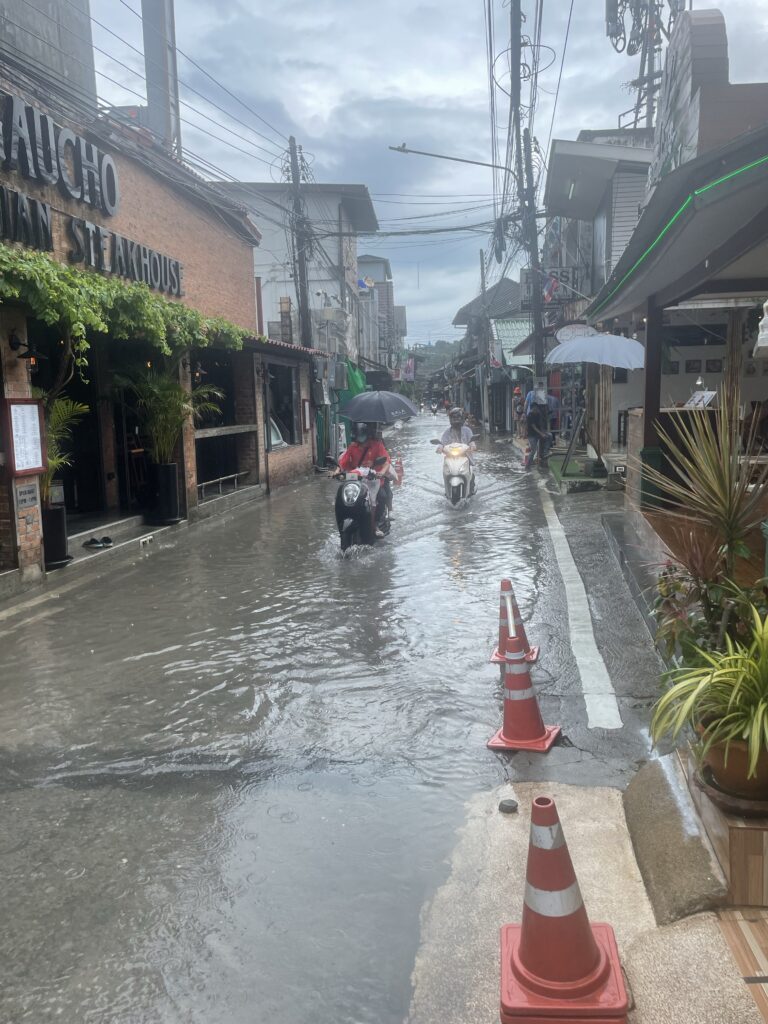 We refused to give up on Koh Samui so the next day we took a taxi to Chaweng Beach, (one of us walked, guess who). Chaweng is considered the biggest beach on the island and a place to party for the 20 somethings who flock to Thailand for the beach party scene. We were not impressed. A couple of nice beach clubs, one with the required big screen and thumping music even at noon….in the pouring rain. The beach itself was only nice in front of the few clubs and resorts which were open and maintained their beaches. Long stretches were covered with seaweed and plastic litter. Many resorts were closed, boarded up and/or falling down. Koh Samui is hard to love.
But there were some on-island highlights. We really enjoyed the Sunset, a small beach front bar run by an expat french couple. Good food, good drinks and a nice beach vibe.
We also had our second cooking class where chef Sandra, a German expat brought everything to our condo for a 6 hour class on Thai food and cooking. We made mango salad, drunken noodles, and shrimp in Tamarind sauce. A delicious experience even though we were not impressed with our choice of drunken noodles, too gooey. Sandra was great and I would highly recommend her class.
Finally, our last day we took the island hopping tour we had planned on our sick day. The fact that they let us just reschedule was a positive. We had a beautiful sunny day as we boarded a speed boat with 30 or so others for a 35 mile an hour cruise an hour offshore to the Angthong Marine Park, a series of 42 small islands. Snorkeling, kayaking, hiking around beautiful islands with beautiful beaches, this was the Thailand from blogs and travel brochures. The moral of the story, the best part of Koh Samui is not on Koh Samui. Actually, the best part of Koh Samui is its airport, lovely manicured gardens, clean upscale shops and cafes just like a travel brochure or an Instagram post, a bit deceiving.
See you in Phuket