About three hours south of the Loire is the Dordogne river valley and the town of Sarlat la Caneda, our home for a week. Sarlat is not a town known to most Americans, its medieval origins date back to the 9th century.
The town square is surrounded by beautiful stone buildings constructed in the 13th and 14th centuries. The town caters to tourism but isn't overly touristy with its shops focused more on the local products of wine, foie gras and walnuts rather than tee shirts. Sarlat hosts a great market on Wednesdays and Saturdays. We arrived on a Tuesday and were out at the market the next morning buying fruit, vegetables, cheese and meat. Oh, and a few bottles of wine. After tasting a few, we chose the most expensive red, luckily it was only €7, so we picked up two bottles.
We are settling into a routine of breakfast at home with either lunch or dinner out at a restaurant, and if we are out all day then both lunch and dinner out. In Seattle, restaurant meals can really blow the budget, but not as much here. In fact, we often find that cooking in does not save us much money. As an example, when we buy meat from the butcher, salad makings and wine for a dinner at home we spend €25-€30. In Sarlat there are dozens of restaurants with a €15 menu and a nice carafe of house wine for €10. A €15 menu will include a starter, an entrée and dessert. So, for around €40 we can eat out. There is no restaurant tax and while tipping is not the norm, we may add a few euros when the service is good. I would estimate for a sit-down meal at a restaurant we spend between €30-€40 for a lunch and €40-€50 for dinner for two with wine. That said, two meals out uses almost all of our daily budget.
Our first full day in Sarlat we relaxed after our busy week at the Chateau. We ventured out to the market but that did not require much effort as we were staying in a great studio apartment right on the town square. A newly constructed second floor unit in a centuries old building, the stone staircase leading up to our apartment must have been constructed in the 1500s.
On day two we took advantage of what was supposed to be our best weather of the week and rented a canoe for a float down the Dordogne river. €40 got us a canoe, two life jackets, and a ride back to our car after our 15K trip downstream. The weather cooperated with no rain and some sun. We had the river to ourselves as it was early in the season, mid-week, and the weather was questionable.
We dropped in at the town of Vitrac, pulled the canoe out at the beautiful village of La Roque- Gageac for lunch, and finished our trip at Beynac with a great view of Beynac castle. It was nice to get out on the river and a great way to experience the beauty of the region.
On our second outing we visited Font de Gaume, the last site in France where you can see multi-colored cave paintings. This requires a bit of effort as they only allow 75 visitors a day and you must purchase tickets at the sight on the morning of your visit. In summer, I hear it is near impossible to get tickets as it requires arriving hours before they open and waiting in line like we used to do for concert tickets. Now of course, we purchase all concert tickets at five times face value from scalpers who are the only people with access to face value concert tickets. Thank you ticketmaster. The old fashioned way worked well, we arrived around 8:20 and easily obtained tickets (at face value) for the first tour at 9:30. It was fascinating to see very artistic and detailed paintings made over 15,000 years ago.
Our third outing was a somber trip to Oradour sur Glane, two hours north of Sarlat. The town of Oradour sur Glane is a memorial, left as it was on June 10, 1944. On that day a Nazi battalion rolled into town supposedly in search of a missing officer. Instead, for reasons that are not clear they rounded up everyone in the town, all 642 and killed them all including 205 children. The town remains as a reminder to the horrors of war and the fate of innocents.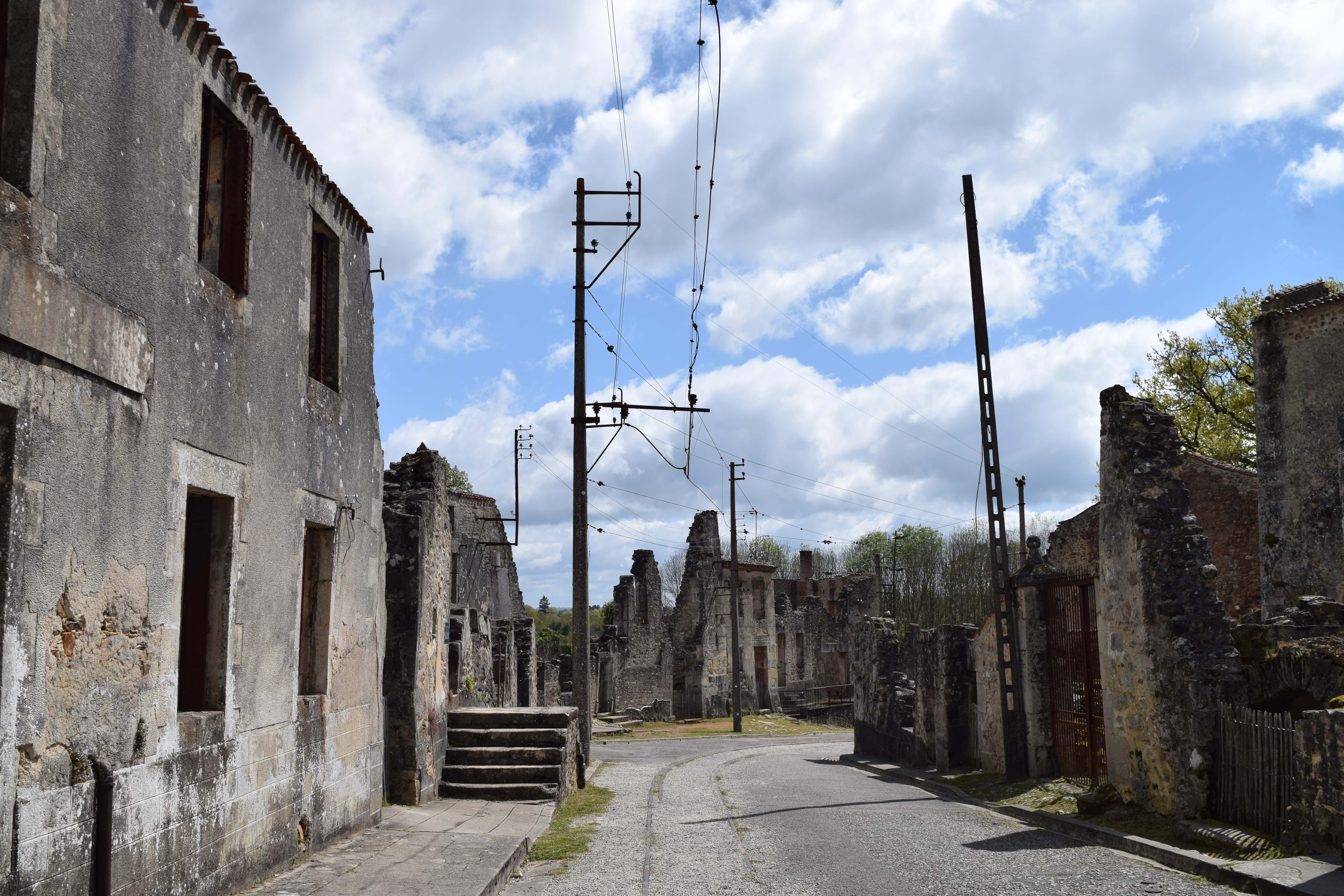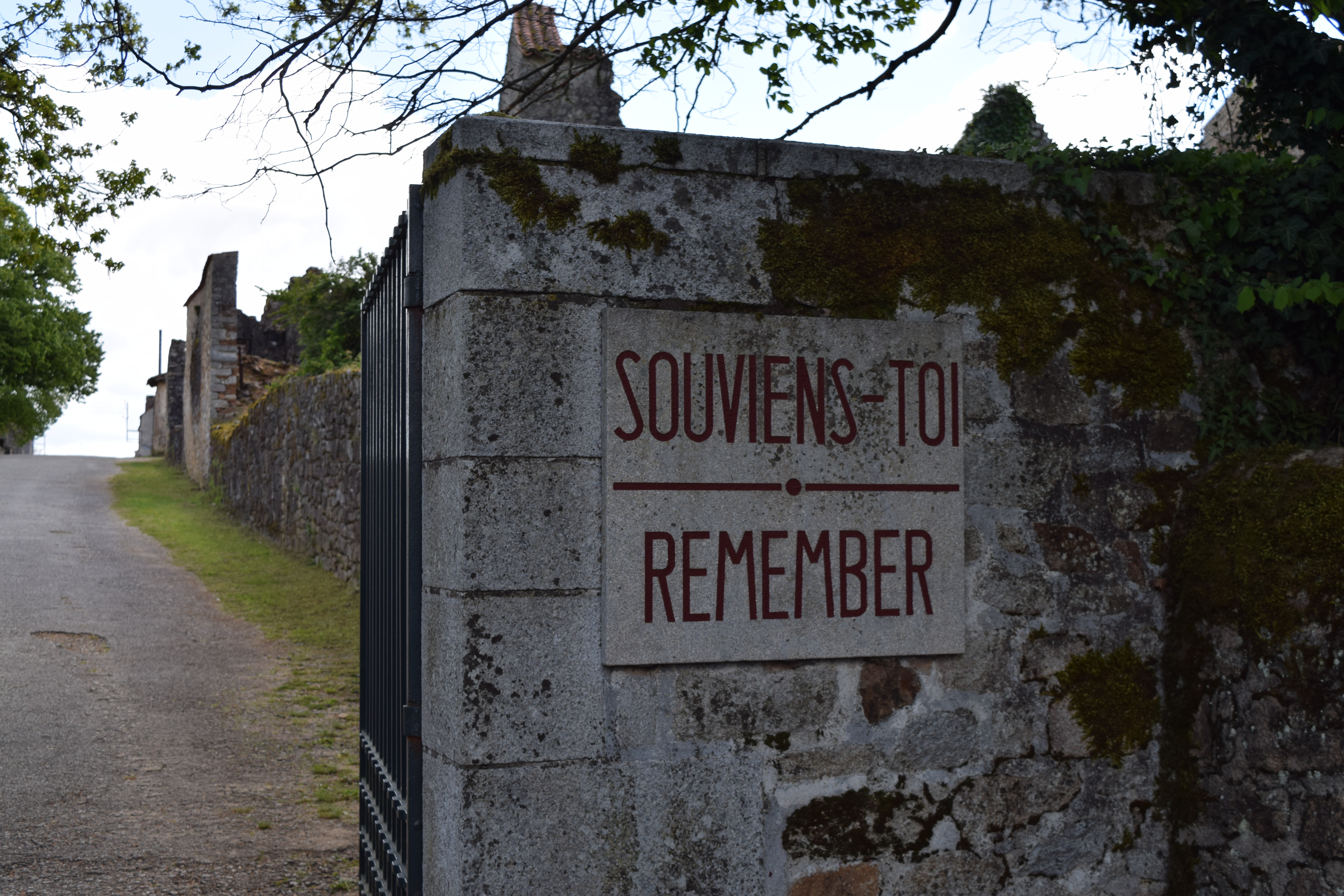 Oradour sur Glane
After a week in Sarlat we headed south for an overnight in the fortress city of Carcassonne, a fortress since Roman times and one of the best and most intact examples of a medieval fortress. Amazing just walking the ramparts in the evening and morning.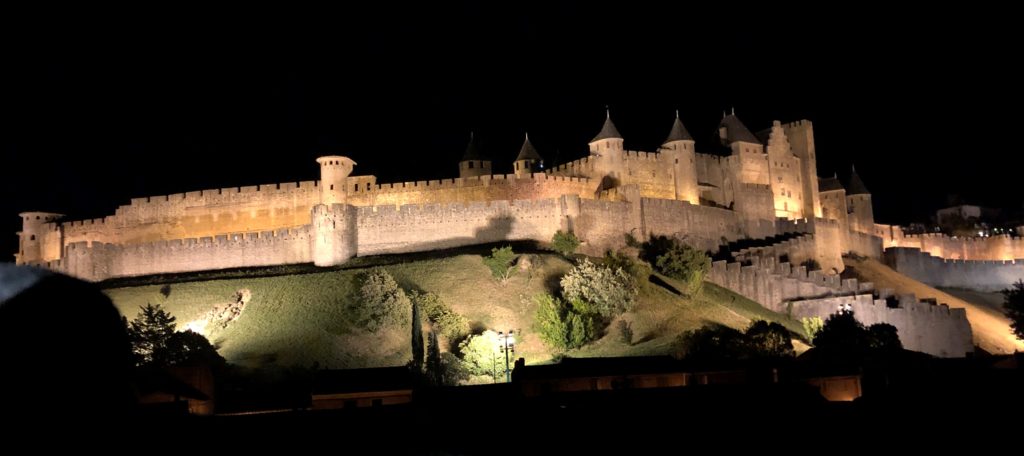 In case you are worried that we are too active and moving too fast, rest assured, we spent a few afternoons in the sun, sitting at a café in the square, enjoying a drink with me losing at cards to Kelly. Those moments are just not really blog worthy. I will leave you with a couple travel tips derived from our adventures. First, before driving south three hours to your next destination read your guide book or you may find when you arrive that you drove past a sight you planned to see and now must back track spending four additional hours in the car. Second, and probably most important, pay more attention to the road signs than the driving instructions from your GPS. If you don't, you may find yourself in a pedestrian mall and needing to back your rental car an entire block on a road so narrow the pedestrians have to seek shelter in an alcove. At least they weren't mad at the crazy Americans, it helped that Kelly explained "GPS" to which with all knowingly nodded.
Next, we are off to the market city of Arles in Provence.