We left Seattle just in time to catch the morning traffic, an hour later we had finally escaped the city heading east on I 90, summer road construction slowed our progress but we made Spokane by 1:30 where we dropped off a few more boxes with Kelly's parents. A large portion of their basement is filled with 30 or so boxes containing most of our worldly possessions. We know some will make it to wherever we settle down in a few years, others contain things we just could not part with but after sitting in storage for a few years we will probably ask "why did we save this?" We headed out to lunch at the Manito Taphouse, a great lunch spot where the beer menu is larger than the food menu. After a nice lunch break we were back in the car heading north. Our destination was Priest Lake in northern Idaho, joining friends new and old for a few days of lake cabin relaxation. Priest is a beautiful lake 20 miles long with miles of pristine forested shoreline dotted with a few cabins, campgrounds and three resorts. Little has changed here since the 1960s, the resorts have simple cabins with a marina, restaurant and bar providing a great destination for dinner or a drink via boat. Our hosts Heidi and Jerry have been coming here to their family cabin for decades.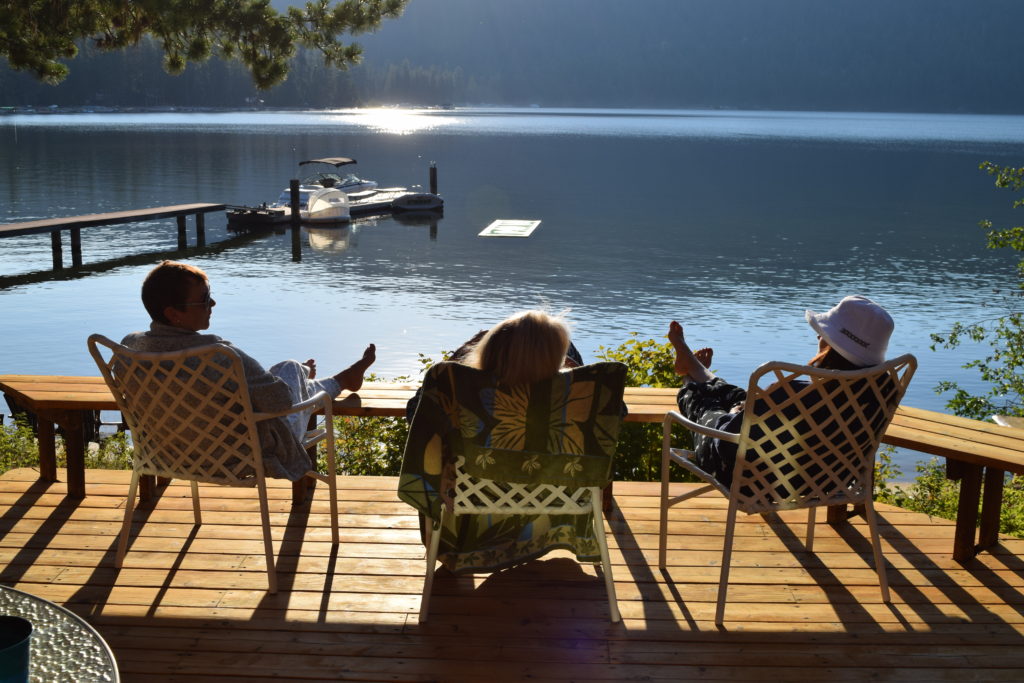 At the cabin we get into a routine of coffee on the deck watching the sun climb over the lake. As the heat climbs into the 80s we move to the shade. Some hit the water for a little water skiing or paddle boarding. Our days can be as active or inactive as we like, trying to achieve the perfect balance. Should I take a nap or go hiking? On our first full day we hiked up to the lion creek rock slides, amazing granite slabs where the creek cascades down in sheets. The more adventurous use the slabs as natural slides splashing down into pools of cold water.
Happy hour starts around 4 or 5 with cocktails on the deck where we started the morning with coffee. Happy hour transitions into what I consider one of life's great joys, dinner with friends and family. Heidi loves to cook and every meal is fantastic. On occasion dinner is followed by a spontaneous dance party. Some nights we take the boat to dinner at one of the resorts. There is something special about taking a boat to dinner. Good food, live music and a moonlight cruise back to the cabin. Life does not get any better.
As the sun rises over the lake the next morning we hit the repeat button. Life on the lake is great training for retirement.