Friends and family are hosting many of our stays this year. So much so that this blog could be one long thank you note, from Jim and Amy in Seattle to Jim and Lisa near Salinas and our current hosts Jules and Amy in San Marino. All are gracious to open their homes to us and we can only hope we are gracious guests. Thank you all.
One quick note on the Budget before I run through our travels this week. As I have mentioned our budget is $100 a day for spending, plus a $100 per night for accommodations. We try to include everything in spending from food and gas to zip-lining. We don't include non-travel spending like insurance and cell phones. As you can imagine staying with friends helps enormously on our budget though we do try to buy groceries, make some meals and take our hosts out to dinner when possible. The final numbers for January are in and we did pretty well with accommodations right at $100/day and spending at $116/day not including airfare. Adding in round-trip airfare for two would push spending to $145/per day.
Now back to our travels. We left San Francisco on highway 1 heading a few hours south to the Stockel home near Salinas California. We spent the week exploring the Monterey Peninsula south through Carmel and Big Sur.
The weather was not cooperative. Rain and wind were the norm for most of the week. A huge windstorm the previous week had knocked out power and cell service to most of the highway between Carmel and Big Sur and closed the highway south of Big Sur. The parks at Point Lobos and Big Sur were closed for repairs the entire week. Between closures and rainy weather all of our planned hikes were cancelled.
Even in bad weather the Coastline drive is spectacular. Highway 1 is constantly changing, some stretches are miles of divided freeway at 65 mph while others are two lanes of twisting road with occasional construction or repair zones with one lane open. There are plenty of pullouts for views, photography, or just to get that Porsche or pickup off your rear bumper.
We stopped for lunch at the Moss Beach Distillery, a restaurant perched above the ocean and a beautiful cove. The food was rather average but we really enjoyed the history of the building and the old photographs from its evolution as a rum runner landing and speakeasy during prohibition then coastal resort and current restaurant. It even has a resident ghost. The patio and fire pit would have been fantastic if it weren't 45 and raining with winds 10-20. Did I mention the weather was crap most of the week?
The Monterey peninsula is a great drive. The town itself is touristy but the people are great and there is always a bar or tasting room nearby if it starts to rain. We walked through the town then headed to nearby Pacific Grove where we walked lovers point and a stretch of the half marathon course we ran with family and friends a couple years ago. While we complained about the cool rainy weather our hosts informed us it is not much better in summer when Pacific Grove is perpetually in fog.
We wandered the streets of Carmel, an upscale enclave where the downtown is comprised almost entirely of jewelry shops, restaurants and galleries. It was quaint and beautiful but we already had lunch plans, meeting friends Karen and Tom who just happened to be in Carmel for a Jazz festival.
After lunch, having no need for jewelry or art, we made our way to the beach. On a side note, 33 years ago when we were in the market for jewelry I purchased Kelly's engagement ring in Carmel. The crescent white sand beach at Carmel is beautiful if you can look beyond the rain and wind that drove us back to the car after a short walk. The weather reminded us of a typical day at Ocean Shores, Washington. Rain, wind and cold but here we were surrounded by gorgeous homes starting around $2 million.
On the drive through Big Sur we stopped for lunch at Napenthe, an iconic restaurant with a wonderful view of the coast, an open fire place in the center of the dining room, beautiful architecture and below average food. The burger on a French roll tasted good, but for $20 I expected more than a meat patty on a roll accompanied by a $10 beer. Kelly is never happy when her $16 soup and salad combo is served with brown lettuce. Truth is, she never likes brown lettuce regardless of price. Her $15 glass of wine did not help.
Back on the road after being informed by the park ranger that everything was closed for repair we stopped in at the Rocky Point restaurant, another iconic restaurant with a great view of the coast and the Rocky Creek bridge. We limited our tab to drinks and conversation with the bartender and were much happier with our choices.
We ended our week with one of the best restaurant meals we have had on the trip so far. Our hosts recommended lunch at Phil's fish market and eatery in Moss Landing.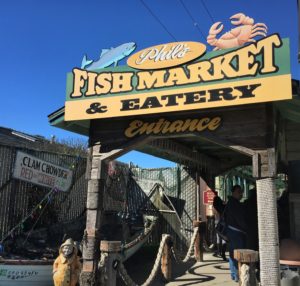 Phil's has a huge menu of seafood options in a very casual setting on the beach. You can check out the menu on the picture gallery under the destination pictures tab above. We are consistently finding that some of the best food comes with a picnic table and a beach view. We split steamed mussels, a bowl of chowder, and a caesar salad with no brown lettuce. All were excellent. If you go to Phil's plan to wait in line, there was a long line out the door the entire time we were there.
We didn't meet Phil though we hear he is quite the local character, having both a presidential pardon and a victory over Bobby Flay in a Cioppino cookoff. At the restaurant there is no mention of the pardon from President Clinton, but the TV runs a loop of highlights from Phil's win over Bobby Flay on the Food Network.
See you in LA.