Whenever I visit Southern California, I am reminded why so many people live here. The weather is great 95% of the time.
Outdoor activities abound. You can walk, jog, or play sports year-round in shorts and a tee shirt. The natural beauty of the coastline and the mountains is stunning. The opulence and wealth are equally stunning where average house prices are in the millions and it seems like every other car is a Range Rover, Tesla or some more exotic make costing more than an average house elsewhere. As I often mention, I am cheap, so I have never understood the car thing. I like nice things, but our newish Toyota SUV is comfortable, has everything we could need and gets us from Seattle to LA just fine. $200,000 for a Lamborghini SUV??? When traffic is good (which is never) you can drive your Lamborghini or your Toyota at the 65 mph speed limit which equates in LA to 75-80 unless you are in the carpool lane where the speed limit appears to be 5 to 10 miles an hour faster than the other lanes regardless of whether the other lanes are going 10 over the speed limit.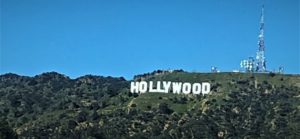 I have also noticed that people here like to be noticed. It makes for great people watching but I wonder exactly what goes into their thought process. It is quite foreign to me as I usually try not to be noticed. Also, I have never had to consider should I wear the Prada or the Gucci, or should I drive the Bentley. But notoriety here is not limited to the wealthy. I also have never asked myself should I wear the wizard costume or the rainbow tutu for roller blading on the beach today. A truly fascinating mix of people. On so many levels I love LA but would probably never live here.
We stayed in San Marino in the guest house of Kelly's cousin Amy and her husband Jules. The accommodations were lovely, and our hosts were incredibly gracious and generous, we could not thank them enough. Their home is about a mile and a half from the Huntington Library, the grand estate of Henry and Arabella Huntington who amassed a fortune in the late 1800s from real estate and railroads. The most famous painting of the Huntington is Blue Boy by Thomas Gainsborough. Unfortunately, the Blue Boy was out for restoration work but there were dozens of other beautiful paintings. Our favorite section was the library with its manuscripts and papers. An original Gutenberg Bible, the Ellesmere illuminated manuscript of Chaucer's Canterbury tales dating from 1410, some of the earliest printings of Shakespeare and the list goes on. We spent two hours just reading. The Huntington is well worth a visit if you like art, architecture, botanical gardens, or the printed word.
While we like museums we do tire quickly of yet another Van Gough or Rembrandt, so for our next adventure we chose to hike up to the Hollywood sign. It was 7 miles round trip and proved to be a great hike. We could not have picked a better day, the previous day's rain had cleared the sky giving us clear views to the ocean. The record setting winter rains around LA have left the hills a verdant green, the entirety of California is greener, than I have ever seen. We were joined by cousin Amy who had never hiked to the sign even though she had lived nearby her entire life.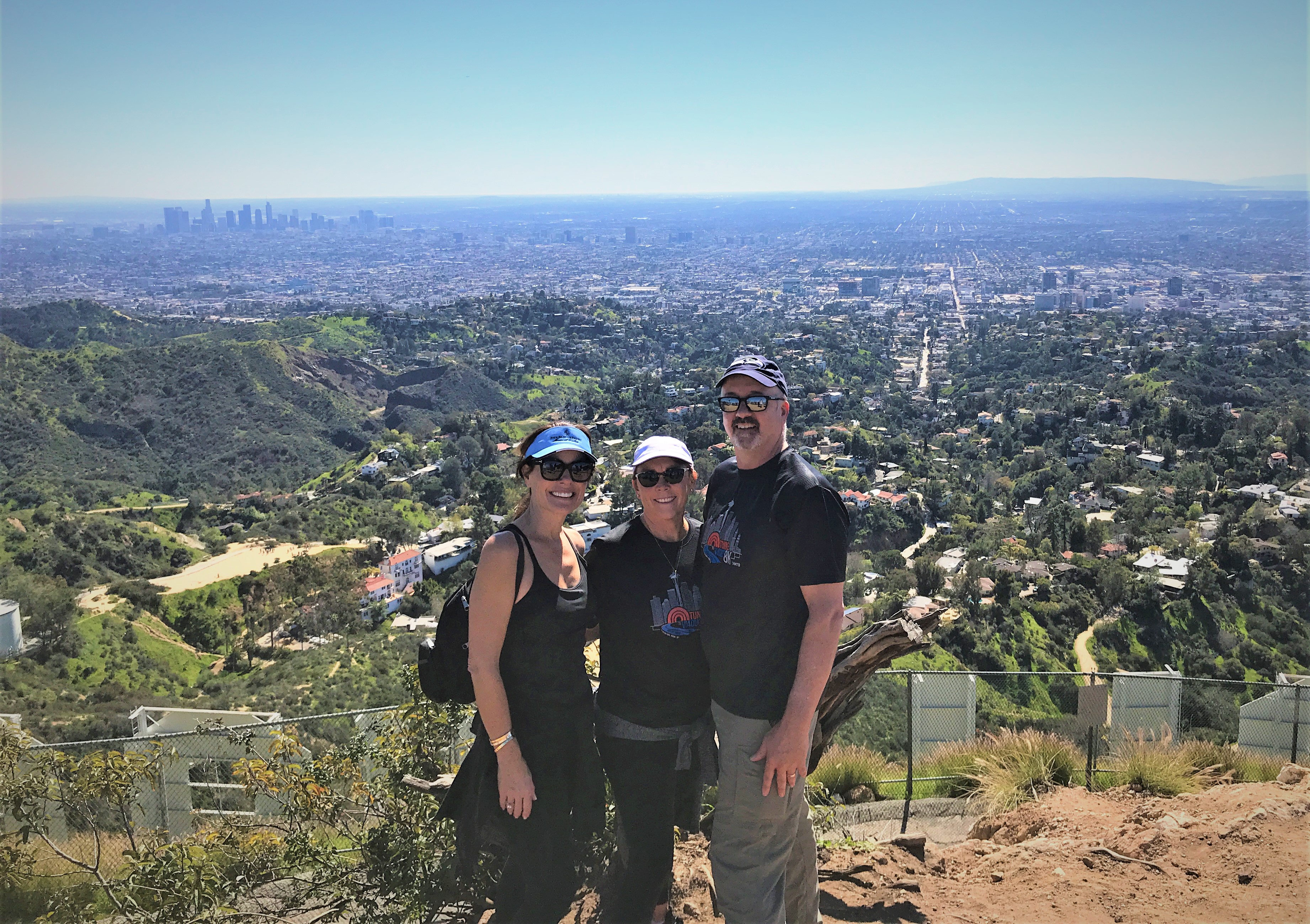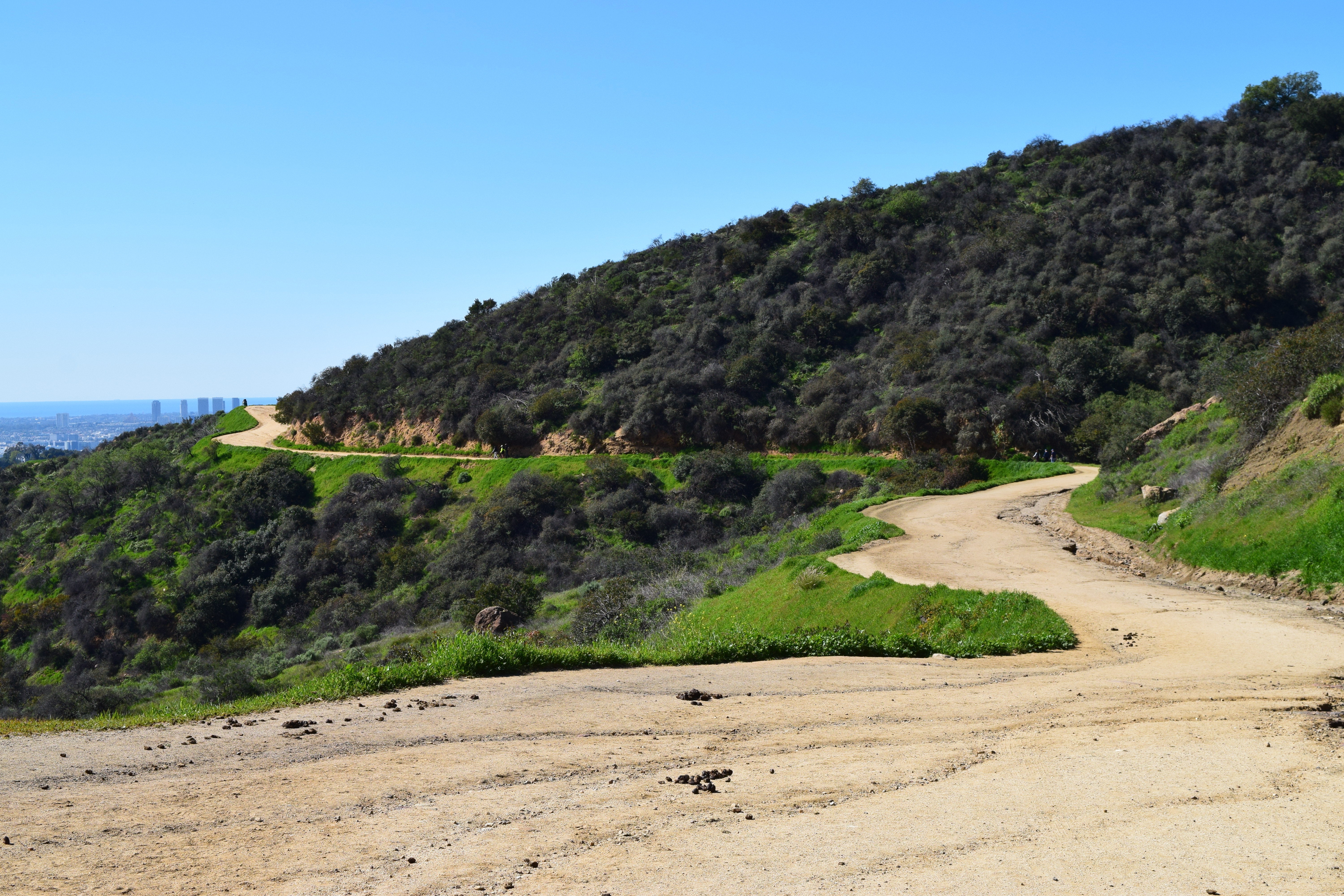 For our second hike we chose a more urban venue walking from the Santa Monica pier to the Venice Beach pier, another 6 or 7 mile venture. It was a weekend so the paved walkway was crowded with pedestrians, bicycles, skaters, and every character you could imagine. This is quintessential LA with white sand beaches, endless volleyball courts, pickup basketball courts, weightlifting, and people of every stripe. The rich, the famous, the quirky and the homeless, they all gather at the beach.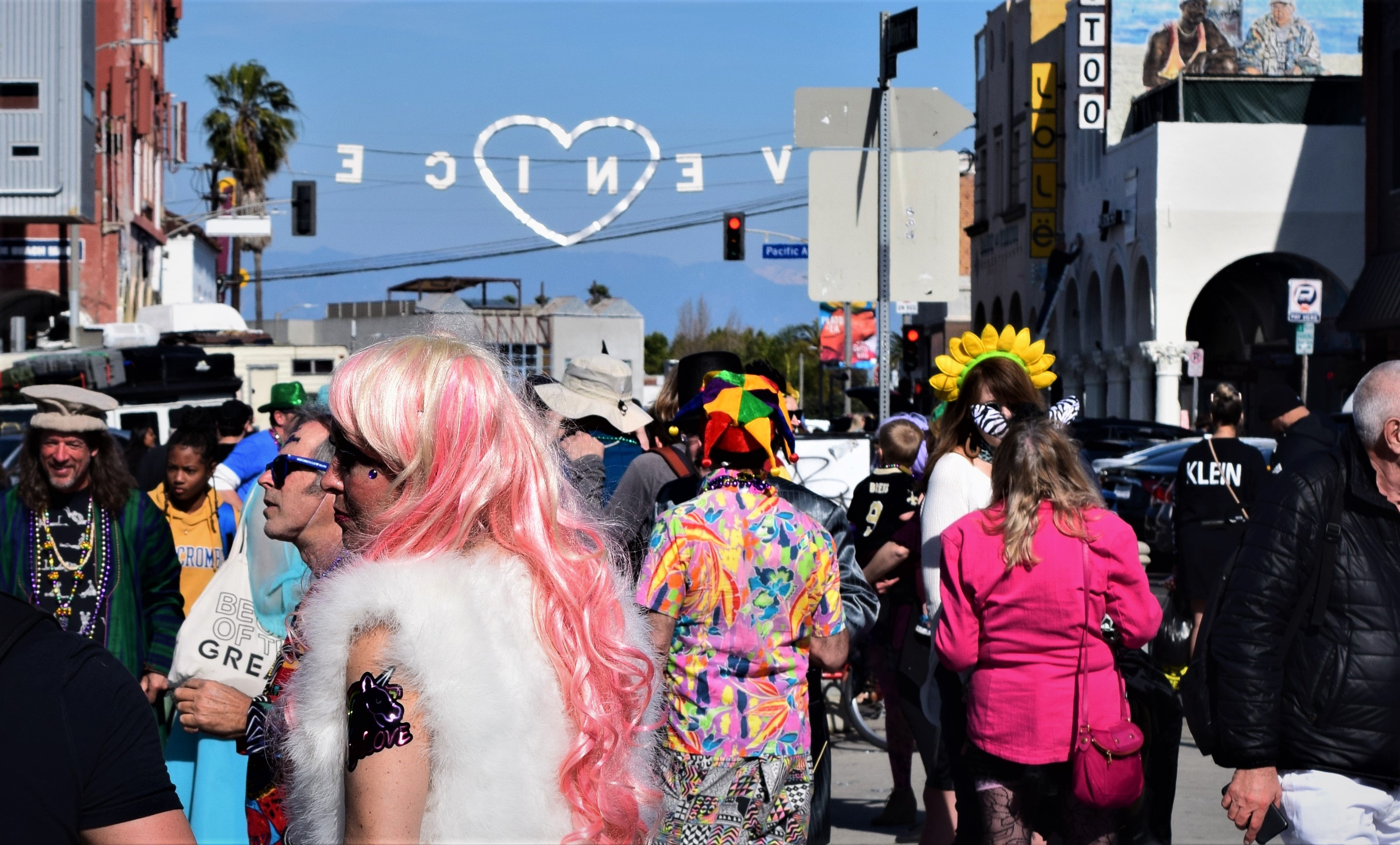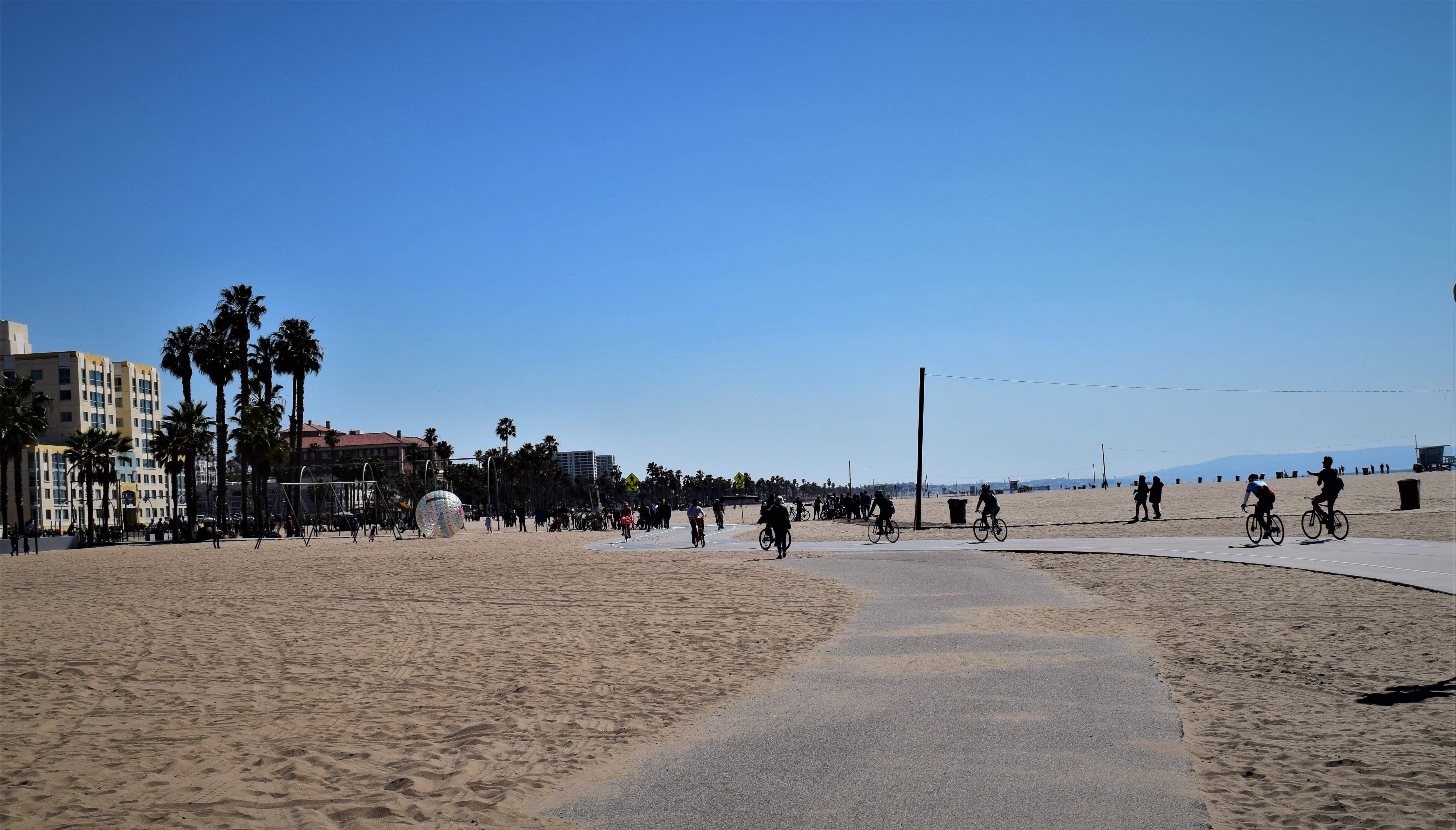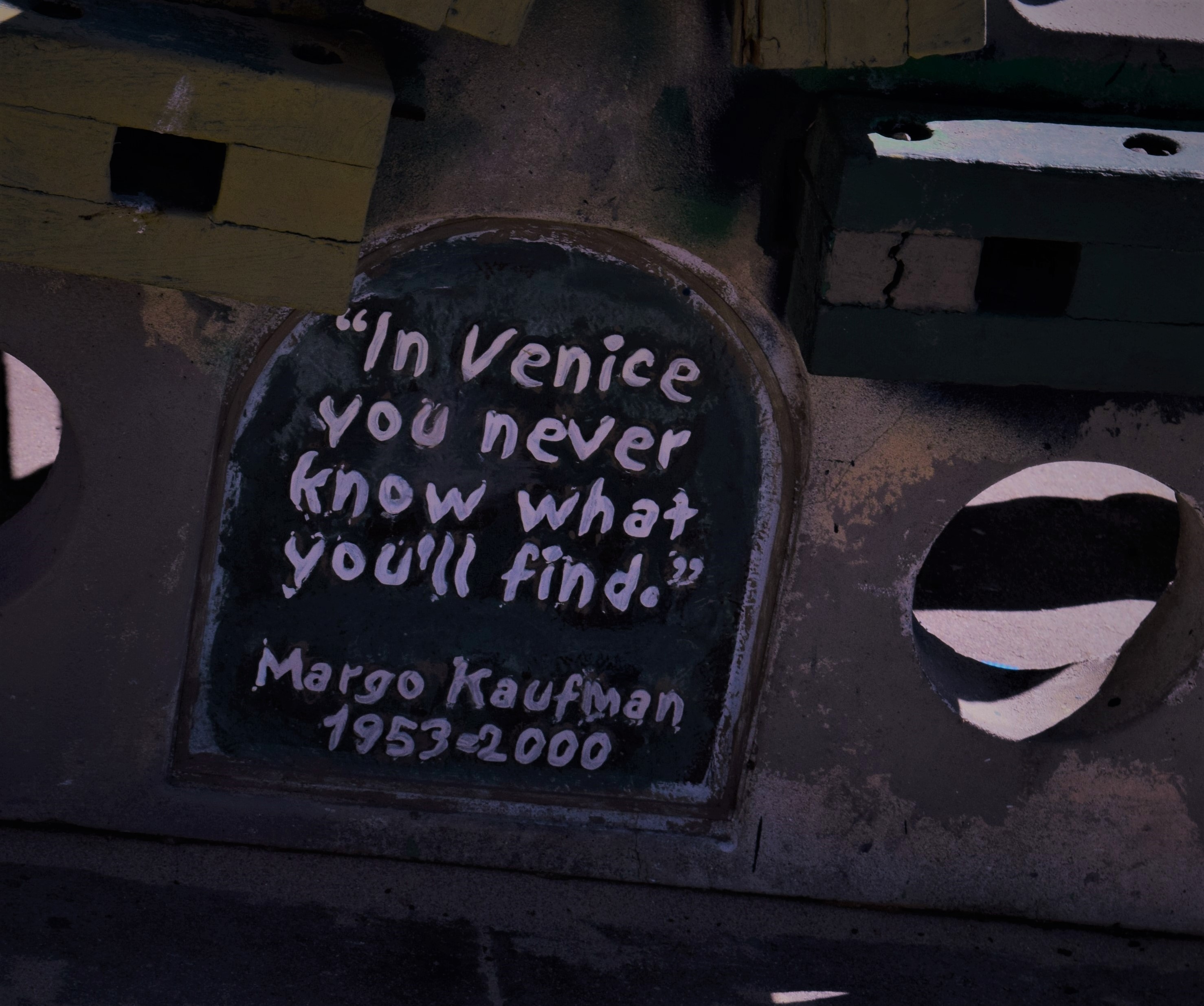 Our dining spanned the spectrum from a delicious $12 lunch at In N Out burger, to a $60 sushi lunch at the new "In" place Sugarfish to an amazing dinner at Amy's favorite Beverly Hills restaurant E Baldi and another great meal at The Arbor in Pasadena. We finished it out with the Five Crowns in Corona Del Mar. This town knows how to make great food. Most of these restaurants were not budget friendly but we like to splurge when we are lucky enough to have free accommodations and we like to treat our hosts, when they will let us.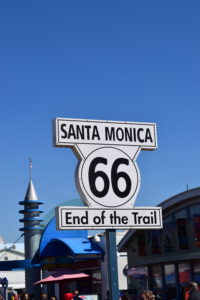 For our second museum we spent a day at the Getty. It is a great museum with amazing architecture, art, sculpture and manuscripts. It is the collection of billionaire J. Paul Getty and entirely free except for $15 parking. We arrived with a plan knowing what we wanted to see as most large museums can be overwhelming. We split our tour with a nice lunch in the café and thoroughly enjoyed our 5-hour visit. Interestingly they had a small section devoted to the life of J. Paul Getty that told us nothing about the man other than he made millions with Getty Oil and liked to collect art. So, we turned to Wikipedia for the rest of the story. Businessman, teetotaler, penny pincher, womanizer, five marriages, teenage brides and the kidnapping of his grandson and subsequent ransom negotiations, it is quite a story.
We finished our LA story with a stay in Corona Del Mar at the home of Kelly's Uncle Don and Aunt Judi. Two more fantastic hosts.
Corona Del Mar and neighboring Balboa Island are a trip down memory lane for Kelly. This is the California of her childhood though much has changed.
Our days were filled with morning walks around Balboa Island, breakfast at the Shake Shack overlooking Crystal Cove, a one-dollar ferry ride to the Newport peninsula and an afternoon balboa bar.
Our walks emphasized what a different life we have chosen. Our current state of minimalism with no house and few possessions contrasts dramatically to LA's huge homes, expensive cars and designer clothes. I don't profess to know which lifestyle is better, but I do know which is better for us.
G&K