After a month of city travel, food tours, castles and cathedrals our 9 day stay in Lagos is just what we needed. Kelly and I immediately feel relaxed and at home anytime we check into a beach condo. We step out onto the deck, take in the view and the sound of the waves, it is good for the soul.
We are definitely water people and the sea feels like home. I know you are thinking "then why do you live in the desert?' To quote Mick Jagger, you can't always get what you want but if you try, sometimes, you get what you need. The short answer is that water views that fit our budget are far from family and friends so we live five hours from the sea in a comfortable lifestyle nearer family and friends and get our water view fix when we travel.
This is our first time in Portugal and its southern coast known as the Algarve. Lagos is the perfect mix for us, some say it is too taken over by tourists and ex-pats but we love it. Just enough to do and see, plenty of restaurants, bars, markets, and music to keep us interested for a long time. We are staying about a mile outside of the old town in a lovely two bedroom condo overlooking Dona Ana Beach with its beautiful rock formations. A little over budget but the sun on the water tends to make those numbers hard to see. Still, total cost per couple is $114 a night.
Lagos is a lovely little town, but nature dominates sightseeing in the Algarve. Beautiful little secluded beaches, rocky coastline, sun, sand and water with miles of walking trails. The Fisherman's trail (which we will save for another trip) runs 143 miles along the Algarve coast. It connects to the Rota Vicenta a network of trails in Southern Portugal with over 300 miles of walking and hiking trails.
A pleasant surprise is the Lagos music scene. I told Kelly, "they have very talented homeless people here in Lagos" because many have a bit of the homeless/hippy look but they have amazing talent and I am sure some are doing quite well financially. Grab a drink or just sit down on a bench in a village square and you can enjoy hours of good music for the price of a tip. Walking through town one evening Kelly said "I need to see who is singing in the next square, it sounds like Andrea Bocelli is giving a free concert" it wasn't Andrea but it sure sounded like him. My personal preference was for the guy with guitar near the King Sabastian statue putting out very imaginative covers of Neal Young, Johnny Cash and even the Bee Gees.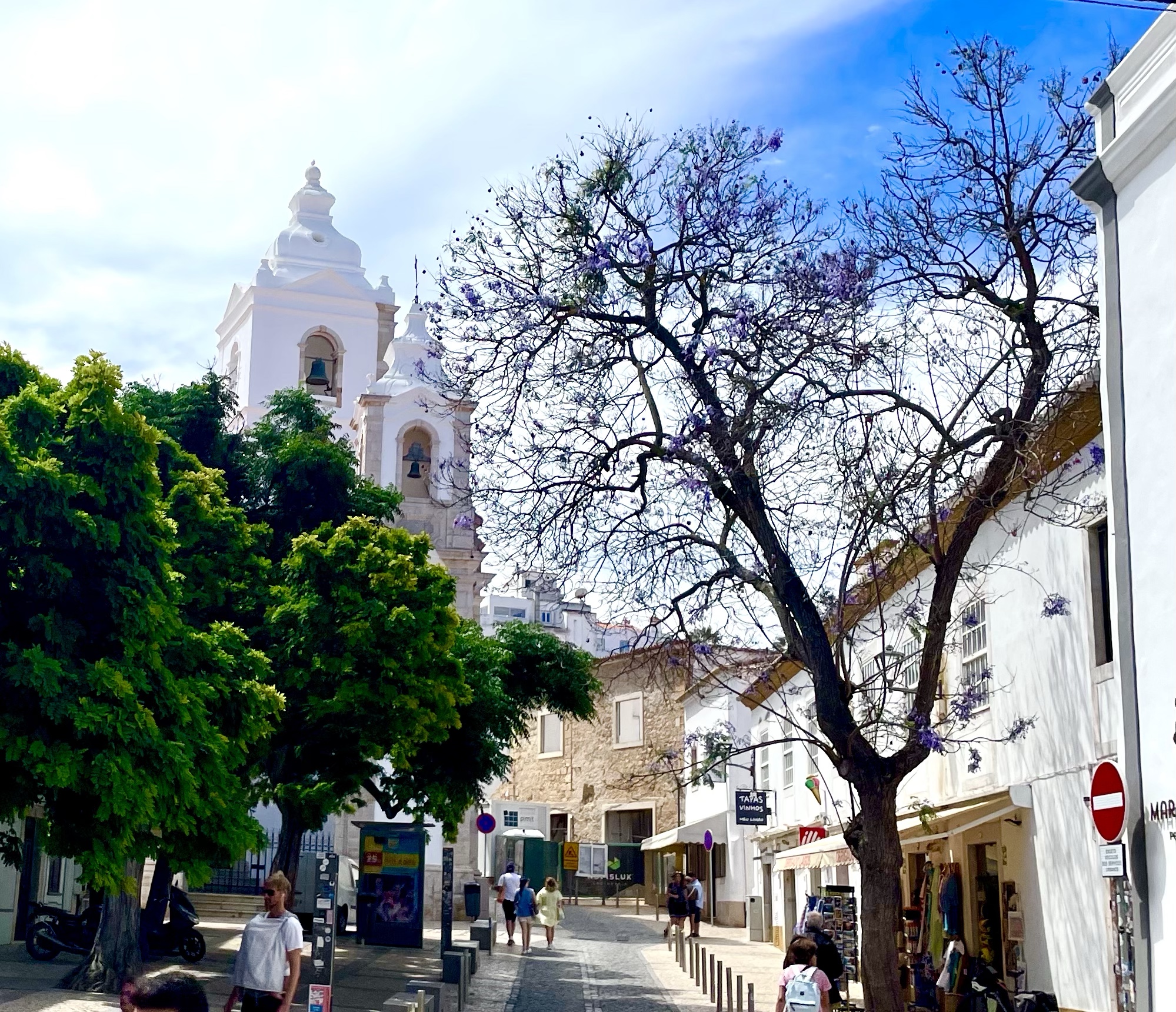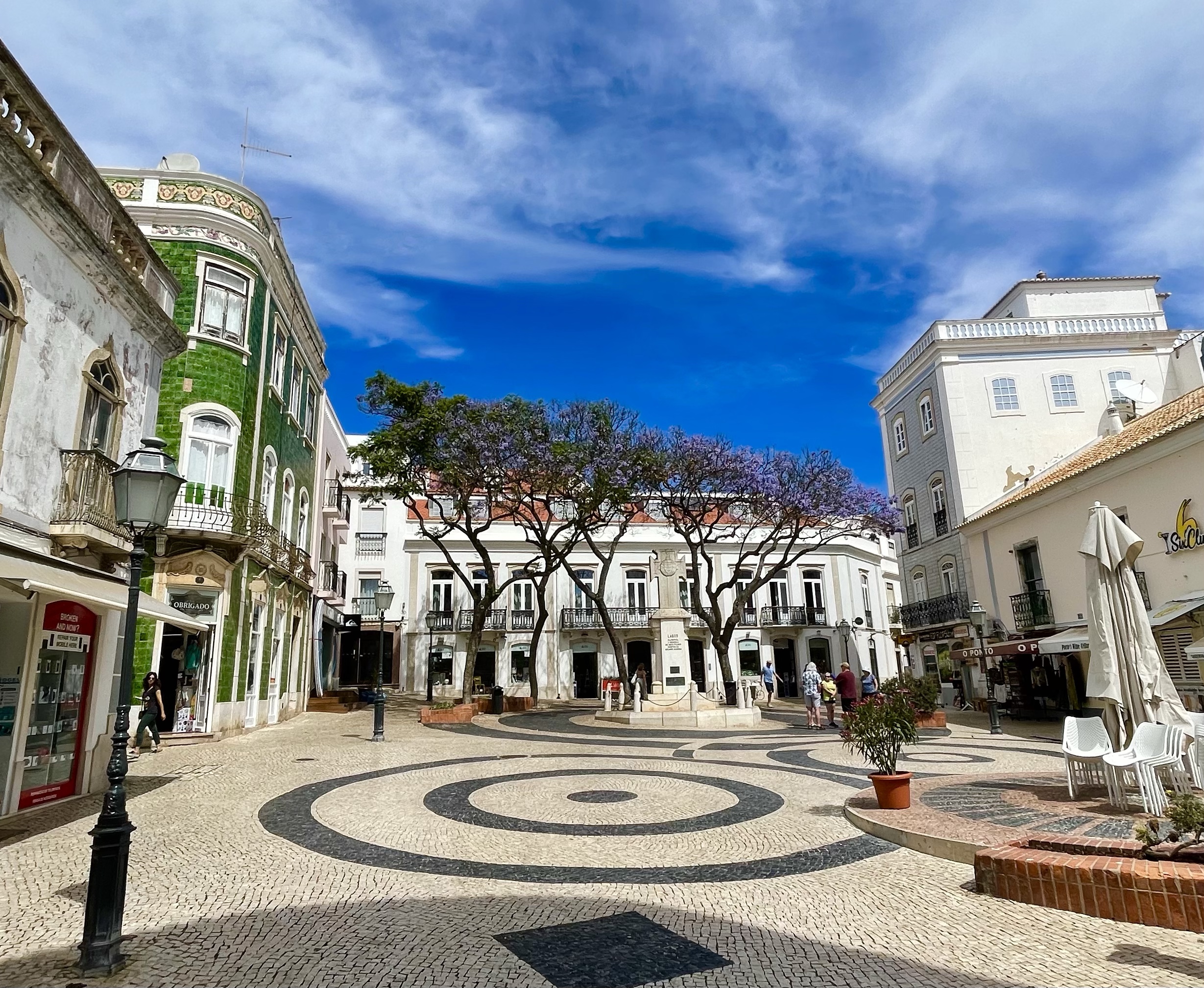 Lagos
Our Lagos food tour was led by Pete, Portuguese by birth, he was raised in the states and has been living in Lagos for the past 15 years. Like many who live in tourist areas Pete is a bit of a jack of all trades. His day job is sailing captain, he also leads food tours and takes on the occasional welding job in slow season. It is always fascinating to spend an evening with a local where we not only discuss food and wine, but the local economy, the impact both good and bad of increased tourism and expat retirees. The focus of most food tours is to visit the old, small, family owned places you might not walk into. Pete took us to several which were fantastic, but he had to admit they are a dying breed. Every year there are fewer, as owners retire and their children don't want to take over. So plan your visit soon or you might miss out on the shrimp polenta, or the fish stew.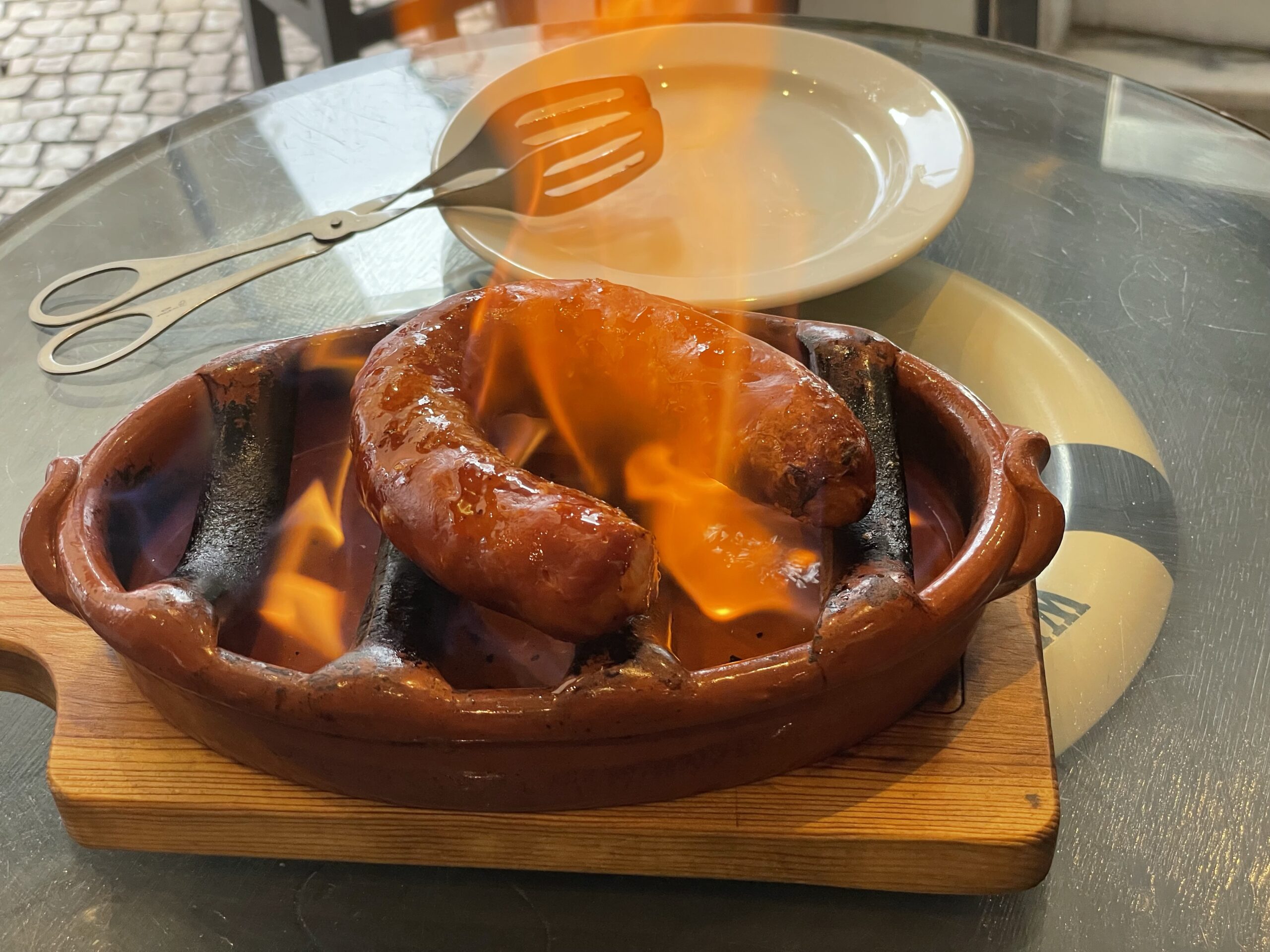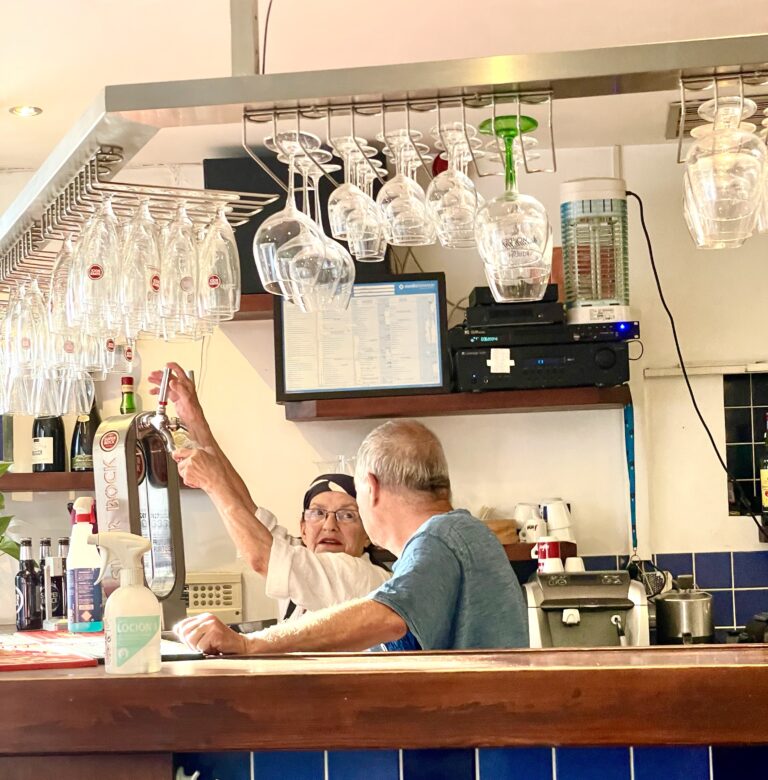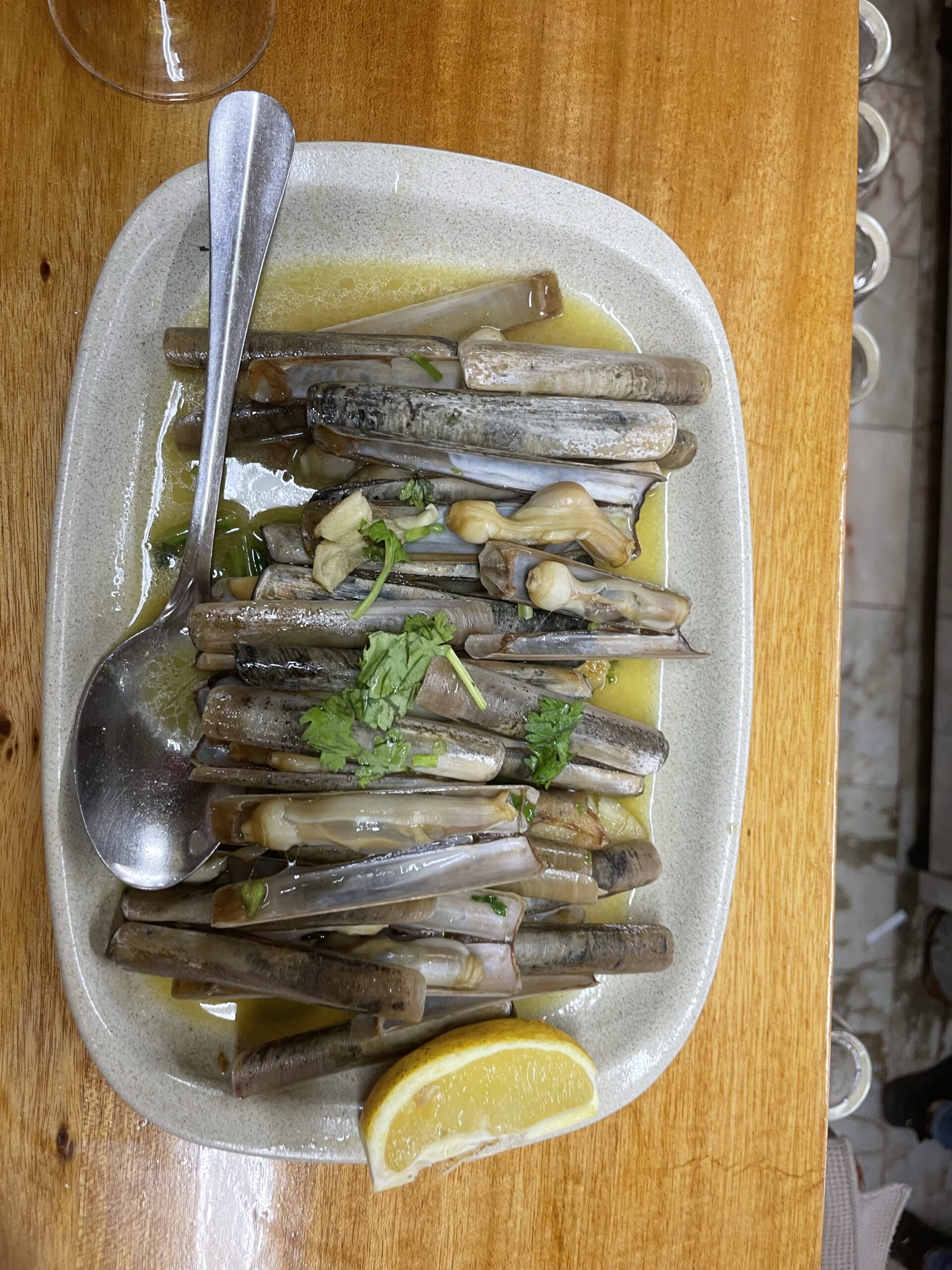 In true sunny resort town fashion Neil and I played a round of golf. Palmares golf course is a very nice links course with some amazing water views. 18 holes with a cart and rented clubs was my $115 splurge. A fun day paired with a wonderful Swedish couple who spends their winters in the Algarve. My game was its usual mix of mediocrity interspersed with an occasional great shot. But at least here I can blame it on the rented clubs.
Our host again has provided a long list of restaurant suggestions and mixed with all we have learned from our food tour we are finding it hard to fit in days to cook at home. Our first night (and our 5th night) we found ourselves at Nah Nah Bah, very conveniently located just down the hill from our apartment. Recommended by our host, its claim to fame is a few years back it was voted by the Washington Post as the 3rd best burger in the world. I know what you are thinking, "Greg you are a sucker for some random list, ranking the best of something".
You are probably right. I can say that Nah Nah Bah did not disappoint, very good burgers, craft beers, and these thick sliced potatoes mixed with a garlic sauce, kind of halfway between a fry and a potato chip. Prices are a bit more American at $15 for a burger with fry/chips and $5 for a beer.
Thursday we decided to make a day trip to Salema Beach, a small fishing village turned beach resort town. It is about 30 minutes north of Lagos and has sporadic bus service from Lagos. After checking schedules and prices for four adults we decided Uber would be a better option. Door to door service for $18 one way. Getting back proved to be a bit more costly as we could find no Uber in the small fishing village and had to opt for a $32 taxi ride.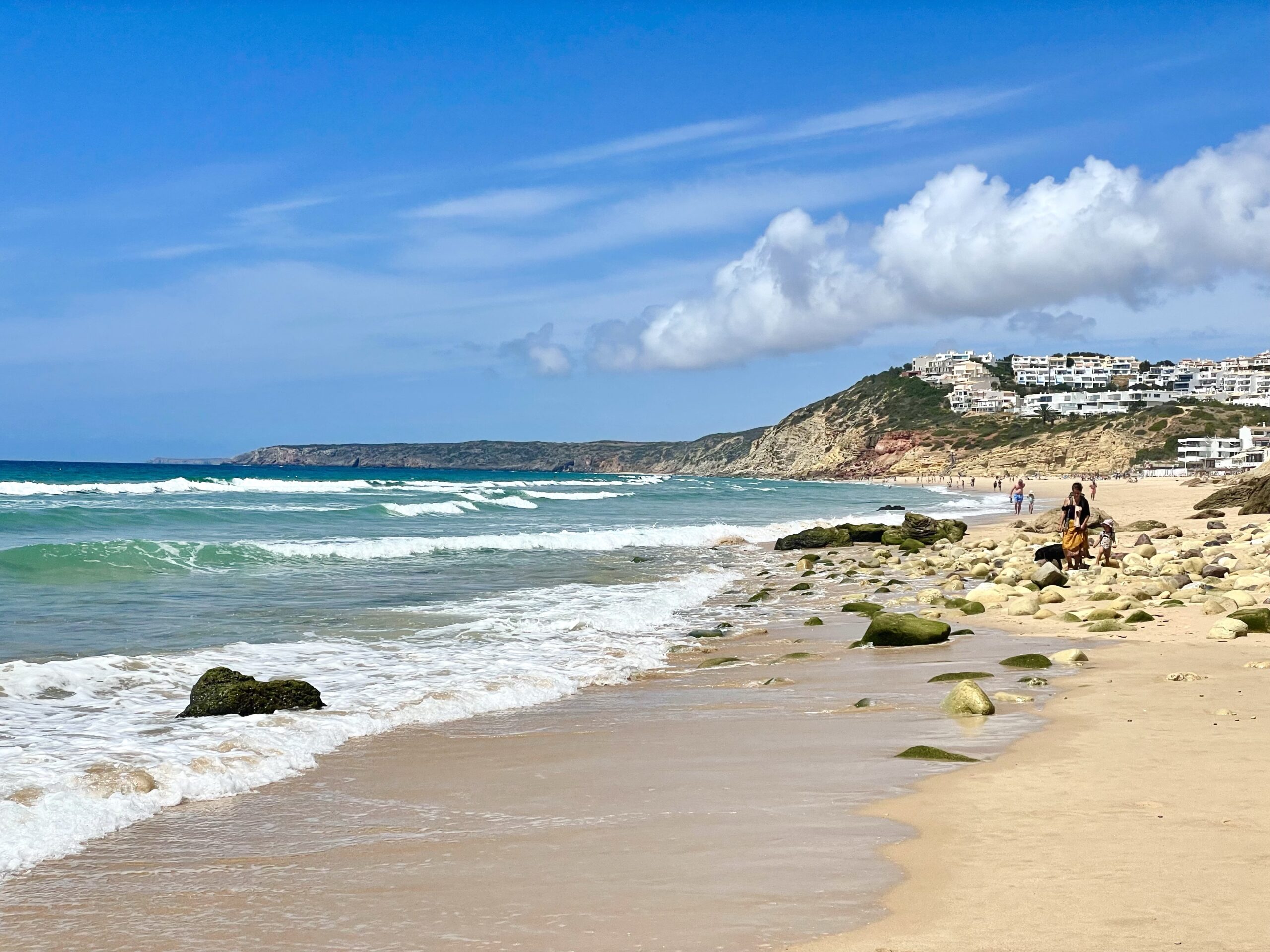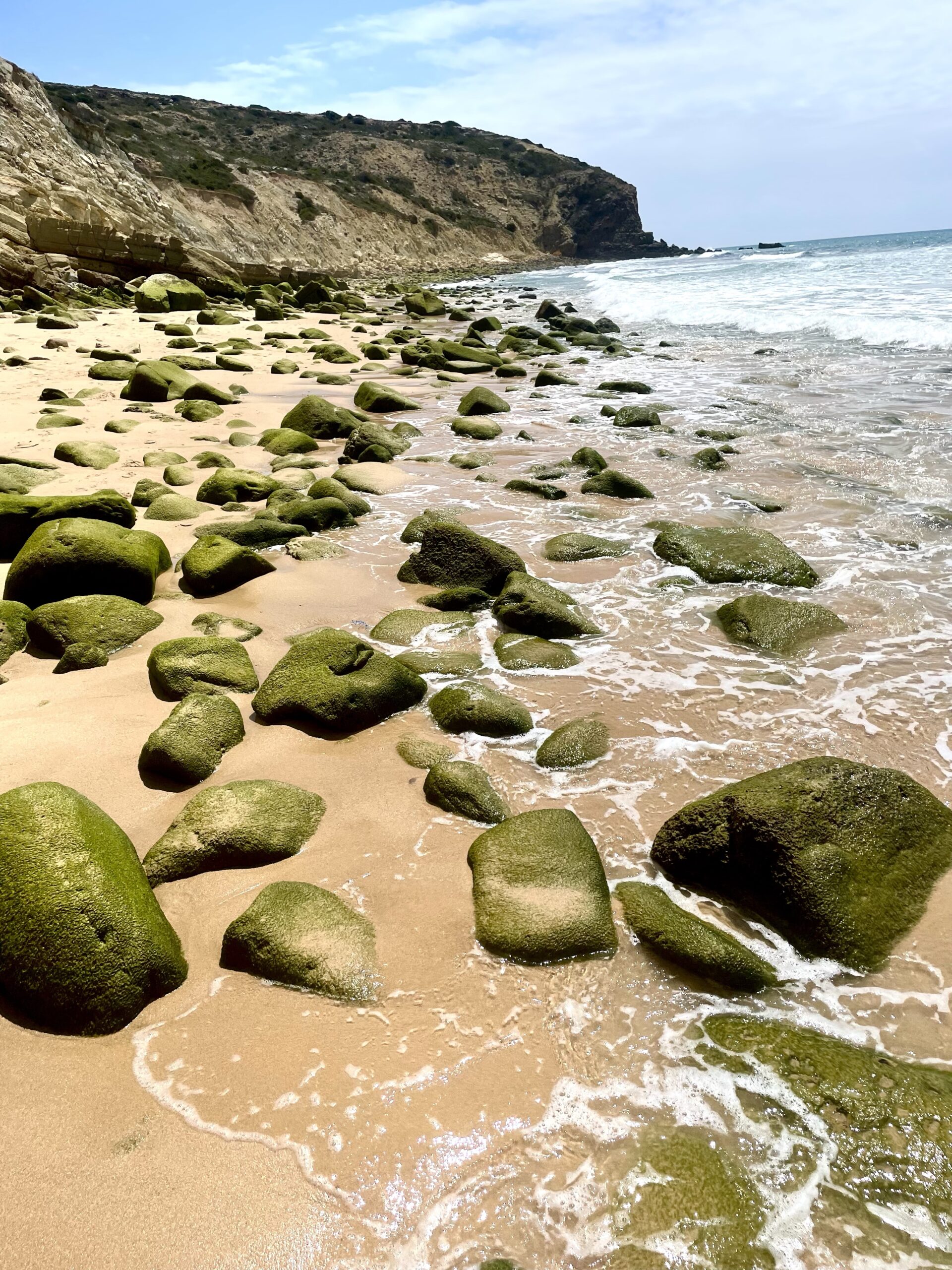 Salema Beach day
We showed up in Salema not really knowing what to expect. Downtown proved to be one street with shops, restaurants and tourist activities like surf and paddle board lessons. Not much to see in the 15 minutes it takes to walk. The beach is beautiful with a few different options for beach chair rentals so as the sun began to break out we decided to make it a true beach day. You could rent two chairs and an umbrella for $10, but we broke the budget again and rented the beach cabana with two nice lounges surrounded by white fabric curtains, very chic, for $25 a day. We were swayed toward the cabana option because of all the times we refused to spend $100 for a cabana rental in Hawaii. We spent the day lounging at the beach, sipping our $15 bottle of vino verde, (chilled and served beach side in an ice bucket with glasses) going on beach walks and lunching on a $10 pizza from the pizza shop across the street. A very nice way to spend a lazy down day. The one shortcoming of the Algarve is the water is not all that warm. The Brits and Swedes frolic in the waves but most people only wade in the 65 degree Atlantic.
"So how is the budget going" you ask? Well….there was New York, and trains and several food tours and very little eating in so, not that great. As you may recall we try to budget $100 a day for accommodations plus $100 for all other daily spending, a total daily travel budget of $200. Well you can forget that budget in New York, especially with Broadway shows almost every night, expensive food and expensive tours. You could spend $90 just taking two people up to the Empire State building observation deck. For our 8 nights in New York we spent $183 a night for accommodations. We spent $2,324 for food, plays, tours and subways. So our lavish week in the Big Apple cost $474 a night.
Spain and Portugal have been better but still not great. We have averaged $117 a night for accommodations. Food came in at $90 a day but with trains, taxis, tours and everything else we have been spending $147 a day here in Europe. So rather than the $200 a day budgeted we have been spending $264 each day in Europe. There will be better and worse times ahead but nothing like New York. You will note that none of this includes Airfare which is harder to calculate because we used points for airfare. But this gives you a real idea of the cost if you travel like us.
See you in Lisbon.
G&K