I am writing this on a bus traveling to Lagos, Portugal. If you plan to travel to Lagos from Seville the bus is the fastest mode of transport if you don't have a car, assuming you know where to find the bus. Our tickets purchased online indicated we would find our bus at the Seville Santa Justa train station. I assumed we would arrive at the station and find a bus terminal adjoining, or a kiosk, or maybe a sign. But no, a complete search of the train station and its surrounding environs turned up no terminal, kiosk, sign or anything suggesting the ALSA bus service or any other bus service frequented the train station. After searching and asking several sources we finally concluded an ALSA bus would show up 10 minutes before our departure and stop in the no parking zone next to the McDonalds. And surprisingly, it did. No sign, no kiosk, nothing indicating any type of bus stop. So thanks to this blog now you know, stand on the curb outside the McDonalds and a bus will magically appear for your five hour trip to Portugal.
Friends Jin and Neil Brundage joined us in Seville. If you have followed this blog you may recall Jin and Neil, former Seattleites who packed up and moved to Nice, France in 2018. We met up with them in Nice in 2019 and they joined us in Croatia that year as well. They decided to join us in Seville and will continue with us this week in Lagos. It is nice to have friends along for the journey. New conversations, new perspectives and a shared experience is wonderful. Not to mention they are happy to do dishes if we cook.
Our apartment in Seville was our nicest yet, totally remodeled 2 bed 2 bath with lots of light and access to a rooftop deck. Sharing the cost with friends brings it in as one of our most affordable stays, total cost about $185 a night so only $93 per couple.
We gave Devour food tours another try and were not disappointed. Our Italian guide Gabriel was great, yes an Italian guide in Spanish Seville. The food to history ratio was much better than Madrid, more food and wine, less history. We had a nice group of 8 sharing our tour with a Brit, two Australians and a New Yorker and of course 4 Seattleites by way of Nice and Surprise to finish out the eight.
A very fun and tasty evening. We have also had some great restaurant suggestions from our Airbnb host. Seville is filled with old bars and restaurants and we sampled several. Breakfast at El Comercio was a favorite, a bustling diner with churros, chocolate, eggs, fresh squeezed OJ and coffee con leche.
Whether tapas and drinks or a late lunch, El Rinconcillo is worth a stop, a bar and restaurant established in 1670 and owned by the same family since 1858. Good food and drink in a truly historic atmosphere bustling with people is a great mix. Another favorite from our food tour was Casa Morales another bar owned by the same family since the 1850's. One afternoon Kelly and I sat in the back-bar, surrounded by old concrete wine vats, sipping house wine and watching the people come and go, a nice way to spend an hour….or two.
As our guide Gabriel mentioned, Seville is really a Muslim city by design, its charms are often hidden behind walls. The farther south we go in Spain the more Muslim influence we see from the 700 or so years that the Moors ruled the Iberian peninsula. Churches and Cathedrals built on top of Mosques, plain looking buildings with few exterior design features or windows that open to beautifully designed gardens and courtyards.
Iberian ham is a thing here, Jamon as it is called is a national obsession even bigger than Prosciutto in Italy. look closely at our photos in restaurants and bars and you will see it hanging from the rafters. It is served everywhere and the best sells for hundreds of dollars a pound. To the left you will see it for sale at the local market, full ham legs, package color designates quality.
Seville is another beautiful walking city and rivals Barcelona as my favorite city in Spain. Its Cathedral is a tangle of design thrown together in only 70 years, it looks like the primary design goals were: 1. make it bigger than any other church of its day and certainly bigger than the Mosque it is built on and 2. build it as fast as possible. Not exactly pretty from the outside but it has its charm.
The mix of Muslim and Christian is most evident in Cordoba just 45 minutes outside Seville and a great day trip. The old town looks like a whitewashed hill town or a Greek village, without the hills.
The Cathedral is actually built inside a Mosque and is even referred to as the Mosque-Cathedral. It is truly fascinating to explore with its mix of geometric decoration surrounding christian icons and sculpture. A mashup of Christian and Muslim greatest hits.
While it has ancient roots, Seville has its share of grand 18th and 19th century architecture with beautiful parks and gardens. The best is the Plaza de Espana and its neighbor Maria Louisa Park. Gorgeous early 19th century buildings and water features. After touring for a few hours we found a nice cafe within the park and enjoyed a cool Tinto de Verano aka summer wine (think wine cooler) a refreshing mix of red wine and soda.
Wanting a little authentic Spanish culture Kelly and I booked a Flamenco show. I am glad we went but we were not terribly impressed and felt like we could cross that off our life list. Soulful Spanish singing, good spanish guitar and dramatic dancing with lots of finger snapping and tap dancing all culminating to……"well I don't think we need to do that again" . Do keep in mind that this review is brought to you by someone who thinks the same of the ballet. I know the performers are talented and work hard but it is just not my glass of wine.
Yes, I know the proper idiom is cup of tea but you drink your idiom and I will drink mine. We did see some women performing Flamenco in the plaza and I thought that was fun to watch for a while, it was free and spontaneous and we watched for a few minutes. So, my recommendation is enjoy a few minutes of free Flamenco in the plaza de Espana, tip the dancers and skip the evening show.
On one of our final days in Seville we visited the Real Alcazar aka royal palace which dates back to the middle ages. Accordingly it has both Christian and Muslim influence. Parts of the Alcazar are still in use today by the royal family when it visits Seville making it the oldest royal palace still in use in Europe. It has wonderful architecture and exhibits on ceramic tile, a decorative feature found throughout Seville. The gardens are impressive and huge. I learned most of these fun facts from wikipedia because the Alcazar, like more and more historic sites, uses the very modern method of providing a QR code upon entrance that allows you to immediately download to your phone a fine audio tour of the site. Unfortunately, like most sites they have no wifi and good luck getting any decent cell service. So after the first 10 minutes watching the little circle spin round and round on your phone you give up and wander around as clueless as you were when you walked in. If you know anyone with an historic site please tell them a fancy modern QR code link to a downloadable audio guide is useless if you don't provide wifi.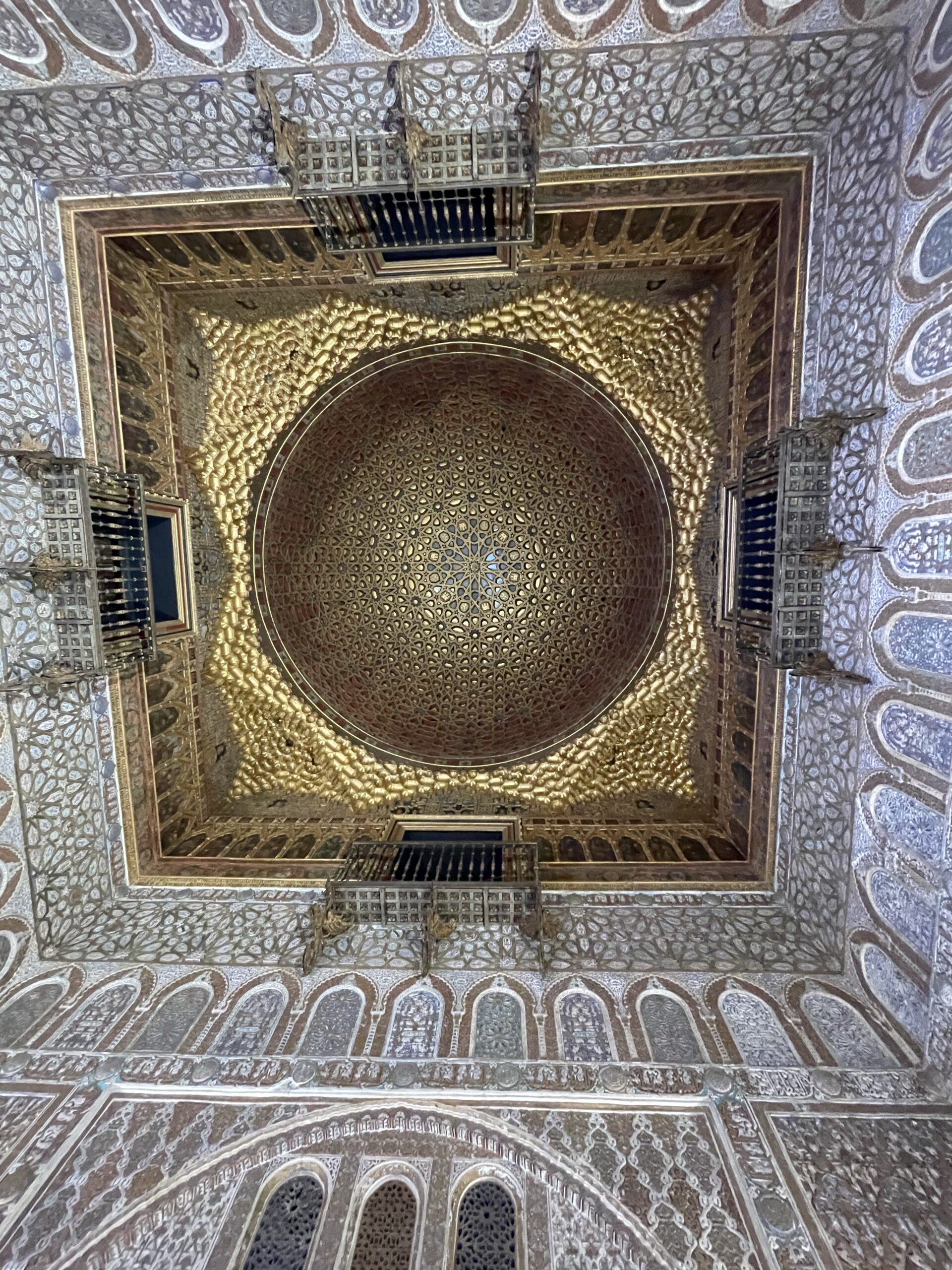 Elsewhere in our Spanish travels technology has worked well. Tmobile international service has worked well if slow on occasion. No notice yet that their international cell service is not for people who live outside the US. We received that robo threat when we were traveling in 2019. Apparently, unlimited international coverage doesn't really mean unlimited international coverage. Wifi at our apartments has given us excellent access to the world. Amazon prime, Netflix and Youtube TV have worked fairly consistently. Though we never really know until the last minute if everything will work as planned. One day Youtube TV gave me a message that its service is not available outside the US but it has worked fine here in Spain ever since that notice. Go figure.
See you Portugal
G&K