When I was young I never thought I needed to visit Hawaii. I wasn't into laying in the sun and getting a tan so why go to Hawaii? When I finally visited in my late 20s I loved it and we continue to return whenever we can, see our calendar for next January. I felt the same way about the French Riviera, movie stars, billionaires, mega homes and mega yachts aren't my thing. But now that I am here, I can see the attraction. The water, the coastline, the natural beauty, warm weather, it is quite nice. We have had less than stellar weather, but poor weather here is still pretty good.
The reason we traveled this far south in the first place was to meet up with Seattle friends, now expats, Neil and Jin who have been living in Nice for the past year.
We wanted to learn about living abroad and explore the warm south coast of France. The first day had fabulous weather, Neil and Jin showed us all around Nice then made us dinner in there lovely apartment. We continue to get by with a little help from our friends. Nice is an historic city with great architecture, wonderful neighborhoods and a waterfront pedestrian promenade that runs for miles.
Our home on the Riviera was a wonderful Airbnb in the small town of Villefranche about 15 minutes outside Nice. The one-bedroom apartment had everything we could want including a great view of the harbor. The cost was slightly over budget at $817 for a seven-night stay.
Villefranche and its neighbor Cap Ferrat has some of the most expensive real estate in the world. Billionaires, Rock Stars, Movie Stars all own exclusive homes with high walls and lots of security. Interestingly there is a lot of well-maintained public space for the rest of us to enjoy. Kelly and I loved the 10-mile hike around the Cap Ferrat peninsula which has a paved walking trail running along the water in front of the multi-million-dollar estates of the rich and famous. It was one of the most beautiful hikes we have ever taken with amazing water views the entire way.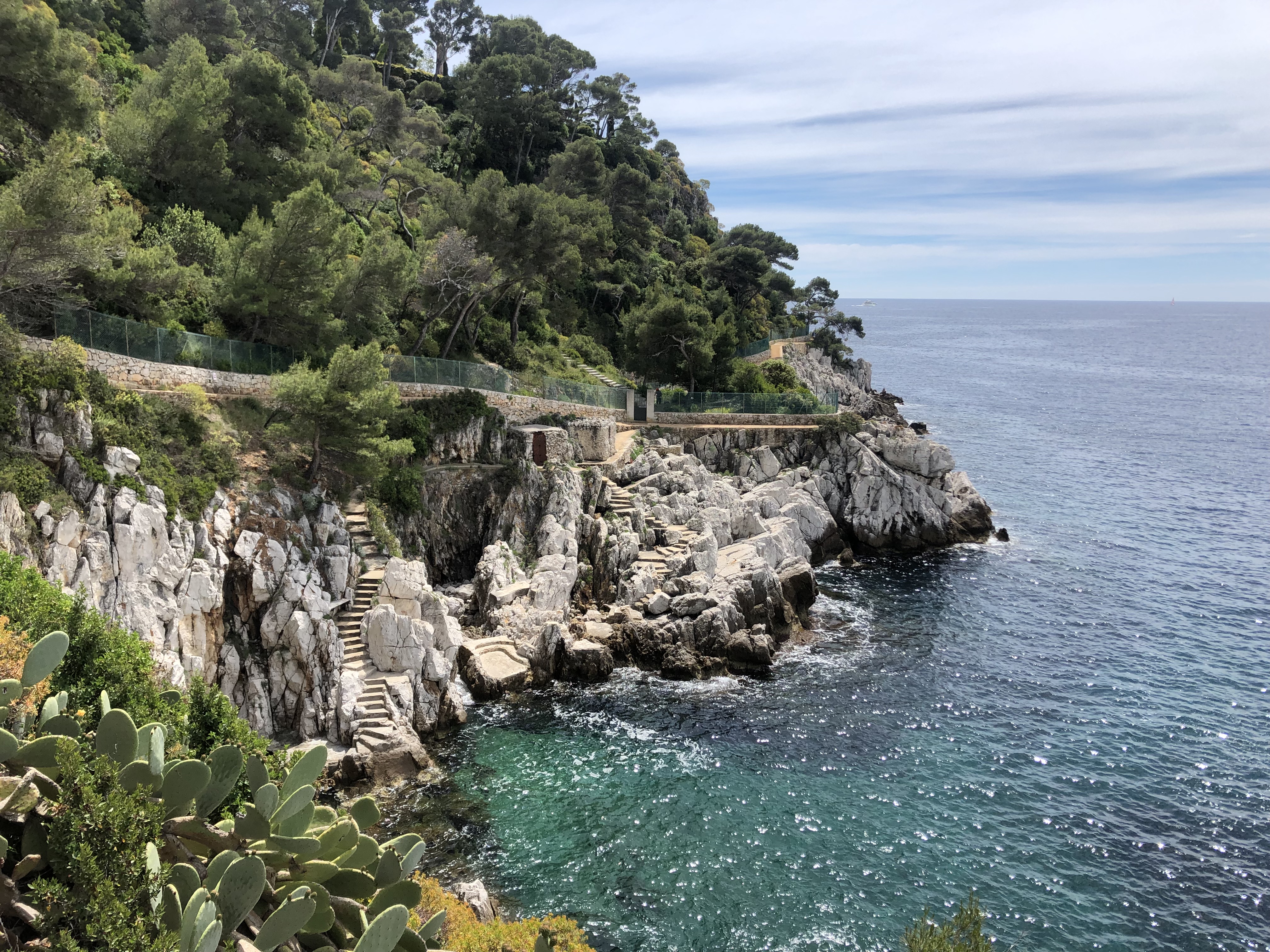 A beautiful Hike
Later in the week we returned to Nice to meet with an expat group that meets weekly on the beach. The weather did not cooperate, and the cool breeze forced us inside to a nearby bar where we met with several Americans living in Nice. One couple had lived in Nice for 14 years. Neil and Jin connected with this group and several others shortly after arriving last year. There are Americans living everywhere in the world and they are happy to meet with you. They can explain the pros and cons of living abroad. They know a good doctor, dentist, or real estate agent if you need one. It was a fascinating and enlightening evening.
Why would they live in Nice? Great weather. Okay, it wasn't great that day, cloudy with temps in the upper 50s which everyone agreed was more typical of January in Nice. Besides weather the lower cost of living and healthcare were major factors. Neil told me about Numbeo.com a website that provides you with a detailed cost of living report comparing any two cities. A handy tool if you are looking for a place to live.
Everyone had glowing reviews of the French health system, the quality of care and the incredibly low cost. Monthly premiums of a couple hundred dollars. $25 doctor visits, $25 dental visits including teeth cleaning and x-rays. Cancer treatment at zero cost, multi day stays in the hospital at almost no cost. Very eye opening.
Neil and Jin traveled to Villefranche for a day and we rented a small boat to get out on the water for a few hours. Again, the weather was less than perfect but we were able to make it around Cap Ferrat to a great picnic spot off Paloma beach where we dropped anchor and enjoyed lunch. The boat also allowed us to check out some of the mega yachts anchored offshore.
The ports of Monaco, Nice and Villefranche are filled with dozens of 100-300 foot yachts. One of our favorites was the Nero which pulled in shortly after we arrived and stayed for the week. 295 feet long with a crew of 20 you could buy it for $70 million or just charter it with crew for $500,000 a week. It sleeps 12 guests so you could split it with friends.
We decided against the Nero and opted for the 15 foot Yak which only set us back €130 for the afternoon. Afterwards we made dinner for Neil and Jin at our luxury apartment where we shared a nice red from our vast wine cellar (the half case we bought in Provence, yes we still had a few bottles). Another very good day.
Kelly and I jetted off for lunch in Monaco one day. Well, no jet was involved just the local bus as Monaco is only 10 miles up the coast. For just €1.50 we could visit another country for lunch. We toured the storybook village around the palace, watched as they docked a small 80-foot sailboat, and enjoyed a nice lunch with the locals. The local working class not the people who actually live in Monaco.
We did not make it to the famed Monte Carlo casino which costs €16 just to walk in and look at a gaming table. I am not much of a gambler as I prefer to keep my money but the idea of losing €16 to the house without even placing a bet seems crazy. But $100 million homes and $70 million boats are difficult for me to comprehend too.
On our way out of town we stopped to walk around the picturesque hilltop village of Eze. A beautiful medieval city perched on a hilltop with expansive views of the coast. Brimming with high priced restaurants, art galleries, and shops it reminded me of our time in Carmel and Big Sur. Stunning beauty and overpriced food. We limited our spending to €16 for two cappuccinos which I would categorize as €4 for the coffee and €12 for the view. It was a lovely view.
For lunch we moved on to the little town of La Turbie and La Fourchette Libre a wonderful little restaurant with only 18 seats and a chalkboard menu. For €36 Kelly had the Cannelloni, I had the Ravioli and we each had a glass of the house red. You should definitely stop in next time you are in La Turbie. You can probably tell from the lunch choices that La Turbie sits just a few miles from the Italian border and our next stop in Ospedaletti, Italy. See you there.
G&K