May is in the books so it is time to look at the budget. We think these first two months in Europe will be our most expensive because we are traveling with friends who are "on vacation" which usually equates to more restaurants, museums and other activities. Additionally, we are moving fairly often and using a car which costs us $37 a day even when it is parked for a week. Our initial observations are that cars are expensive, apartments can save you a lot of money, and a couple can get by on $100 for lodging plus $100 for all other spending but you need to watch spending and can't have a car.
On the apartment issue, I know some people love to be pampered in a hotel but I really see no value in a hotel unless it is a short stay or near something else you need/want to do, such as next to the airport for an early morning flight, or in a theme park or national park where you have activities planned. The best example for the savings of apartment living is our current home in Paris. Total cost with all fees is $205 a night which we are sharing with my cousins, so our cost is $103. For this price we have a 1000 sq/ft apartment with a 400 sq/ft patio. Two nice bedrooms, a huge great room with a sectional couch, dining table, kitchen, full refrigerator, dishwasher and clothes washer. We can sit on the patio and enjoy a meal or a glass of wine, make meals, do laundry. Compare this to our one-night hotel stay in Carcassonne, $122 for a nice room with a bed, a chair, and a bathroom. Breakfast and parking were extra.
That being said, we were over budget for the month. Housing costs for the month of May totaled $2,953 or $95/ night. Total spending including $500 in gas and tolls came out to $4,394.94 or 141.77/day. Total lodging and spending $7,348 or $237/day. Add in the monthly car lease of $1,164 and it brings the total May costs for our adventure to $8,512 or $274 per day in May. A bit more expensive than we planned but keep in mind this is our mortgage, utility bills, internet, etc. as our only other recurring bills are insurance and cell phones. There are no flights in this month, but our flight costs have been minimal as we used frequent flyer points for our flights to Europe. Regardless, $2150 a week for traveling in Europe is cheaper than most travel packages or river cruises.
Now, on to Paris. Kelly and I have been to Paris a few times over the years, so we have seen the major sights and planned to spend these two weeks living more like a local and wandering the city a bit. As temporary locals we donned yellow vests and joined a protest. Just kidding, we have seen no protesters, no riots, or violence of any kind. Nor have we encountered any rude Parisians, just kind welcoming people.
We are sharing our time with my cousins, Shannon and Brenda who we have never traveled with before. To be honest, I have only spent a few hours with them each year for the past 40 years at various family gatherings. So basically, we agreed to a two week vacation with strangers, who says we aren't risk takers. When they heard we were traveling they reached out and wanted to join us for part of our trip. I gave them our schedule and they chose Paris. It has worked out wonderfully, well at least we think so, they may have a different opinion. We agreed to have our own agendas and coordinate when possible, so we have not spent every moment together. Over drinks and dinners, we have learned much about each other and learned a bit more about our families.
Our apartment is next to the Charonne metro stop between the Marais and Bastille districts. Kelly and I spent most of our first week wandering the neighborhoods and local markets, picking up food and wine for dinner and just relaxing on our patio. Kelly and I took in a video exhibit of Van Gogh where they display scenes from his paintings onto the interior walls of a warehouse. It is like being in one of his paintings. A fascinating concept that worked well, I thought it would be fantastic in a dance club or restaurant setting where the walls constantly change with amazing images.
The next day we explored the Pere Lachaise cemetery just a few blocks from our apartment where we could commune with the spirits of Jim Morrison, Edith Piaf, Oscar Wilde, Chopin and Gertrude Stein. What a city.
Rock, French Torch songs, or Classical they play it all at Pere Lachaise
One evening after dinner we walked along the Seine. Paris is so vibrant and alive. The restaurants and cafes are bursting late into the night. At 11 PM on a random Thursday the walking path along the Seine was crowded with people strolling, groups gathered to enjoy a drink together, street musicians, people dancing. Everyone having a good time and no one causing problems. A wonderful evening. Kelly and I called it a night around 11 while Brenda and Shannon continued on to the Eiffel tower. They then decided to rent an electric scooter and make their way home. Not the motorcycle type scooter but the electric foot scooters you see in most cities these days. The video was entertaining and a bit discomforting, the idea of two women on a scooter, without helmets, scooting through the streets of Paris at 2 AM while video taping sounds like a recipe for disaster but they survived unscathed.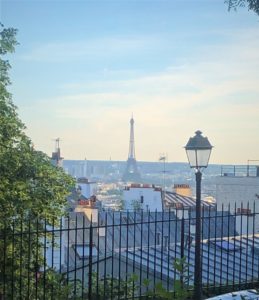 They had such a great time they decided to rent scooters the next day as they searched for a thrift shop on the left bank. This trip proved to be less harrowing but possibly crazier. First the address was wrong, then the scooter batteries died. Like pony express riders of old they found fresh mounts and continued the search for the elusive thrift shop. Three dead scooters and $30 later they gave up and returned home. They were making dinner that night which was finally served around 10 PM. Very Parisian timing even if it wasn't exactly planned. Their phones map their travels so we pulled up a map of their route, it looked like a plate of spaghetti. Over dinner and wine, I explained to them the miracle of the French subway, for just €1.50 it will take you from the stop outside our door to within a few blocks of any destination in the city. Trains run every 5 minutes and you are never battered or bruised like you spent two hours on cobblestone streets riding a scooter.
The next day we provided some hands-on metro training taking the subway from our apartment to Montmartre where we meandered the streets as the sun set over the city and enjoyed drinks at a sidewalk café. Shannon returned the favor of my metro training with her own tutorial in bargain shopping. She negotiated the sidewalk vendor down from €50 to €5 for a lovely Eiffel tower that even lights up. What you would do with a light up Eiffel tower I have no idea, but it was a great price and a very skilled negotiation.
What have we learned this first week? My cousins laugh a lot, they love to shop for bargains, and they would love to live in Paris. What do they say they have learned about us? We are extremely funny which may contribute to their non-stop laughter, they think I research and plan a lot, lastly they question why they have not hung out with Kelly before, apparently they have a lot in common.