Just a quick post about our drive from Newport Beach to Phoenix. But first a word from our budget. The February numbers are in. At our stated budget of $100 a day spending plus $100 day accommodations we budgeted $5600 total for the 28 days of February. Total spending excluding cell phone, health and car insurance came to $5656.92. Which is okay, but not as good as it sounds considering we stayed with friends and family for 16 nights where we paid nothing for accommodations. Accommodation costs came in at $1020. For nights in timeshare units I divide the annual maintenance fee by the points used for the accommodation so it does not account for what the points originally cost years ago, only what we pay in annual fees. Spending included everything from fancy restaurants to gas and tolls. We spent some on our hosts buying dinners or lunches but not $1600. Our spending included several hundred dollars for personal items like clothes but it is obvious we did not watch our spending as much when we were not paying for a room. It is easy to spend an extra $100 when you can rationalize that you are not spending on accommodations. It is something we will need to watch closer in the future. Now, on to Joshua Tree.
We don't like to drive long hours on the interstate, so we tend to venture off the freeway and breakup our long drives with a stop in between. This time we decided to take in Joshua Tree National park. It is an easy detour just two hours east of LA. The park is not large and can be driven in a day. You could spend days in the park hiking and rock climbing, but a day is enough to see the major sites and get in a few short hikes. We picked up picnic supplies at the local market and headed into the park.
A $25 entry fee and we headed to our first stop at Barker Dam. We took an easy 1.5 mile hike through the desert to an old dam and reservoir constructed by settlers around the turn of the century. The views were wonderful. As we hiked, I had two thoughts, first, who would have thought this would be a good place to settle, even with the stream it is still barren sandy desert. I could not imagine how hard it would be to farm or raise cattle. Second, it would be very easy to get lost in the desert. If you are going far, map and compass skills are a must. There is no cell reception in the park and I would not rely on your phone gps to keep you safe.
After Barker dam we took a short hike around Arch rock. Absolutely beautiful rock formations. We also took in the Cholla Cactus Garden and were treated to a fantastic display of spring wildflowers through the southern end of the park.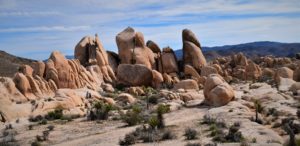 We have never met a National Park we did not like. They are all different and you should visit them whenever possible.
We exited the park on its south border at I 10. We took a risk ignoring our friend Alan's warning "don't stay in Blythe" and booked a last minute room at the Blythe Comfort suites for $128 which included a hot breakfast. We had dinner at Garcia's Mexican restaurant. We were encouraged when we arrived to see a long wait to get into this 7 table restaurant. It did not disappoint. It is nothing fancy but great Mexican food at very reasonable prices are worth the half hour wait to get in.
The next morning, we were off to Phoenix. Contrary to Alan, Blythe was great for an overnight stop. I would however change Alan's warning to "don't stop in Blythe for gas", if you drive another five miles across the border into Arizona the gas is almost a dollar less per gallon.
See you in Phoenix.
G&K