Like all of life, international travel in the Covid era is inconsistent. No masks required on our flight to New York. No masks required in the Newark airport. So we were a bit surprised when they announced as we were boarding our flight to Lisbon connecting through to Barcelona that we would be required to wear a mask for the next 12 hours until we stepped off the airport shuttle bus in Barcelona.

They checked our CDC vaccine cards at the counter in Newark and again after passport control in Lisbon but have not asked for them or our state issued QR code anywhere else. I say all this only for everyone with questions about travel during Covid. I believe in science, vaccines and even think masks help…..a little. But I too am tired of Covid and still had questions even after researching on several websites trying to figure out if our CDC paper vaccine cards met the EU requirements. We talked to one couple who had gone through the trouble of getting tested in case their paper CDC card would be rejected. We do hope the US will drop its testing requirement before we return, but we have 6 home tests packed in our bags just in case.
Enough about Covid, Barcelona is fantastic and well worth wearing a mask for 12 hours. Sunny and 75, the weather is a great improvement over New York. The prices are an improvement too. We are fortunate that the dollar and euro are almost even at the moment so we don't even need to convert prices, that €1.80 glass of Spanish Cava is $1.87, close enough.
As experienced travelers we have learned to schedule a food tour at the beginning of our stay. Food tours are a great way to meet fellow travelers, kind of like the youth hostels of our youth. More importantly they show you great places to eat and drink, what to order and for those of us with little or no language skills, how to order. Years ago we scheduled a food tour at the end of our stay in Venice thinking it would be a great way to end our trip. Bad idea, all the knowledge you gain on the tour is wasted.
We scheduled our tour in Barcelona through Airbnb experiences. Our guide Adrian is an American expat who has lived here for 6 years. Cost per person with tax and fees, $81. The 3.5 hour tour includes all food and drinks., and there is plenty! We were joined by 4 other travelers and it turned out to be a fantastic group.
We started with tapas at Can Paixano, a family owned Cava bar serving only Cava from the family vineyard. Cava is Spanish sparkling wine. There is no sign outside, just a line out the door. A glass of Cava ranges from $1.80-$3.05 for the expensive reserve. A fun atmosphere, absolutely packed with locals serving good food and wine. Kelly and I returned later in the week which we could only do because we took our tour early. During our tour we made several more stops all equally enjoyable and Adrian provided us with a long list of his favorite bars and restaurants in the City. We tried three different restaurant suggestions during our stay and were never disappointed.
After the tour we made our way to Dr. Stravinsky's with our new friend Josh, an assistant movie director from Australia, where we stayed….until 1:30, in the morning. I have learned Australians can be a bad influence, but a lot of fun. No, we weren't sick from our food adventures, Dr. Stravinsky's is rated one of the top 50 bars in the world, a fun experience and with their exotic drinks only priced at $10 it is worth a stop, but truth be told I would have preferred a bourbon on the rocks.
Another pro tip, if you are going to stay out after midnight don't have much planned for the next day. Our late night out was unplanned and we had a 9 AM entry scheduled for Gaudi's masterpiece Sagrada Familia. Gaudi is probably the most famous
Catalan architect. I could give the whole history Catalan but let's just say that Catalan is a beautiful region encompassing Barcelona that is begrudgingly part of Spain…for now. Gaudi's style is known as modernista and looks a bit like it belongs in a Dr. Suess book. But step into Basilica Sagrada Familia and you will acquire a new appreciation for his genius. I have been in a lot of beautiful churches and cathedrals but none like this, its soaring ceiling with open space and light, unadulterated by ornament is truly stunning. The pillars reminded me of standing among giant Redwoods. The morning light through the stained glass was beyond description. Go see it and tell me if you agree.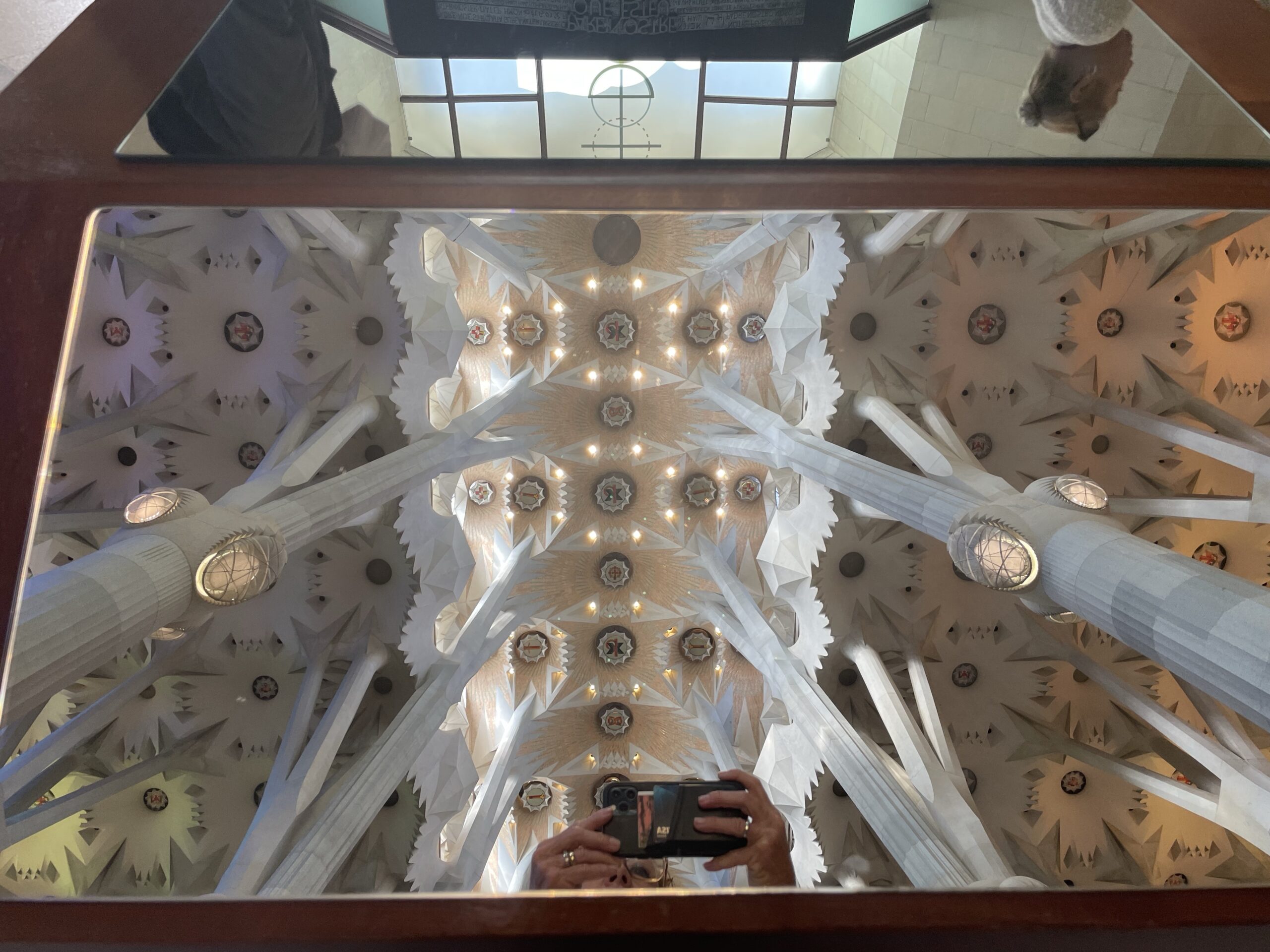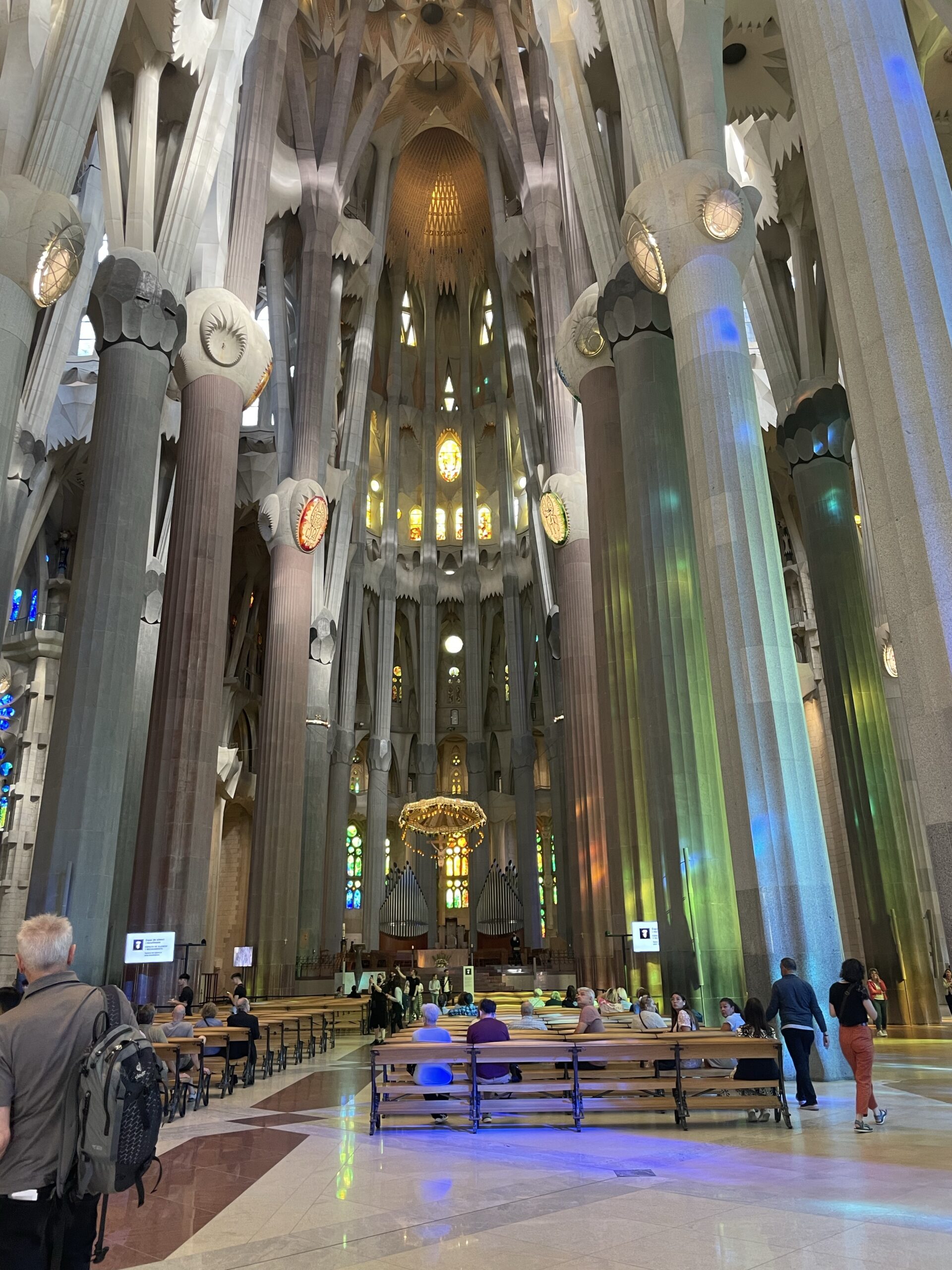 After the Sagrada Familia we had nothing more planned so we walked the 5 blocks home and crashed. Blame it on the Australian.
Thursday we made a day trip an hour outside Barcelona to the monastery of Montserrat. A nice day trip where we happened to run into three of our new friends from our food tour. This time there was no late night drinking. Montserrat sits high on a mountainside and is most easily accessed by cable car.
It has been a famous pilgrimage site for Christians for the past 1000 years but has been a religious site since at least Roman times as they constructed a temple to Venus on the site. The basilica and sculpture of Mary are beautiful but I thought the surrounding mountains and hikes were the highlight. Our Australian friend actually hiked up to the top (I told you they can be a bad influence). We took the funicular to the top and hiked down which was equally beautiful and still allowed us to get in 16,000 steps and 41 flights of stairs.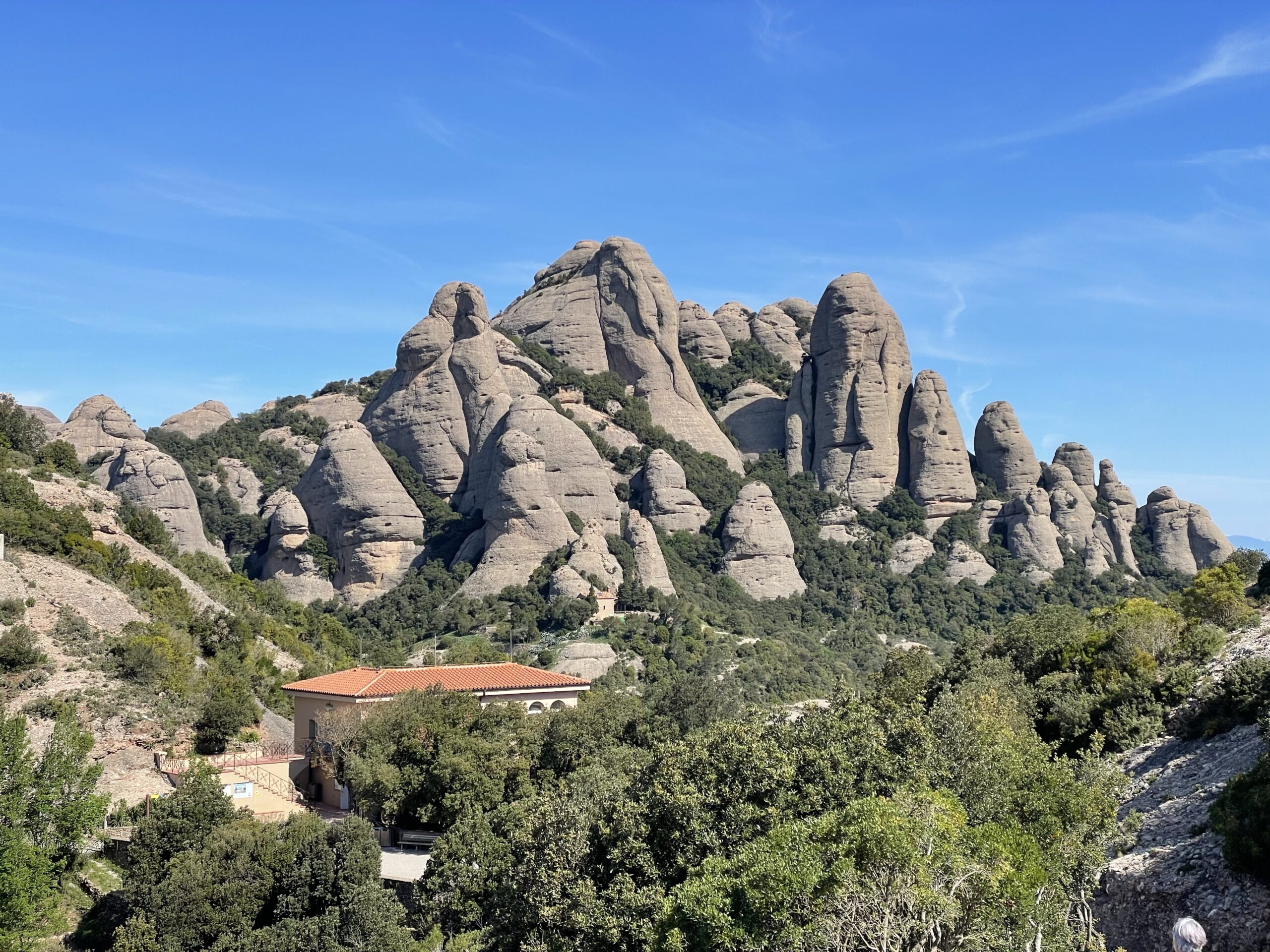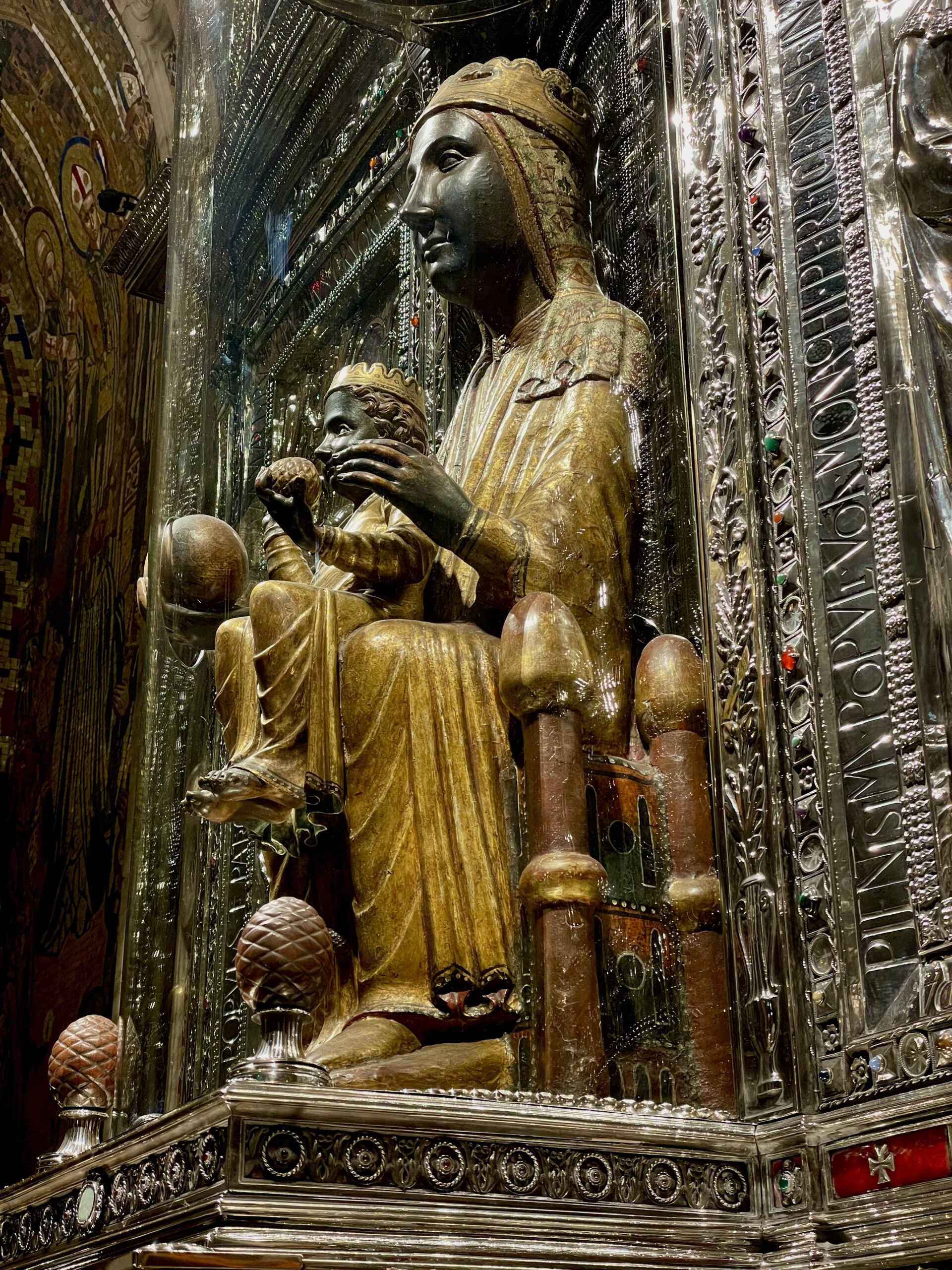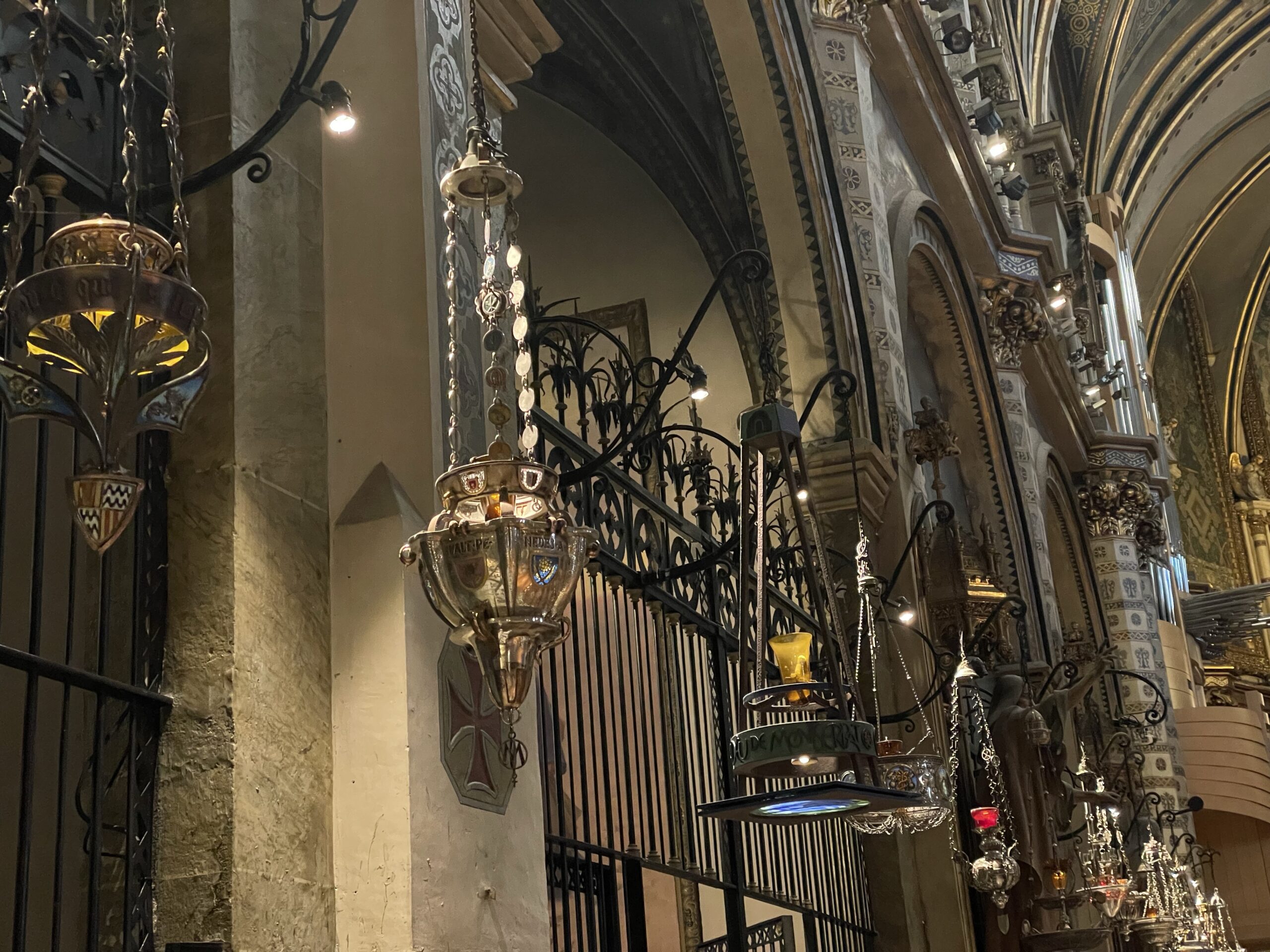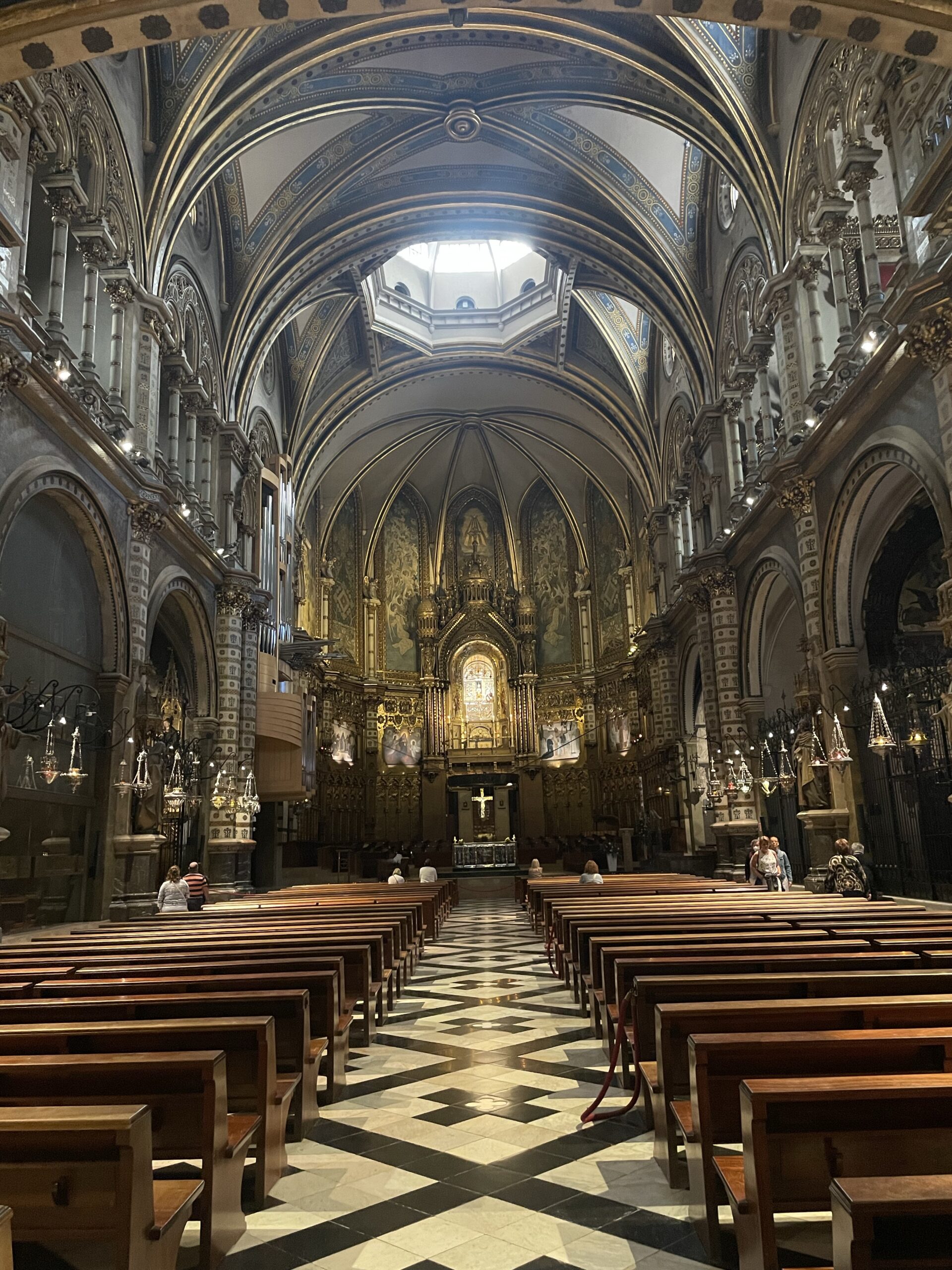 Friday was Paella day! Both Josh and Tyler from our food tour highly recommended taking a Paella class. We took their advice even though we have never had a good Paella. It has always looked so delicious with the seafood arranged over the top simmering in the big Paella pan, but it has always proved disappointing. Dry under cooked rice scattered with overcooked seafood of questionable origin.
I have always suspected that Paella is where all of the restaurant's leftover seafood ends up. We put aside our Paella bias and signed up with Elias for a tour of Barcelona's famous Boqueria Market followed by a Paella class at his apartment. Cost was $45 per person. We were joined by 8 new friends, mostly young successful tech workers from San Francisco with a couple New Yorkers thrown in (not us, real New Yorkers). They were all delightful, it was fun hearing their travel experiences and they were honestly curious to hear from us old people about long term travel. We were easily twice the age of anyone else in the group, but Elias set the proper mood with Pink Floyd's "wish you were here" spinning on his old school turntable. I took some solace knowing we were listening to a record that came out before anyone else in the room was born. We learned a lot about the art of making Paella, and might even consider trying it ourselves. Once again, good food and good company make for a fantastic experience.
Saturday, Kelly and I walked the mile and half to Park Guell, another Gaudi site. Park Guell was envisioned as a modern upscale housing development in 1900 but never took off. Only a dozen or so structures were built. If you go, enter at any of the designated entrances and proceed downhill toward the exit which is where all of the structures are. The upper ⅔ of the park is mostly nature trails with a few good views of the city. The structures are interesting and fun but a bit underwhelming, or maybe it was just the steep uphill climb on a sunny day that put me in an unappreciative mood.
Regardless, we both agreed the highlight of our day was lunch at Taverna El Glop another of Adrian's recommendations. Yes, I know the name doesn't scream "great food" but don't be fooled. I expertly made a 2:00 lunch reservation via whatsapp, texting a request for a reservation and receiving a response an hour or so later of "when name" As I had already told them when, I simply responded "Greg Turner" to which I received no response. So we went at 2:00 hoping we had a reservation and surprisingly we did. The place was packed, I am pretty sure we were the only people in the place speaking English. The food was outstanding and the atmosphere was even better. We love a place where we are surrounded by locals and feel a little uncomfortable with our poor language skills and our limited ability to understand the menu. It makes us feel that we have truly adventured off the beaten path.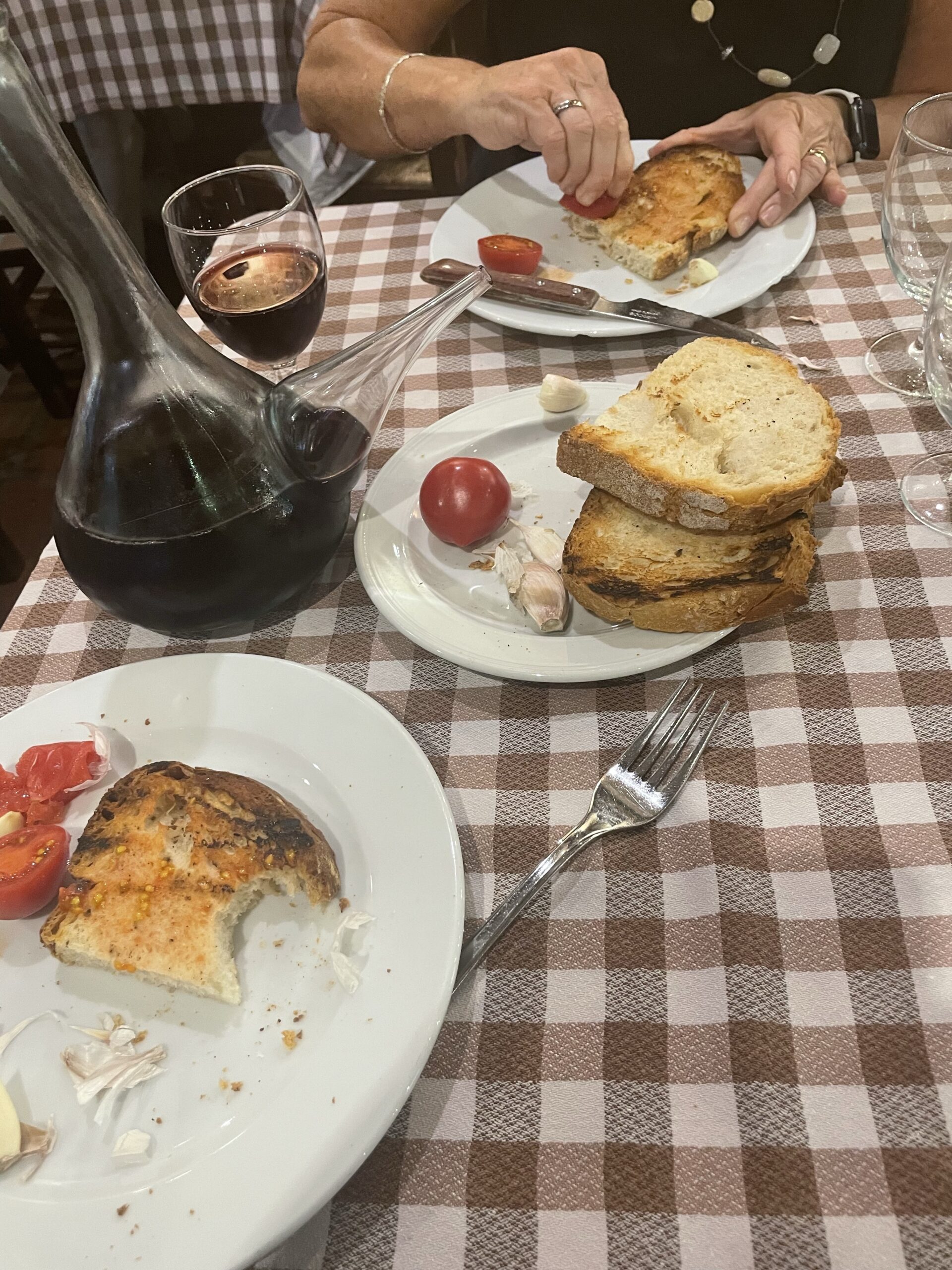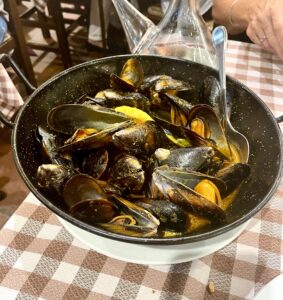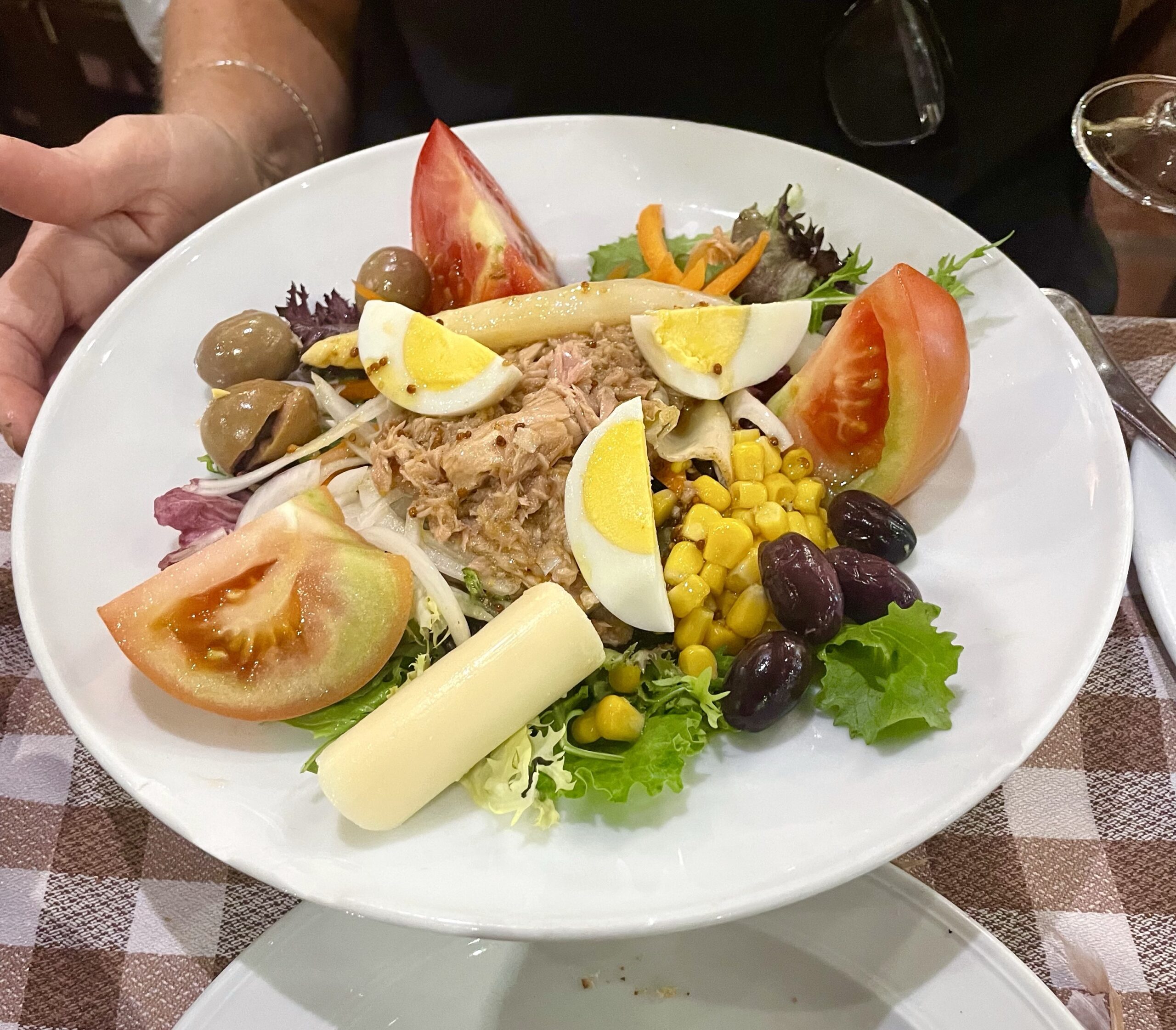 A carafe of house red, a liter of water, bread with tomatoes and garlic, my starter of mussels marinara, Kelly's starter of Salad with tuna, egg and tomato, we split an entree of mixed grilled meats with grilled potato and tomato and finished with two espresso. Cost $45. I do like Spanish prices.
On our final afternoon we headed to the beach and the Barceloneta district. Our first stop was Paradiso, a speakeasy/tiki bar where you enter through the refrigerator door of a small cafe on an unassuming street. I am not sure who rates these things but this place is listed as one of the top five bars in the world.
I understand that later in the evening the wait to get in can be over an hour but at 5 o'clock on a Sunday we walked right in, it was full with a line waiting to get in by the time we left. It was a very fun experience, drinks run at more American prices of $15-$20 each, but the presentation is over the top. Kelly's drink came shrouded in smoke under a glass dome. Very fun.
We then took a long walk along the beach which was packed with a weekend crowd. Great people watching but not a beach that would make anyone's top 10. After a stroll along the boardwalk we had a nice dinner at another of Adrian's recommendations Per Sagardi 1881. If you are looking for an American style upscale meal with views over the Marina this is a good choice. Very good food at a reasonable price, basic steak and seafood fare that can be found anywhere in the world. A starter of fried squid, two entrees, a bottle of wine, a bottle of water, a shared dessert and two coffees came with a bill of $120.
That is a wrap on Barcelona we will be splitting our next week between Madrid and Toledo. See you there.
G