Our Airbnb in Arles, France was one of the best. A large one bedroom one bath on a pedestrian street with a view of Arles Roman Arena. It was more than a view, you could practically touch it if you leaned out the window. Truly amazing. We chose Arles based on the suggestion from our Rick Steves guidebook. The city is worth a stop with its Roman ruins but we both agreed that if we visit Provence again we will stay in one of the smaller towns, Arles is too big and too industrial. You come to Provence for the rural French countryside, so stay in the country.
Vincent Van Gogh painted some of his greatest paintings in Arles and the city has set up a walk with easels around town at the location of famous paintings with a copy of the painting. We toured the city locating half a dozen of the easels but were less than impressed. Apart from one or two settings, too much has changed to really give you the feeling of what Van Gogh saw as he painted. It didn't help that at the easel of Starry Night Over the Rhone a cruise ship blocked our view of the river. If only Van Gogh had painted Viking Cruise ship on the Rhone instead.
L'ATELIER a two-star Michelin restaurant was our big splurge this month. The five course lunch was delicious and visually stunning. Previously, the closest we have come to a Michelin rated chef has been watching an episode of chef's table on Netflix so this was a new experience. I had made reservations months in advance only to find that lunch is rather slow at L'atelier, in fact, we were the only couple in the restaurant. It did make for excellent service and two visits from chef Jean Luc Rabanel. After we paid our €315 lunch bill we asked each other would we do it again? Obviously not very often. We probably would do a similar meal again but would be more cautious on the wine. We knew the five course menu was €95 per person before we arrived. We did not know the glass of champagne the hostess offered us upon arrival would cost us €25 …. a glass. And while the glasses of wine paired with the lunch only cost €15 each, we later found both wines for sale at €15 a bottle.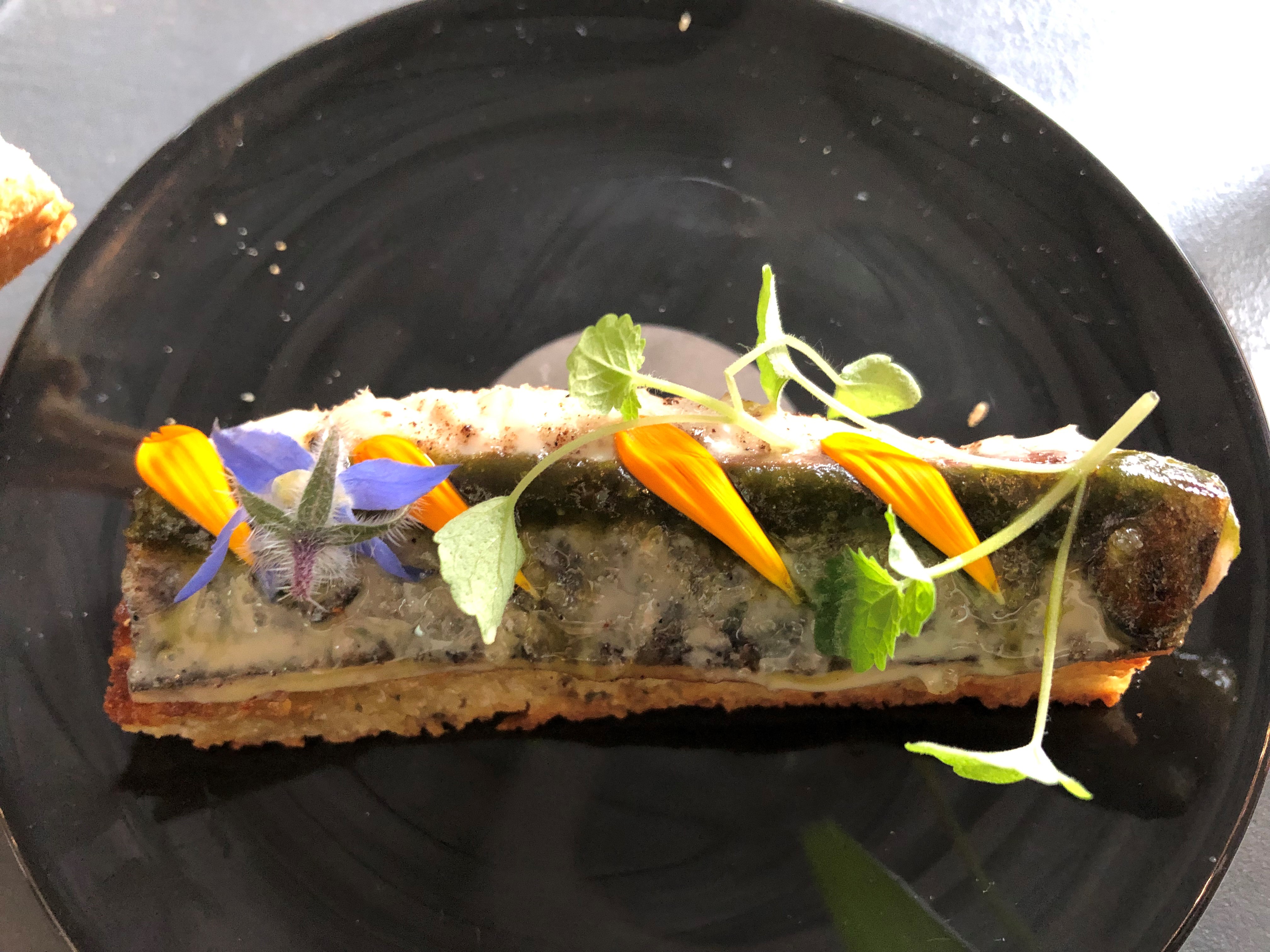 Lunch is served
A little more about wine. We learned from our friends Jon and Cindy that wine co-ops are a great value and available throughout the south of France. Apparently, the region produces far more grapes than the wineries can use so extra production goes to the local co-op which produces wine for local consumption. Locals buy their wine by the gallon at the co-op. They literally bring in a 5 gallon container and fill it with white, rose' or red. The co-op also bottles wine that sells for $5-$10 a bottle. This is excellent wine for a fraction of what you would pay in the states. We stopped in for a tasting at the Luberon wine cooperative and left with half a case which should last us ……a few days.
Dining in France is a bit of an adventure for us. Our French is poor but we refuse to let it impact our sense of culinary adventure. About half the time when our food arrives our reaction is "huh, so that is what I ordered, looks good". Many of the small restaurants only have a chalkboard menu making it doubly hard to decipher as we struggle with French handwriting and the French language. It all works out and we have had some excellent mystery meals. I do worry about travels to countries where they dont even use the same alphabet.
Over the week we developed a bit of a routine, coffee and breakfast at home then head out around 10 for some site seeing and lunch in a local village returning home for a light dinner. Our first outing was north to the Pont du Gard, an impressive feat of Roman engineering still standing after 2000 years. Pont du Gard is an aqueduct almost as tall as the Colosseum in Rome built as part of a 30 mile long system to bring fresh water to the city of Nimes.
From Pont du Gard we drove to the beautiful town of Gigondas. We enjoyed a great lunch in the town square at Du Verre a L'Assiette. Sitting outside in the sun Kelly ordered Tartine Provencal which turned out to be a tart with tomatoes, cheese and ham. She loved it. I ordered something with Beouf (which I knew from high school French class was beef or maybe I was confusing it with Beowulf from English class) it turned out to be flank steak, a delicious choice.
Next, we walked across the square to Caveau du Gigondas where you could try 50 or so of the local wines, for free. No, we did not try 50. It was still a great day.
Speaking of great days, I do feel compelled to mention that not every day is great and that a life of travel comes with its own costs. Almost 6 months into our life and 11 months of being homeless we are beginning to understand those costs. Like every dream in life there is a price to be paid. The most obvious is the distance from family and friends. The transitions are the most difficult part of the travelling. Each week you move to a new town, you unpack, settle in, begin to learn the area. Where is the apartment, can we park here and not get towed, where is the grocery store, when is market day, how do you use the bus system? Just when you are feeling comfortable with a location it is time to move again. We are looking at spending longer in some locations, limiting transitions and allowing ourselves to feel more like we are living in an area not just touring.
We are also looking forward to dropping off the car. A car is a great convenience and necessary for some of the areas we have traveled. A car also has a downside. The obvious ones are cost and less physical activity. Additionally, with a car you tend to travel more, which is a double-edged sword. You have an apartment in a lovely town but spend hours in the car each day seeing everything possible within a two hour drive. We are beginning to question whether we would get more out of our travel if we simply stayed in one place and lived the life of a local? Do we need to see 5 towns in Provence or spend all week in just one? Are we trying to see everything simply for fear of missing out or failing to check a box? We don't have the answers yet, but we are working on it. Now, back to Arles.
Saturday is big market day in Arles, not to be confused with small market day which is Wednesday. We love market days. Arles' Saturday Market is huge, a full kilometer long with booths lining both sides selling everything from fresh fruit to clothing. Some great values, some not, but a fantastic view into the local culture.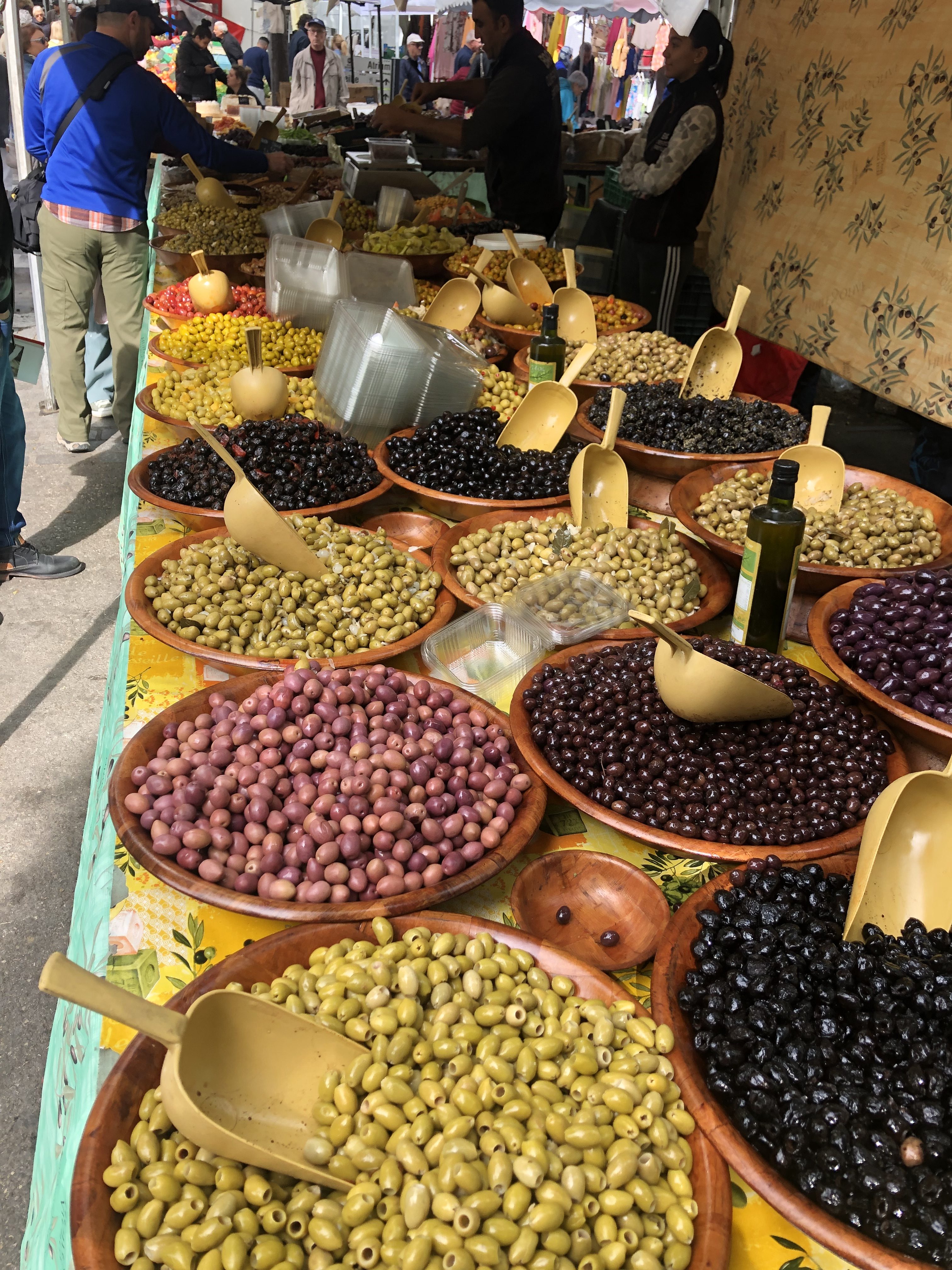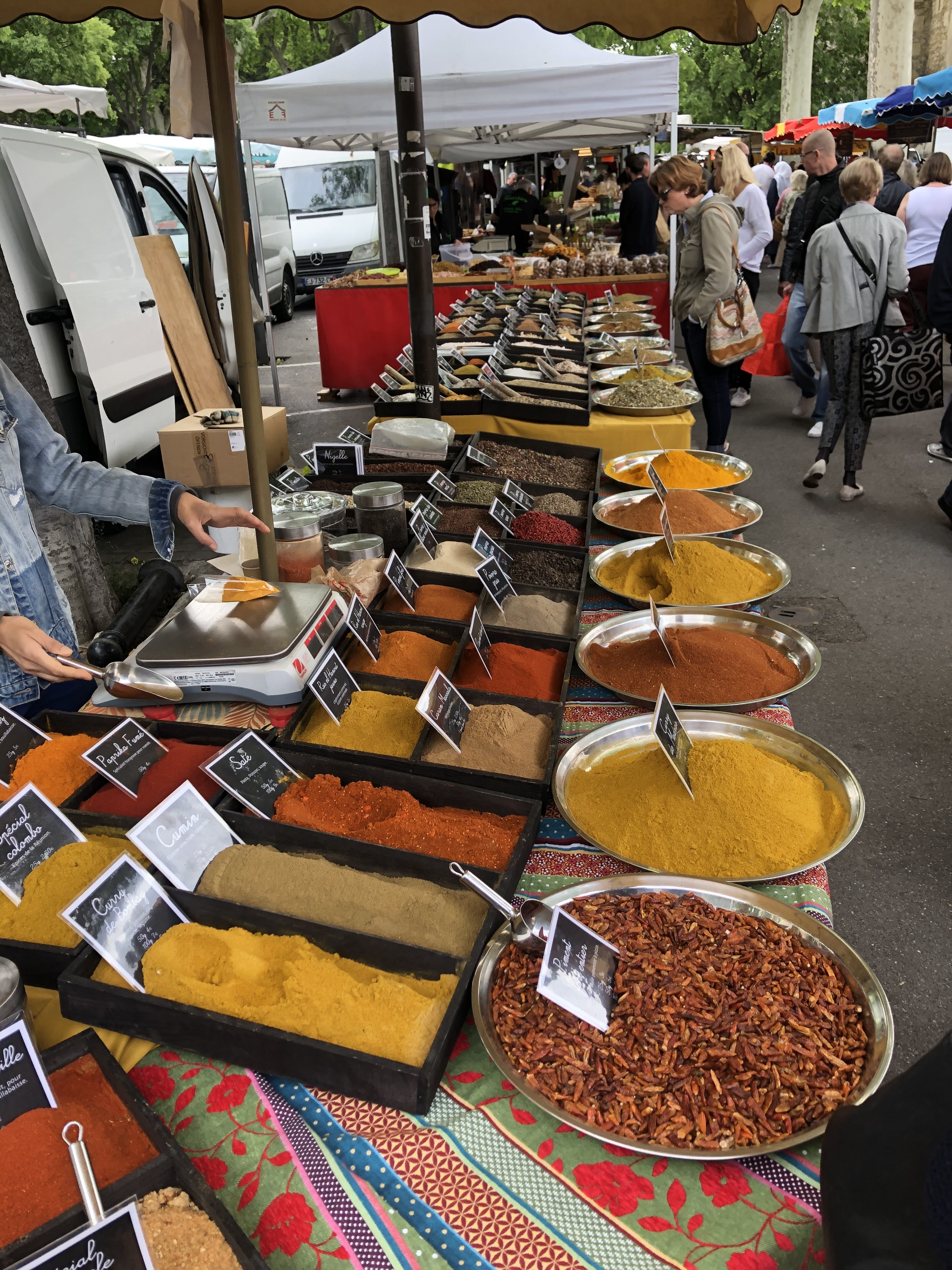 The Market
Our second adventure out was lunch in the town of Rousillon with a stop for coffee in the town of Menerbes. Both are picturesque towns of the Luberon region. Rousillon is famous for its red rock making it a red/pink town. It reminded us of Sedona. Menerbes was made famous by Peter Mayle and his year in Provence books. Coffee priced similar to Starbucks reflects the impact Mr. Mayle has had on the small town.
Our last day in Arles we changed things up staying in most of the day working on blog posts, photos, and art then heading out of town for the evening. We walked the hill town of Les Baux suffering the wrath of Le Mistral. In Provence they name the wind Le Mistral. Which always makes me think of Clint Eastwood singing "They call the wind Mariah". (yes, Clint did sing in a musical just google it if you don't believe me). Anyway, we thought the idea of Le Mistral was very French and romantic until we struggled through a couple of days of 40 mph sustained winds gusting at times to 60.
The town of Les Baux is a beautiful stone hill town giving you views of the surrounding countryside, provided you can keep from being blown off the cliffs by Le Mistral aka Mariah. After Les Baux, we traveled down to the much calmer town of St. Remy for dinner. We stopped at the local chocolatier on the recommendation of our friend Jana and picked up some excellent chocolate. It says right on the box to consume within three weeks, so we won't be sharing it with you back in Seattle. Sorry.
We loved the feel and size of St. Remy and would recommend staying in St. Remy when in Provence. Great restaurants, a chocolatier and I hear they have an excellent wine cooperative.
G&K