As you know we have a fairly modest housing budget at $100 a day so French chateaus are not our usual lodging choice. This week we made an exception and went over budget. Every two years, or so, our friends Daq and Genevieve (D&G) arrange a gathering of friends somewhere in the world. In 2017 we joined them for a week in Tuscany. This year they chose Chateau Allure de Lac in the Loire region of France, a total of 9 couples attended. A chateau is over our budget but still relatively reasonable when you split the cost 9 ways. Each couple paid $1,850 which included the cost of one formal dinner with wine.
We had the entire place to ourselves, kitchens, dining rooms, 16 bedrooms with en-suite baths, pool, tennis court, a lake and 140 acres. Everything was opulent and impressive but all of us were happy we did not have to maintain the house and grounds. The owner mentioned it cost $30,000 a month to maintain everything, and I still noticed plenty of differed maintenance. Keep that in mind next time you are considering the purchase of a chateau.
The best thing about accepting an invitation from D&G is the opportunity to meet and make friends. Joining us at the chateau were couples from Arizona, Oregon, Pennsylvania, Florida, Dublin, Ireland and Bern, Switzerland. Some we knew and some were new, but all were wonderful people with similar interests in travel, food, wine, whiskey and beer.
For our formal five course dinner Gen planned a costume party with a royal court theme. We are not much into costume parties….ok, we are not into costumes at all. Just not our thing. At first, we thought we could avoid the dress up part due to the fact that we were traveling and simply could not add a costume to our limited suitcase space. But everyone assured us they had a costume. Apparently even the style conscience French dress in costume as we easily found a costume store just minutes from our chateau. Which is why Kelly and I found ourselves wandering the aisles of Fete Du Jour looking for the least ridiculous costume. €90 later we looked nothing like Game of Thrones and very much like we were cast members of Monty Python and the Holy Grail. In the end, all was fine, we only looked marginally ridiculous and had a lovely dinner with wonderful people. Guess who was the first to be out of costume following dessert?
Having survived the costume ball, the remainder of the week went by far too quickly. We toured other people's chateau but honestly, ours was better than most so I began to question why am I going to tour some other chateau when I could be lounging in my own.
A few days into our stay we joined old friends Rick and Mary and new friends Lynne and Juerg on a trip to the nearby town of Chinon for the weekly market. Chinon is a beautiful medieval town on the Loire with its own hilltop chateau which we viewed from afar, no need to visit.
The market day was actually cancelled which would have been a disappointment if they were not holding a wine festival in its place. Being seasoned travelers, we were able to change plans on the spot. For €5 we purchased a glass with which we could taste wine from 50 or so local wineries. No charge for the wine, only the glass. I love France. Kelly met some of the locals dressed up as Rabelais, a 14th century author, poet and Chinon native son. There costumes were much better than ours. They assured her that after a couple bottles of the local wine she would be speaking fluent French, we haven't proved the theory but her French is improving.
One of our favorite activities at a D&G week is to cook dinner for the group. Kelly and I enjoy cooking for others and it is something we rarely get a chance to do while traveling. As an added bonus we tend to find that if you cook for others, they will do the dishes. Additionally, we find that if you cook for others, they are more likely to invite you back. With 18 people we kept it simple, soup one night and pasta another. Good food, good friends, and French wine once again proved that some of the best moments in life are around a dinner table.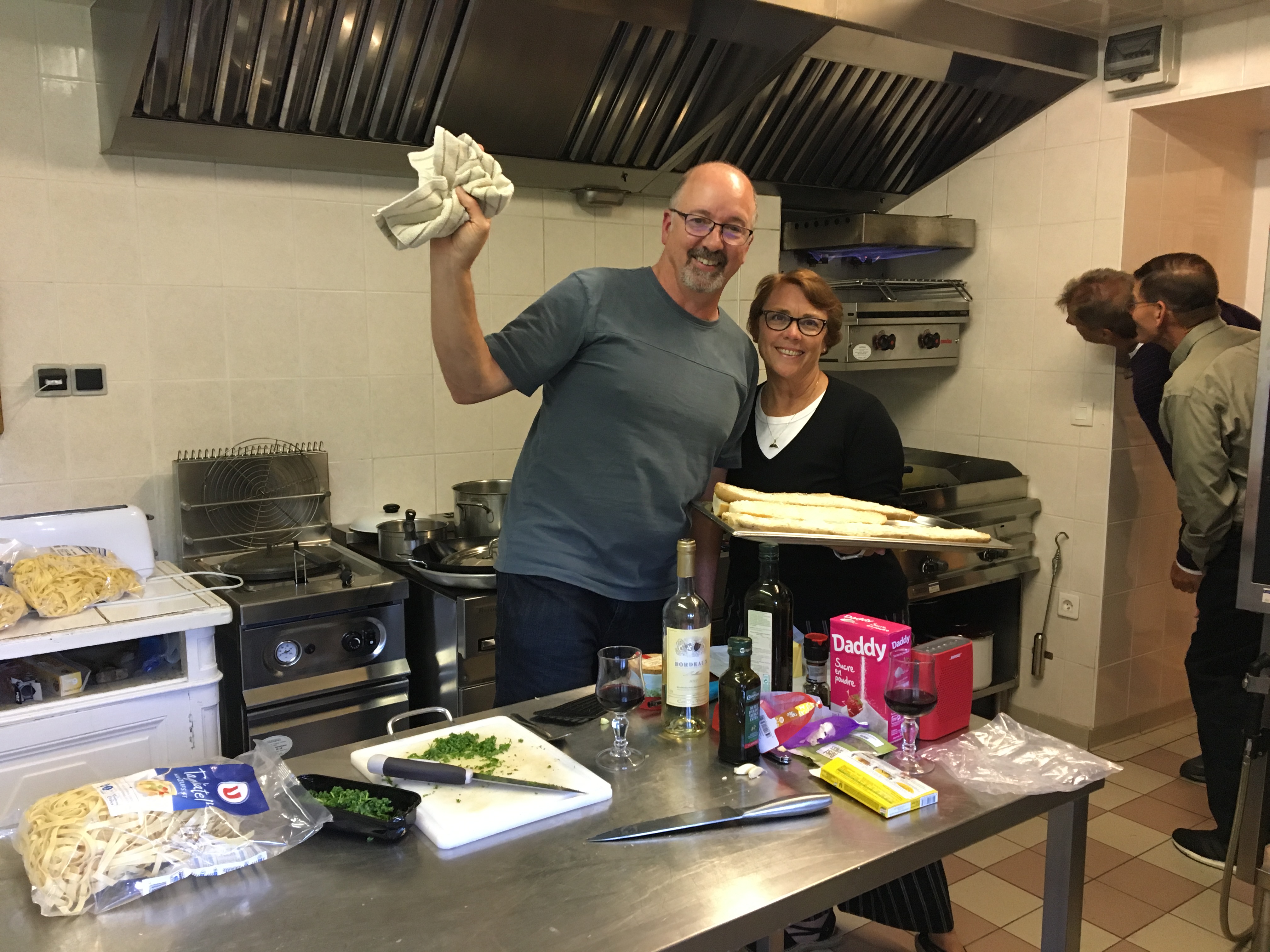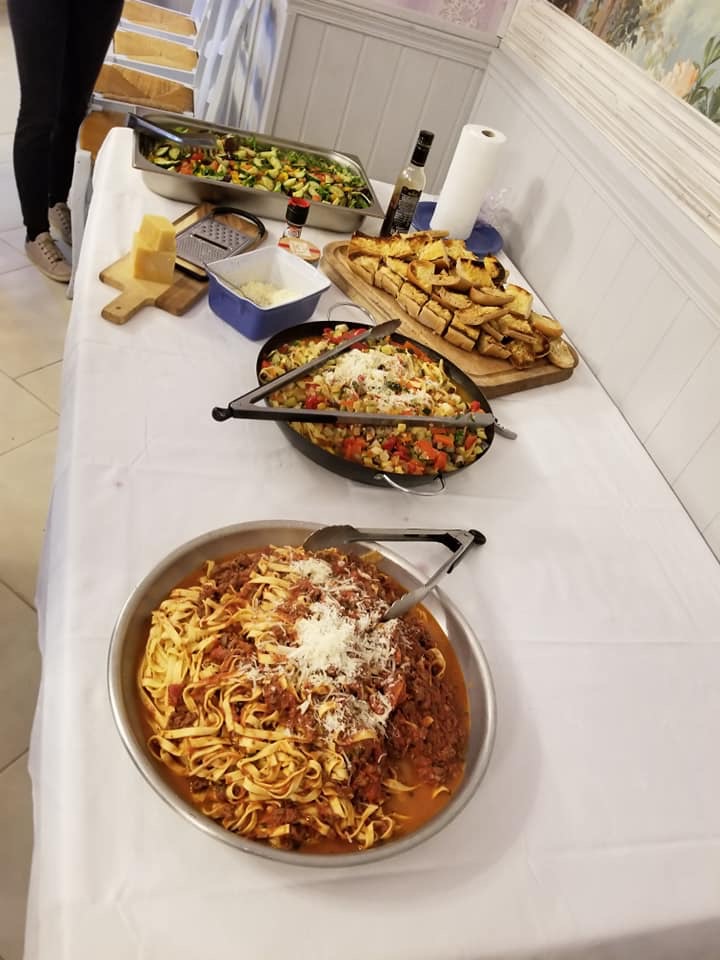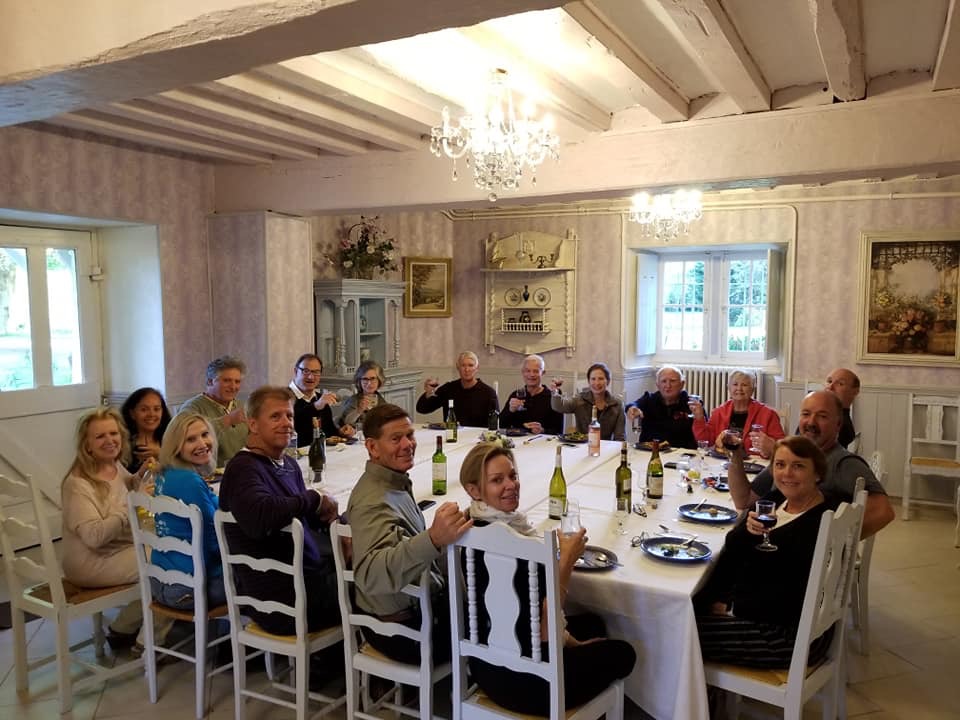 It would be sacrilege to gather in France and not do some wine tasting. I think it may be a legal requirement, I will have to study up on that. Kelly and I had already met the legal and/or religious requirement in Epernay as had the others who joined us at the Chinon Wine Festival. To ensure that everyone staying at the chateau met French legal/religious requirements Genevieve made sure the official chateau week schedule included a wine tasting.
She also threw in a bike ride just in case there is some Tour de France requirement as well. If you are concerned, we biked first then tasted wine. Bouvet Ladubay in the town of Saumur was our destination. The winery has miles of caves created over the years by the mining of local stone for city buildings. The wineries discovered that the caves were perfect for storing wine.
They had a mile or two of extra caves at the Bouvet Ladubay and adopted the novel idea of giving tours on bicycles. It was fun riding through the caves with our tour guide.
The wine tasting room afterwords was very nice as well. Bouvet Ladubay makes several sparkling wines which, of course, are not called champagne because they aren't made in Champagne they are made in the Loire. You learn so much from reading this blog. We also learned that the German people obviously agree with my assessment of their wine making skills because the winery of Bouvet Ladubay alone sells 2 million bottles a year to Germany.
All in all, a great week in the Loire. Friends, food and wine in a beautiful Chateau. But all good things must come to an end, we are off to our studio apartment for a week in Sarlat la Caneda. See you next week.
G&K