In Seattle it tends to be rainy and cold in February. I know it is not Minnesota cold but as I have been known to say, "I didn't mind the Seattle winters for the first fifty years, but now they are getting to me".  So a primary goal of our retirement is to avoid the rain and cold whenever possible.  After a whirlwind week in Seattle we hit the road again heading south.  The week in Seattle was filled with family, friends, and a few too many calories.  We did get in an 8k through the new 99 tunnel and on the old 99 viaduct which is about to be demolished.  We ended with a wonderful Bon Voyage party.  Thank you Anya, Rick, Nicki, and Tia for hosting our send off and thanks to all who could attend.
We left Seattle just ahead of the snow.  First stop, Newport Oregon on the coast.  A beautiful coastline even in the rain and cold.
By the time we arrived we picked up some soup at Safeway, lit the gas fire, and watched the last half of one of the worst Superbowl games in history.  It would have been a very budget friendly day, but we stopped in Portland for some tax free shopping at the Apple store for Kelly's birthday present, and so much for the daily budget.
The next morning we were off again for a 5 hour drive down 101 to Crescent city California and the Redwood National and State Parks.  We stayed at the Oceanview inn, which kinda had an ocean view, but the advertised "fireplace in every suite" turned out to be a glorified electric heater made to look like a fireplace.  It was clean and comfortable, but you don't get much for $100 a night in Crescent City even in the off season. The listing on Bookings.com also failed to mention the fog horn (which was really more of a fog beeper as its tinny electronic sound made you think that your phone was going off every 8 seconds),  nor did it mention the barking seals all night long, but now I am starting to sound like the lady who complained about the ocean waves being too loud, so we will accept fog horns and seals as quaint and romantic like police sirens and barking dogs in the city.  And another thing, I thought when you crossed the border into California the sun would come out and it would turn into a beautiful warm day just like every movie and TV show set in California.  But no…it snowed.
It may not sound like it, but we really enjoyed our time in Crescent City.   We had the Redwood forest all to ourselves.  Apparently, no one wants to look at trees in February, but they were amazing.  The size and grandeur is hard to capture on film.  If you click on the first ever GlobeTurners Blog video clip you will see that I tried to capture the size of the tree with a panning shot.  Exciting video of a tree
If you turn up the sound you are not hearing rainfall, it was a beautiful sunny afternoon.  The sound is the snow melt dripping off the trees.  At times it was like being in a snowball fight with a giant Redwood.  The short hikes through the forest even on the most popular trails were completely devoid of other hikers.  A truly enchanting experience.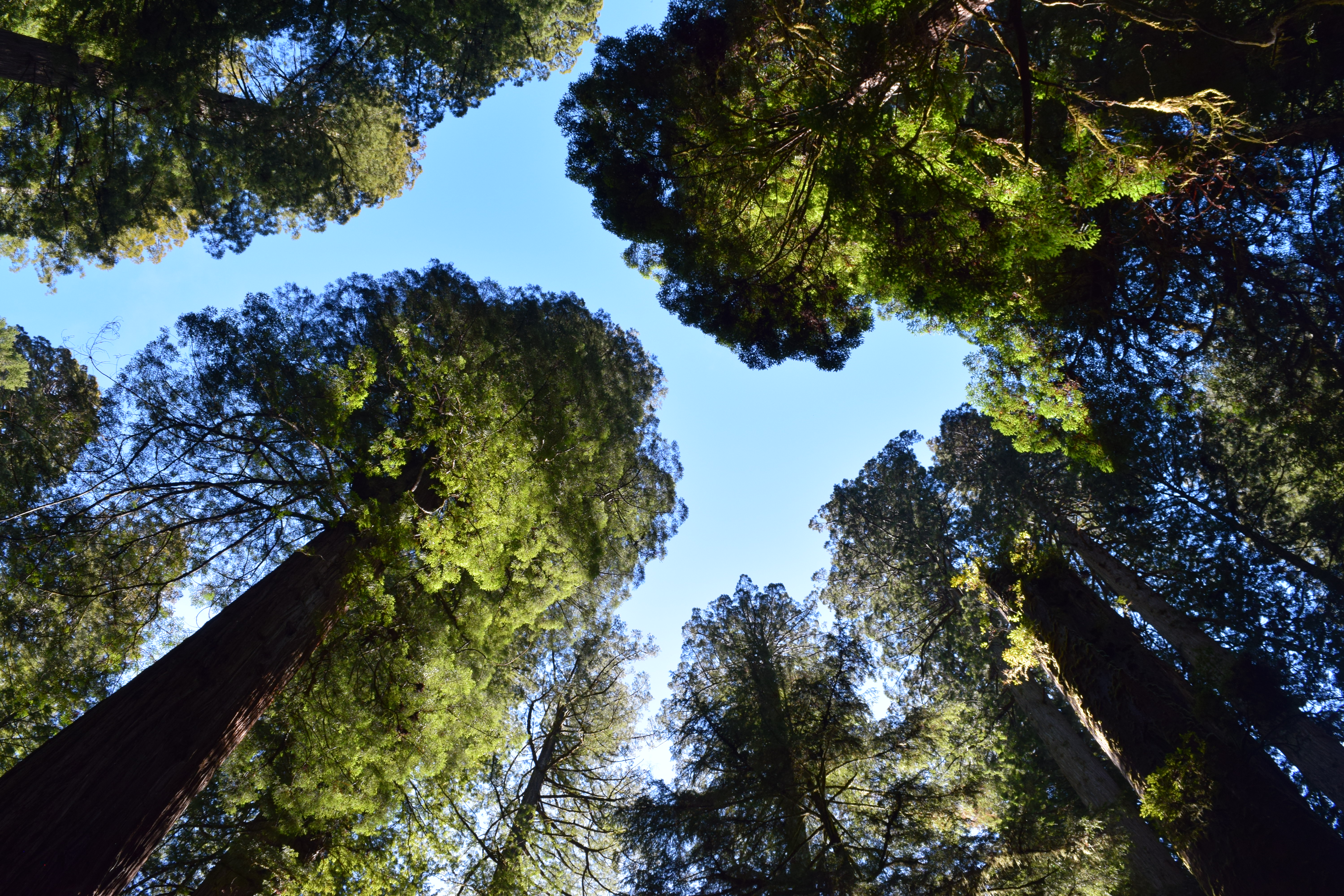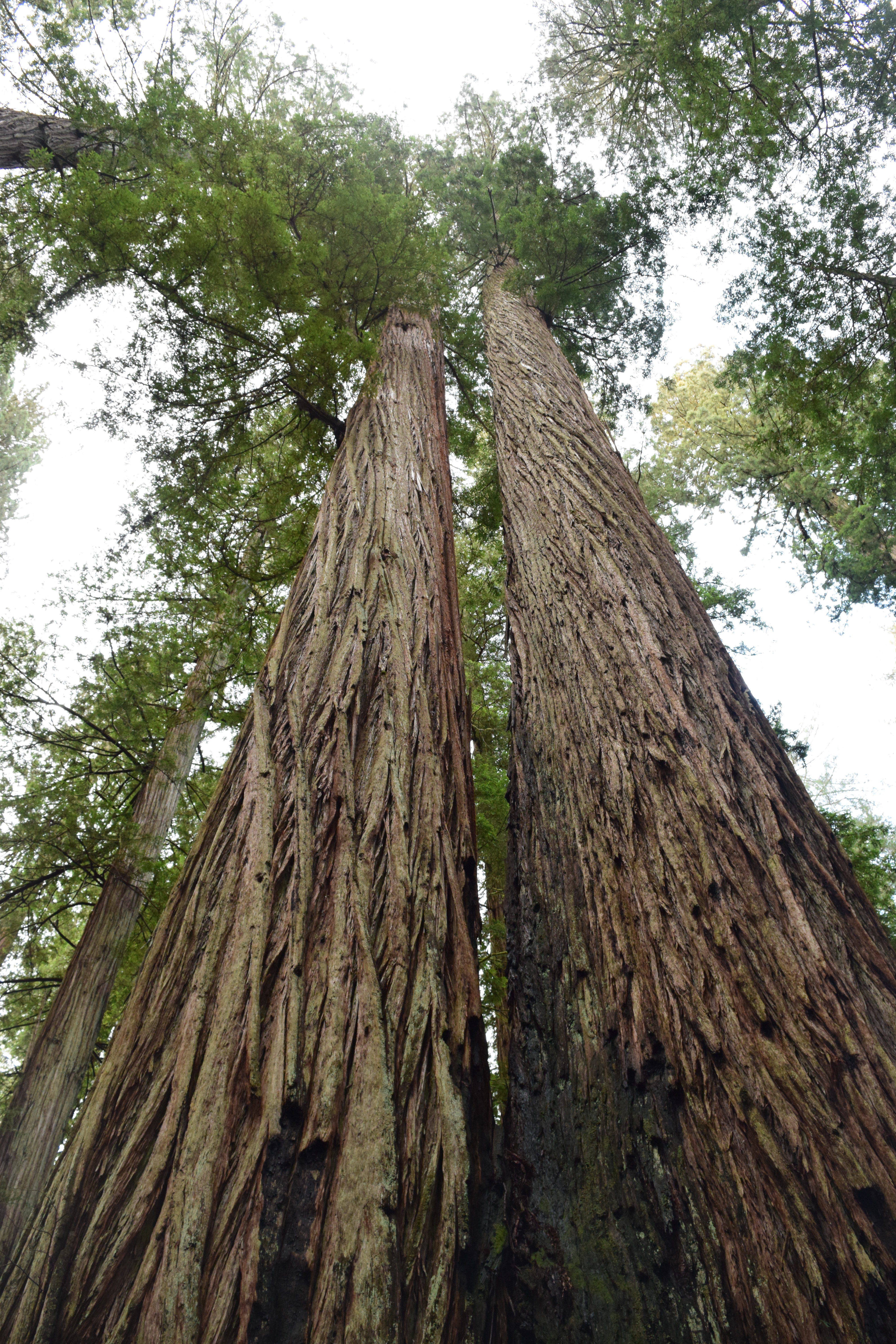 After a day in the forest we returned to our Oceanview room with fireplace and later ventured out for Thai at Crescent City's brand new Thai restaurant, Kin Khao.  It was quite good.  An overall budget friendly day as the parks have no fees and we had a picnic lunch at the ocean beach.
Five hours south of Crescent City on the 101 was our next destination, three nights in Windsor California.  Why Windsor?  It is very central to the Sonoma wine country and they have a Worldmark Timeshare.  We bought 10,000 Worldmark points years ago and the $800 annual maintenance fee gives us a week or two of accommodations if you use the points wisely.  We are using them on this trip for our stays in Oregon, Windsor, and San Francisco.
Windsor gave us a few days to relax, no long drives.  We would venture out around noon for lunch, or wine tasting.  On our first full day we met old high school friends Maureen and Dean in Sonoma for dinner at The Girl and the Fig.  We talked travel, old times, and how crazy it sounds to sell everything and travel.  Once again proving my theory that many of the best times in life are shared around a dinner table.
Touring the Sonoma wine country reminded me of how beautiful this landscape is, raising the question of why don't we come here more often.  This time of year the hills are lush green with yellow mustard flowers blooming between the grape vines.  The roads are scenic and winding, the small towns are centered around a town square, great restaurants and tasting rooms abound.  But alas, it is not very budget friendly.  When we first came to Sonoma in the good old days, wine tasting was free.  Now every tasting room or winery has a fee of $15-$30.  They are happy to wave the fee if you buy some wine, but it means that every stop on your wine tour will cost you $30-$50.  It adds up in a hurry, but you do get the benefit of some very nice wine, great conversation, and an opportunity to meet some locals.  At Foley Sonoma (formerly Stryker) we met Heather, she has worked in the tasting room for the past 14 years and probably served us years ago on a prior visit.
In Healdsburg we stopped in for tasting at Selby wines, there we met the owner, winemaker, and cellar master Susie Selby.  She makes some great wine, but is most proud of her forklift driving skills which helped establish her in the wine industry.  Like most industries it is hard for a woman to break into the boys club, but apparently mad forklift skills help.
This continues to be a pretty good life, even if it remains a bit too cold and rainy.  See you in San Francisco.
G&K