By the end of June, we were required to leave the Schengen Zone so we tried out Ryan air for a budget flight to Manchester England then a train to Lancaster and yet another of Kelly's exchange sisters. Karin and Fredrik are Swede transplants living in England for the past 14 years and are tired of the Brexit fiasco like all of the native brits we have talked to. For those unfamiliar with the Schengen zone it consists of 26 European countries which have agreed to open borders and share visa programs. What it means to us is we are allowed travel within 26 countries on a single tourist visa (no actual visa or application is required it is granted automatically to US citizens upon arrival). Our visa is good for 90 days after which you must stay out of all 26 countries for the next 90 days. You can break it up but are only allowed 90 days in the Schengen Zone every 180 days unless you apply for and obtain some other longer stay visa. So, our 90 days were up, and we needed to leave. Our next few months will be in England, Ireland, and Croatia which are not part of the Schengen Zone.
This was our first trip on Ryan Air the budget airlines which is loved and hated across Europe. They are loved for their prices, as low as $30 for some flights, but research and learn their complex fee traps or your flight can become expensive very fast. Forget to print out your boarding pass at home and it will cost you $40 to print it at the airport.
All of the low budget airlines here have similar fees so make sure you research a little before you book. We booked one-way tickets and chose the more expensive option when booking which provided a reserved seat, overhead carry on bag and one 44lb checked bag each. Total cost for each ticket $62. After the flight I would use them again, the flight, seat and on-board crew were just fine. The seats are small and don't recline which was not a concern with our 1.5-hour flight. However, breathe deeply and be patient as the check in and boarding experience was horrible.
We arrived two hours early to a line at least 100 feet long that snaked through the airport. I am not sure why the long line as everyone had already checked in and printed their boarding passes and only needed to either drop bags or have their passports checked and boarding passes stamped before heading through security (failing to have your boarding pass stamped and proceeding to the gate even if not dropping off bags will result in another $40 charge). The line went quickly as did our trip through security. There was a third line for passport control so about an hour to make our way to the gate in total.
We arrived at the gate with plenty of time and they had us line up to board our flight about 40 minutes prior to departure. Right on time they began processing us and we made our way down the stairs…….to a locked door? We stood facing the door for a good 20-25 minutes without any explanation. We were obviously waiting for a bus to take us out to our plane but why start processing us when there is no bus? Finally, the bus arrived but there were far more people than could fit on one bus, so we were crammed in like sardines and still left people at the terminal. Kelly and I grabbed seats though about 70% were standing.
We drove around the airport on our bus with no opening windows or air conditioning. Luckily it was only 70 degrees and cloudy. We finally came to a stop out on the tarmac at about the scheduled time of our departure where we sat and waited. Still no explanation or announcement, just sitting in a cramped bus for another 30 minutes or so until we finally see our plane land and start disembarking passengers. Of course, there are not enough buses to take them all off and we waited a bit longer. Once we boarded everything was fine and we arrived about an hour after our scheduled arrival. But I simply could not understand why they line everyone up and drive them out when they know the plane is an hour late arriving? Why not simply announce your plane is arriving late so stay seated in the lounge. The only explanation is that Ryan air simply must keep up its reputation for horrible service. They would hate to have more than a one- or two-star review.
The train from Manchester to Lancaster was uneventful and a bargain at less than $10 each. Karin met us at the train station with fresh juice before our 10-minute walk to their home. A lovely English row house on the outskirts of Lancaster and an easy walk to everything is our base of operations for the next month. Our plan is to slow down a bit. Take walks in the English countryside and join Karin and Fredrik in their life in Lancaster.
Fredrik teaches music, writes music and conducts local orchestras so one of our first nights included a trip to Kendal in the southern Lake District to enjoy a concert where Fredrik's youth orchestra joined with a local youth choir and a visiting choir from Bellevue Washington. It was a wonderful evening and I was amazed at the quality and complexity of the performance.
Lancaster and the surrounding country is beautiful with lush green rolling hills, English gardens and stone buildings. The British love the outdoors. They have walking paths through the fields, community gardens where for a small fee you can grow your own flowers and vegetables, community orchards where everyone in town can pick the fruit. We dined at the Water Witch Pub on the canal. Took a train to Grange-Over-Sands (you have to love the English town names) where we had a garden tour and talked with a local stone carver Alan Ward. Kelly had met Alan at his Saturday drawing class which she attended for her first effort at drawing with a live model. Yes, she was naked….the model not Kelly. She had a great time and plans to return. Maybe I should join her, I can't draw but I do appreciate the female form.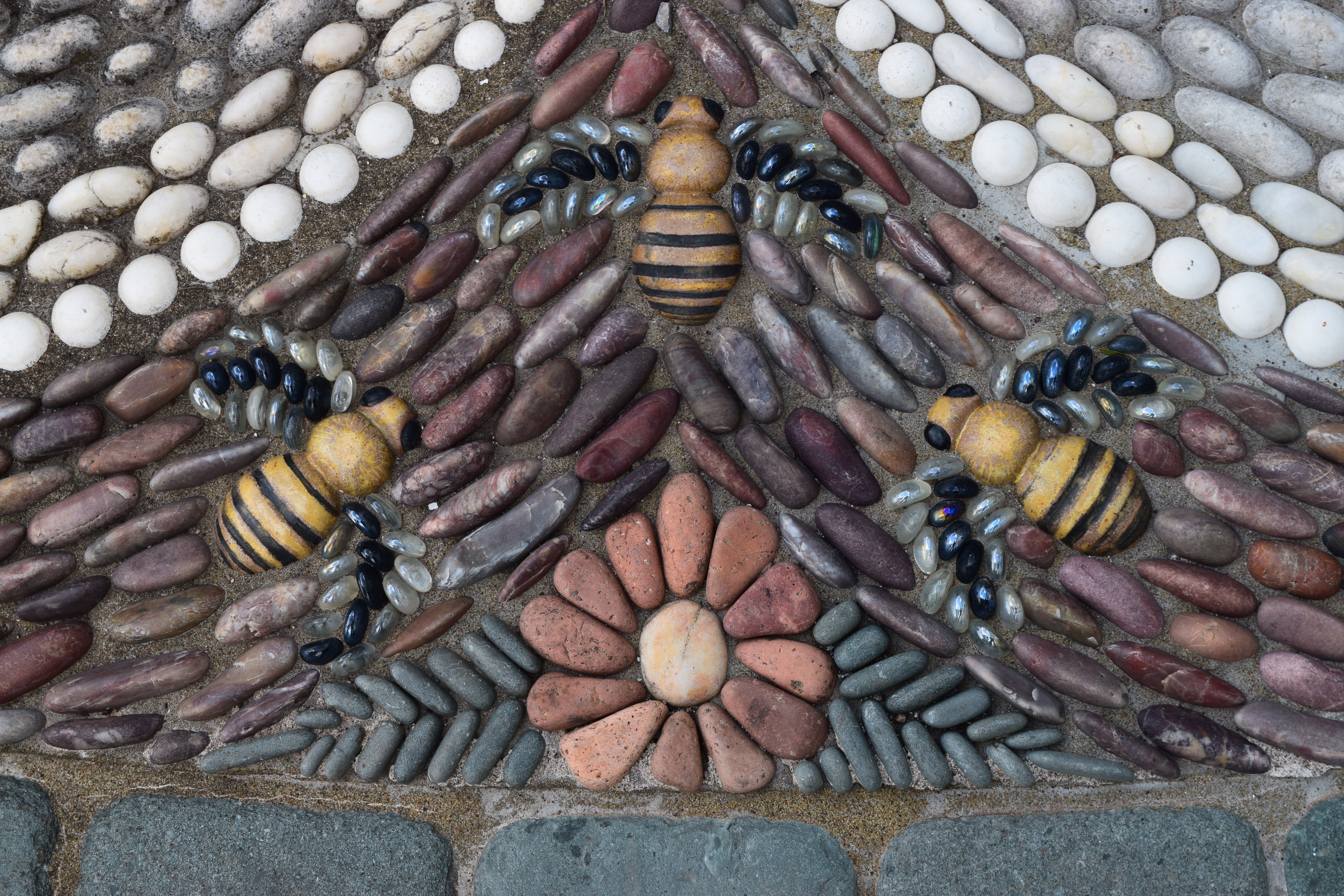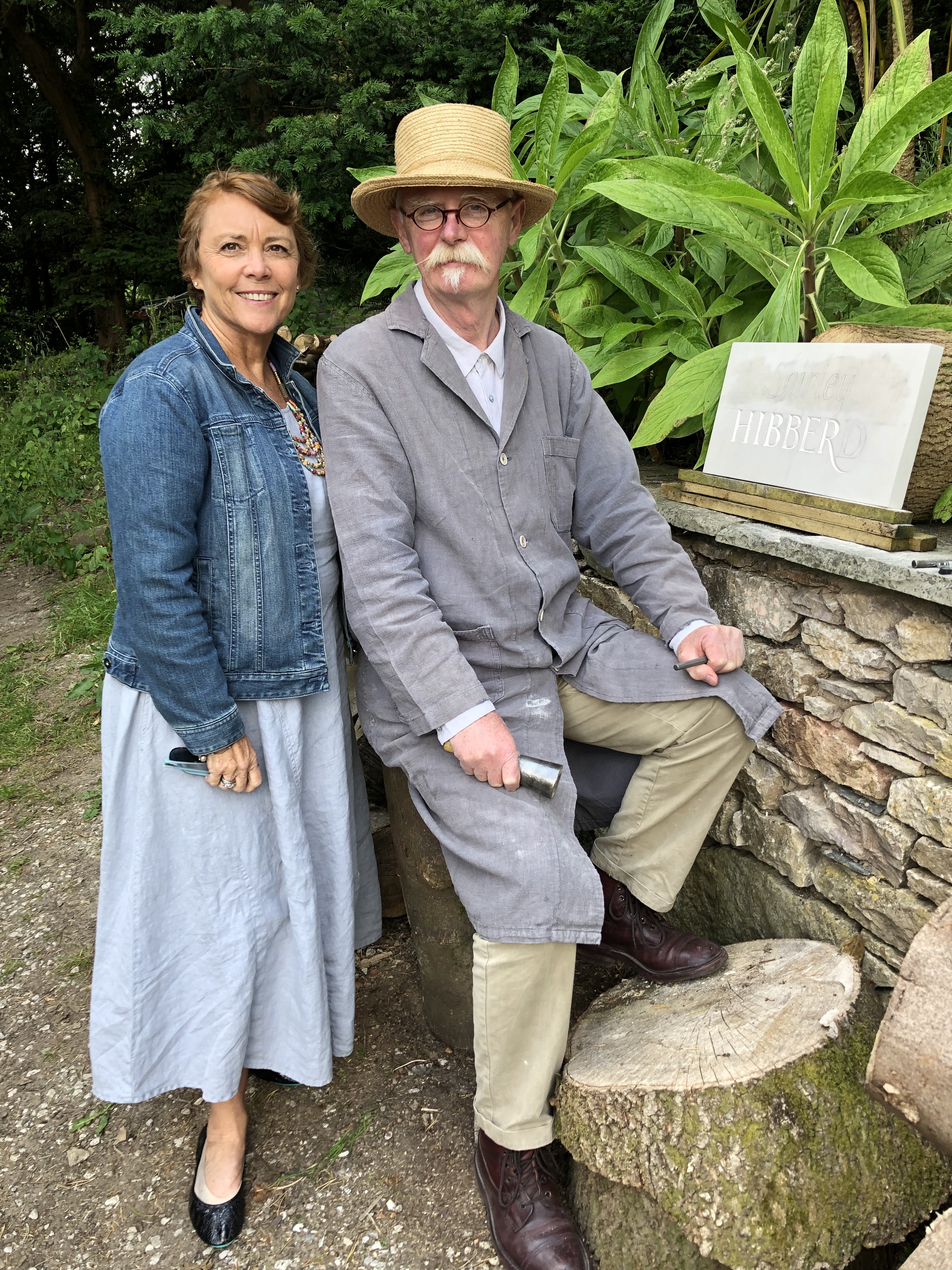 The garden tour
A busy first week in England.