Our last stop in Mexico was San Miguel de Allende. We planned to stay a month but departed after 10 days as travel options collapsed with the rise of the Coronavirus. We loved the city and only departed to avoid being trapped in Mexico with no flights back to the states. I know Mexico has good inexpensive healthcare but seeing all the struggles back home in the states and seeing the Mexican president downplaying the threat I had no faith in the Mexican government controlling the outbreak and/or treating the sick as the numbers rose. Additionally, we needed to get back in case friends or family needed us and we had already been notified that our return flight on April 14th was cancelled.
When the state department told all Americans to return or plan on staying abroad indefinitely, we thought returning would be the best course of action. We decided to wait a few days after the announcement hoping that airports would calm down after the initial rush of Americans returning. Our assumption was correct.
When we decided to book a flight we did so for the next day assuming that the farther out we booked the more likely the airline might cancel. Our original flight had us flying out of Mexico City which required us to take a 4-hour bus ride back to Mexico City. With the virus sweeping the globe we didn't like the idea of a 4-hour bus ride, so we looked for flights out of Leon, Mexico, about an hour and a half away, $60 by taxi. There were several flight options, but the schedules were constantly changing as airlines cancelled more and more flights. We also wanted a flight that flew direct from Leon into a US airport rather than a layover connection in Mexico City where we could get stuck.
I found a flight with American Airlines with an overnight stop in Dallas and a connecting flight the next morning to Spokane. I preferred the long layover as I expected long delays clearing passport control and customs in Dallas. All in all, our plan worked well with the one exception of a cockpit warning light.
We arrived at a very quiet Leon airport as most flights had been cancelled. We had the lounge to ourselves and our plane boarded and pushed back on time for our 1.5 hour flight to Dallas. Then a warning light came on which required a return to the gate. Then they re-booted the plane, yes just like your computer, turn everything off wait a while then turn it back on and push back again. But again, the light came on. So back to the gate we went and everyone got off the plane while they worked on it. After an hour or two we boarded again and pushed back, no light but then they realized maintenance had not followed the full protocol. So back to the gate we went.
Through all of this American Airlines was sending us update texts, "your flight is delayed" until 2:30, then 3:30, then 4, then 6. Then as we are sitting at the gate the last time we get the text "your flight is cancelled and we are working to re-book you" followed shortly by "we couldn't re-book you please find your own flight" As we are all looking around at other passengers asking "did you get a text telling you to book a new flight", the Captain came on the intercom, " hey folks they have cancelled this flight because the crew is about to time out, but I want to get home too so I called them and as long as we get off the ground in the next 28 minutes we are good to go, so everyone please return to your seats and buckle up and let's get out of here" Which we did, and we thanked the pilot profusely when we reached Dallas.
Dallas airport was a ghost town. It really is nice traveling when the rest of the world is under quarantine, no lines at the ticket counter, no lines at security, and most surprising no lines at Starbucks at 8AM.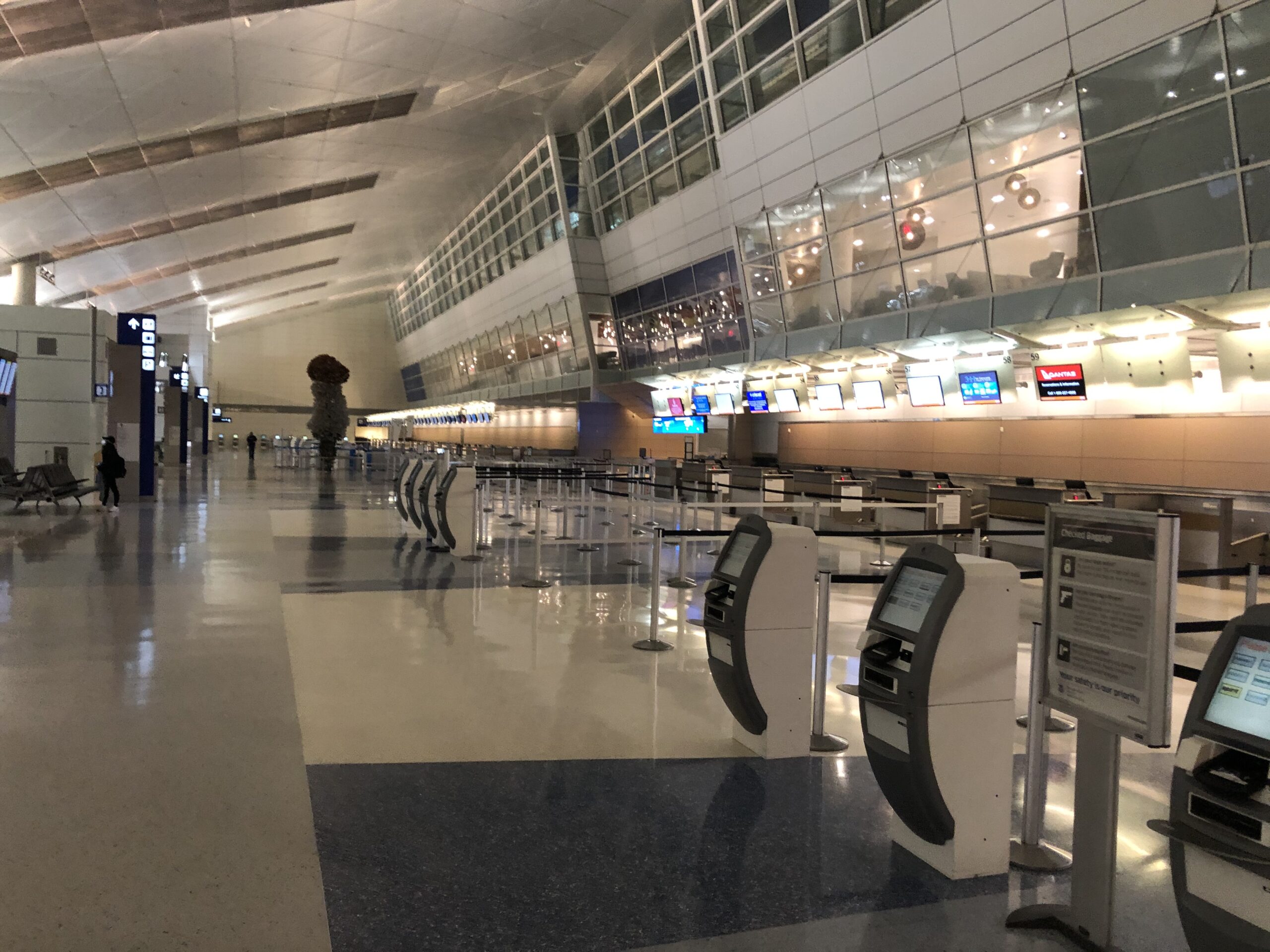 The crowded Dallas Airport at 8 AM.
No problem social distancing. For our overnight we decided to stay at the airport. No, not on a bench, they have a Grand Hyatt in the airport, no problem getting a room and the walk-up rate was only $189. A bit over budget but probably half price or less for a Grand Hyatt. We splurged on the room because our flight from Leon Mexico to Spokane Washington only cost $70 plus 10,000 miles each. Normally you can't get from Seattle to Spokane for 10,000 miles. One negative was no restaurants were open in the Airport or the Hyatt when we arrived. The Hyatt did have grab and go food, $50 for a cup of mac and cheese, a salad, a cup of soup and a large bottled water. I guess they have to make money somewhere. The other negative was the snow when we arrived in Spokane, we were already missing the sunny 80 degree weather of the past three months, a sad reminder of why we no longer like to spend winters in the northwest.
We plan to return to San Miguel someday. It is a beautiful colonial city, with cobblestone streets and colorful architecture. It has been a haven for US and Canadian expats for years. The influx of expat money certainly shows. The city reminds me of Italy, well maintained with plenty of shops, bars and restaurants. We didn't get to experience much of what the city has to offer as we embraced social distancing shortly after we arrived and spent the majority of our time in our lovely Airbnb.
We were looking forward to the weekly markets, the lively music and art scene and connecting with some of the expat community. But as the threat of the Coronavirus increased all of those opportunities evaporated. We did meet up with friends Michael and Debbie Campbell aka the Senior Nomads.
We met in a park for a picnic where we sat 8 feet apart dining and drinking on food we brought from home discussing the most prudent next steps. We decided to leave San Miguel, they decided to stay and shelter in place. I know they got the better weather I just hope we both have equally safe outcomes.
We have no big travel plans for a while as we wait to see what the next month brings. I did feel comfortable enough to book a stay in late June at a cabin on Flathead lake in Montana. We thought that by June we should at least be able to drive to a remote lake cabin. I just hope Glacier National Park has re-opened. We shall see. Take care, stay home and wash your hands.
G&K